Gotham Eats: Summer Dining Guide
By Regina Adams
This summer, make the most of the long balmy nights in the city that never sleeps and discover the best evening dining options in New York. From SoHo to the Upper East Side, these restaurants ensure an inviting atmosphere and delicious food to share with friends and family. Enjoy a delectable meal until as late as 2:00am at these New York hotspots, which also feature extensive cocktail menus and a wide selection of wines and beer.
---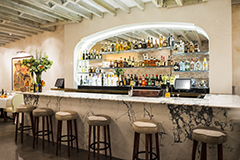 MAMO Restaurant
SoHo chic meets classic Italian at New York's celebrity favorite MAMO restaurant. This French/Italian Provencal menu from Michelin-starred Executive Chef Massimo Sola hits all the right notes. Some of MAMO's signature offerings include their flavorful Raviolini al Tartufo, their Tagliata Di Filetto Al Vino Rosso and their off-the-menu Focaccia al Tartufo (truffle pizza). For those with a sweet tooth, MAMO also offers delicious desserts such as the classic Tiramisu, the rich Affogato alla vaniglia con fragole calde and the Cheesecake alla lavanda (cheesecake with a lavender twist). To complement the flavorful dishes, MAMO also boasts an impressive cocktail menu from which diners can enjoy specialty cocktails such as the MAMO Negroni, the MAMO Spritz and their one-of-a-kind Truffle Martini. In addition to the cocktail program, MAMO also has an extensive wine list of carefully selected French and Italian wines to complement the cuisine. The restaurant captures the Riviera's "sense of home" with original family photos and oversized vintage movie posters. Dinner is served until 11:00pm (Sunday, Monday - Thursday) and 11:30pm (Friday - Saturday).
MAMO Restaurant
323 West Broadway
New York, NY 10013
(646) 964-4641
www.mamonyc.com
---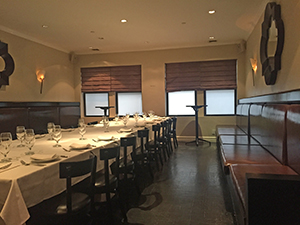 Philippe Chow
Owner and Executive Chef Philippe Chow puts his own contemporary spin on traditional Beijing-style cuisine at Philippe on Manhattan's Upper East Side. This elegant Chinese restaurant serves an expertly designed menu of signature dishes such as Chicken Satay, Peking Duck, Green Prawns, and Nine Seasons Spicy Prawns—each presented family style—as well as a too-good-to-resist dessert menu from pastry chef Kostas Paterakis, that includes Red Velvet Cake; the gluten-free Warm, Bittersweet Chocolate Molten Cake; and Peanut Butter Mousse Pie. Specialty drinks ranging from a Lychee Martini to Midnight Mojito, are just the icing on this epicurean cake. In addition to its delectable cuisine, Philippe can meet the needs of high-profile diners looking for an intimate meal with friends without prying eyes. Guests may enjoy the restaurant's expansive space set over three floors with an interior which exudes an air of exoticness and opulence, with a signature color palette of black, white and red. Dinner is served until 11:30pm (Monday – Saturday) and Sunday until 11:00pm.
Philippe Chow
33 East 60th Street
New York, NY 10065
(212) 644-8885
www.philippechow.com
---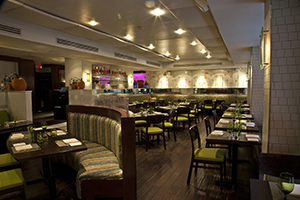 T-Bar
This Upper East Side neighborhood gem is known for its superbly-cooked cuts of meat and delicious array of appetizers crafted by Executive Chef Ben Zwicker. The menu includes delectable offerings such as the Kale Salad with apple, sesame, and chili-lime vinaigrette; Yellowfin tuna tartare; and the prime aged Angus burger. Also available are the T-Bar Steak Bar—certified Black Angus, filet mignon, aged New York Strip, aged bone-in rib eye, or Black Angus porterhouse for two, served with steak sauce, béarnaise sauce, or poivre sauce. No meal at T-Bar is complete without tasting the popular desserts Banana Parfait Mille Feuilles or Chocolate Sundae with brownie, chocolate sauce, and cream. An artful menu of specialty cocktails—including the exquisite Downtown Manhattan, made with Whistle Pig Straight Rye Whiskey, brandied cherries, Antica vermouth, and cherry herring—and a curated wine list complete this epicurean experience. T-Bar's charming décor features a stylish, dark-wood accented dining room, frosted glass details and orange back lighting. Dinner is served until 10:30pm (Friday & Saturday) and other nights until 9:30pm.
T-Bar
1278 3rd Avenue
New York, NY 10021
(212) 772-0404
www.tbarnyc.com
---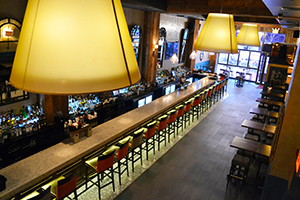 Juniper Bar
Upscale bar & lounge Juniper is home to an expansive main level bar, dining area, and an intimate downstairs event room, providing a variety of stylish spaces for Midtown West visitors and locals alike. Just steps away from Penn Station and Madison Square Garden, Juniper is the ideal location for a delicious pre-concert dinner, casual small bites, or drinks with friends. With three large TV screens providing for unobstructed views, Juniper is also an ideal place to game-watch with friends. Specialty dishes prepared by Executive Chef Jim Hanley include Cheese Steak Spring Rolls, Kale Artichoke Dip, the Lobster Club with fresh main lobster, and the Churrasco Skirt Steak. For cocktail-lovers, the specialty Juniper Rickey and the Gin Gin Mule are not to be missed. All day meals are served until 2:00am. Brunch is served on Saturdays between 12:00pm and 3:00pm.
Juniper Bar
237 West 35th Street
New York, NY 10001
(212) 967-2511
www.juniperbarnyc.com
---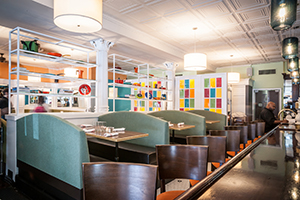 A.G. Kitchen
A neighborhood favorite since it opened in summer 2012, A. G. Kitchen offers a tantalizing blend of Latin American and American cuisine. Located on the Upper West Side, A.G. Kitchen is named after the initials of famed Food Network Personality, Cookbook Author and Chef Alex Garcia, who serves delicious comfort cuisine fused with a modern twist. A.G. Kitchen is renowned for its varieties of made-to-order guacamole (Classic, Pineapple and Pomegranate, and Papaya and Mint), plus entrees such as the Brazilian-style Samba Chicken, Manhattan Latin burger, Surf 'n' Turf and Seafood Paella (lobster, shrimp, clams, mussels, chicken, chorizo with saffron rice and calamari salad) as well as the city's most authentic tasting Cubano sandwich. Another establishment highlight is the 100-year-old mahogany bar, the perfect perch for enjoying specialty cocktails like the Mango Mayhem (Mango/Lime/Chili Pepper-infused vodka, passion fruit juice, and fresh lime) or the Cilantro Daiquiri. Dinner is served until midnight (Friday - Saturday) and other nights until 11:00pm.
A.G. Kitchen
269 Columbus Avenue
New York, NY 10023
(212) 873-9400
www.agkitchen.com
---