Raymi – Peruvian Kitchen & Pisco Bar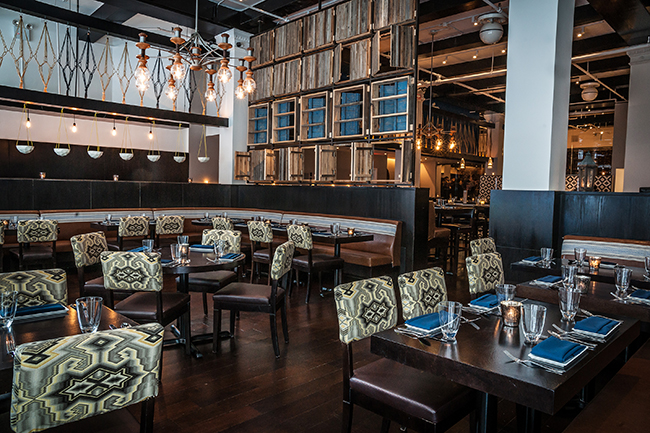 By Daniel J. Bollinger
Raymi Peruvian Kitchen & Pisco Bar is a modern Peruvian restaurant that captures the multicultural spirit of Peru in Chelsea. This Chelsea offering blends the Spanish, Japanese, Chinese and native influences that embody the country's vibrant cuisine. The space is great with high ceilings and a bar, high tabletops accommodating large parties and standard seating for smaller groups.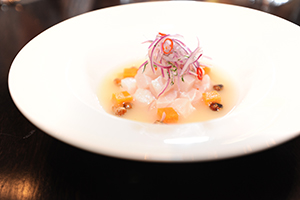 Pisco is a colorless grape brandy produced in the winemaking regions of Peru. I tried a Pisco Sour made up of Pisco, lime, egg whites, and bitters. It was quite tasty and more on the sweet side. One drink I highly recommend for those like me who like it spicy is the Jalapeno Chilcano. Made of Pisco 100, lime, ginger ale, and bitters, it has a great jalapeno bite and I thoroughly enjoyed it. Be careful, it has a high alcohol content that can sneak up on you.
I sampled two ceviches for starters: Clasico and Aji Rocoto Tiradito. The Clasico is wild striped bass, lime, red onion, sweet potato, cilantro, and habanero. This is a very traditional ceviche and though it does have habanero in it the dish is sweet. If you are a fan of ceviche you are sure to enjoy this dish. The Aji Rocoto is a little more acidic in taste. Made up of Red Snapper, sweet potato, choclo, chalaca, and cancha it has a nice taste to it and is a bit tangier than the traditional Clasico.
From the Small Plates section of the menu I enjoyed the Anticucho and the Pastel De Choclo. The Anticucho is hanger steak, aji panca, choclo, confit potato, and rocoto sauce. Choclo is a Peruvian corn very much like a lima bean. The hanger steak was delicious, tender and juicy served in an A-1 like sauce. The confit potato was very interesting too. The outside is hash brownish with a nice crust and the inside soft like an au gratin. The Pastel De Choclo is a Peruvian corn cake with roasted mushrooms, mushroom jus, and watercress. A very soft, sweet treat and if you have never tried corn cakes I recommend this one.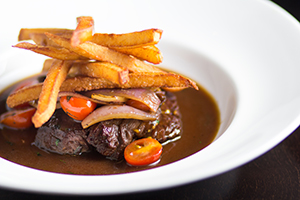 From the Large Plates selection of the menu highlights are the Arroz Con Pato and Raymi's most popular Lomo Saltado. Arroz Con Pato is crispy duck leg with cilantro jasmine rice, dark beer, and salsa criolla. The duck was tender, cooked to perfection, with a slight chew from the skin. It was cooked so perfectly it practically fell off the bone. The jasmine rice was creamy and tasty with a cornucopia of flavors. I tried it with the red onions and the rice had a creamy cilantro taste. The red onions enhanced the cilantro jasmine rice making it even sweeter. Duck is a somewhat more difficult dish to prepare correctly because of its fat glands and dark meat making it relatively tougher meat. Kudos to the chefs at Raymi for preparing such a tender version. The Lomo Saltado is Raymi's most popular dish and I think I know why. For steak lovers it is fantastic. It is hanger steak served with soy sauce, tomato, red onions, crispy fries, and jasmine rice served on the side. The slices of steak are very impressive; the outside is seared and the inside tender. It almost passed the fork test but no worries since I did end up cutting the steak with a butter knife. I like the way the crispy fries are served in the same bowl as the steak. The rice is served on the side with butter and garlic. It is simpler than their cilantro jasmine rice and sweeter. I would recommend saving the fries for last. Try the fries in the sauce after you have savored all of the meat. The crispy fries are crispy on the outside but still have plenty of baked potato consistency.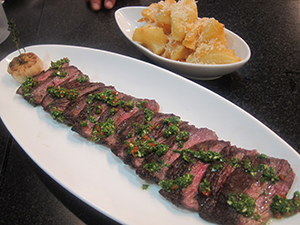 For dessert I had the Picarones and Coconut Sorbet. I do have to call out Raymi's coffee. I love latin coffee. Stronger than most varieties and always served with steamed or hot milk, Raymi serves their coffee in a pot so that you don't have to constantly ask the waitress to refill your cup. To say it is strong is an understatement. I love heated or steamed milk so that you can still enjoy a hot cup of coffee with milk and not a cooled or old cup. Raymi could open up their own coffee-to-go shop with the quality of their coffee. The Picarones are Peruvian crispy donuts served in chancaca honey. You get three little donuts to an order and they are crispy on the outside and sweet inside. The Coconut Sorbet is two football shaped scoops of sorbet with slivered Peruvian chocolate, toasted coconut, and a sprinkle of cinnamon. The sorbet is unique. It is not soft like many sorbets. It has a great 'chill' in it that paired nicely with my hot coffee. I would recommend both desserts for something different.
Overall I would recommend Raymi if you are seeking something vibrant and different on your palette. The ambiance is warm and relaxing, the food and drinks are adventurous and flavorful, and the prices are very reasonable. My thanks to Santina and Carmen for facilitating a wonderful experience.
Raymi
43 West 24th Street
New York, NY, 10010
(212) 929-1200
www.ramyinyc.com