Summer Fun at Morey's Piers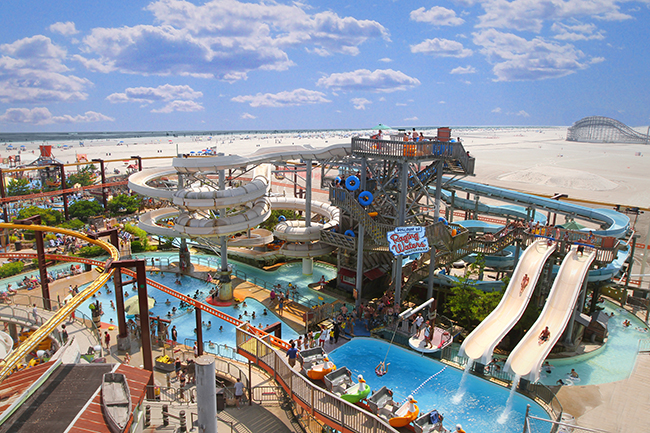 By Daniel J. Bollinger
Located only 2 ½ hrs. from NYC, Morey's Piers is all about summer fun for families with children. This past summer Morey's Piers was named "Best Seaside Park" in the World by Amusement Today.They offer families everything for "playing, eating, and staying" with their water parks, amusement piers, restaurants, and hotels.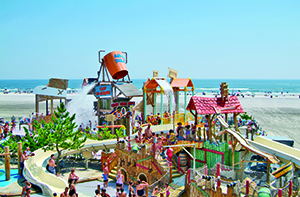 With three generations of family ownership running the park, they all consider Morey's not only an entertainment company; but, also "a customer service" organization with a staff that is both impeccable and attentive. The clean, high quality environment will allow your whole family to relax and enjoy themselves knowing Morey's is synonymous with "SAFE Family Fun". There are many new renovations this year including the Memorial Day debut of The Starlux mini golf course with three unique themed 9 hole courses.The Beach course features the largest artificial sand dune and sand castlet in the world ! The Ocean course features giant fountains and creatures of the sea. The Boardwalk course features plastic palm trees and Wildwood memorabilla. It is easy to see that Will and his sons Will and Kyle and Jack and his sons Zack and Jordan have so much pride in this 3rd generation family run business that it has not only won awards, but it is also New York Lifestyles Magazine's pick for "Best Vacation Destination on the Jersey Shore".
Morey's owns three piers on the Wildwood boardwalk. Mariner's Pier offers the atmosphere of a traditional amusement park with the classics like the Super Scooters, Teacups, Musik Express and the Giant Wheel. Surfside Pier is like stepping into a colorful seaside carnival. Surfside Pier mixes a variety of kiddie rides with family thrills in an environment fueled by neon colors, bright lights and music. Adventure Pier is the Pier that rocks. It is packed with high thrill extreme rides, the world famous coaster and the longest Go Kart track in the Wildwoods. A stage will feature School of Rock with live entertainment all summer long. The Wildwood beach is a 5 mile stretch of powdery white sand and was voted as one of the best beaches for families in 2016. To top it off the beach is free!
WATER PARKS
---
The two water parks are Raging Waters and Ocean Oasis. Raging Waters is the larger of the two parks and is mostly focused on children's activities. It is managed by Will B. Morey. Ocean Oasis is a water park and beach club. It has a cozier more intimate atmosphere.
Raging Waters
Raging Waters will keep the kids active all day with so many opportunities for fun and memories that will keep you coming back every year. There are two kids play areas including KidTastrophe and Shipwreck Shoals. The three level activity area boasts fun for the whole family with cargo nets, climbing ropes, water guns, water sprays and slides in these interactive children's play areas. The River Adventure is an over 1,000 foot tube ride down a river ride with waterfalls, seating alcoves around every twist and turn and they even serve root beer floats at the float up bar named Dee's Dock. One feature that a parent will enjoy is that all rides are rated like ski slopes with green dots (easy), blue square (moderate), and black diamonds (expert). Since the Morey family makes "Safety 1st" the utmost mantra these ratings translate to: steady cruising and little spash (green dot), to a little more speed and a little more white water (blue dot), to hold on we're going torpedo speed down the fastest water slide there is and making the biggest splash we can!!!! Black diamonds if you dare! There are a number of additional rides too. The Speed Slides are 40 feet of high-speed, twisting double dipped slides. The Fountain Pool is a sit and relax pool with bubbles and geysers. There are also serpentine slides, rocket raft run rides, and don't forget the Sky Pond Journey where riders slide in tubes into four different elevated pools as they journey to the final SPLASH!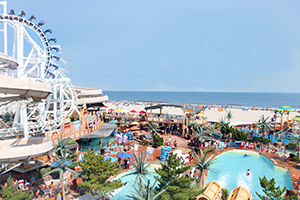 Ocean Oasis and Beach Club
Ocean Oasis and Beach Club is the more intimate of the two water parks because it has private cabanas that are set apart from waterslides and play areas. Ocean Oasis features a Cliff Dive slide where you drop 5 stories in 3 seconds on a speed body slide. Wipeout is a six lane racer slide where you can go head to head against family down the slopes to a wet finish. Shotgun Falls is a two flume body slide that drops you 6 feet into a 9 foot deep pool filled with 75,000 gallons of water. On Sidewinders you ride head first on a mat and drop 40 feet on two high speed twisted double dipped slides. Ocean Oasis also has an interactive children's play area named Bonsai Beach which is loaded with water jets, climbing ropes and slides for the little ones so that they will keep occupied and smiling all day long. Water Lilies Swim Up Bar, The Puddle, Endless River and a 100,000 gallon activity pool filled with many interactive activities are more relaxing rides.
RESTAURANTS
---
Morey's has three restaurants. Walter "Wally" Jurusz is Morey's Piers executive chef and oversees Jumbo's Restaurant, Breakfast in the Sky, catering and many of the concession stands located throughout the piers. Betsy Garr is the Surfside Pier chef and oversees Joe's Fish Co. and Stubborn Bros. Beach Bar and Grille.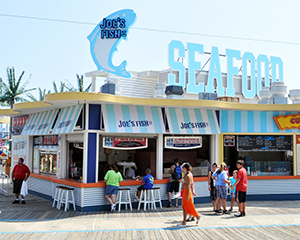 The restaurants on the boardwalk serve everything from fresh seafood caught daily from the Atlantic Ocean to Mexican to California Cuisine.
Joe's Fish Co. is a classic seafood house managed by Jordan Morey serving a variety of oysters, clams, signature crab cakes and grilled local fish. Joe's Fish Co. recently expanded with a new second floor bar that has fantastic views of the boardwalk. With great seafood and great views it's a must stop during your relaxing family vacation.
If sandwiches are what you are craving then head on over to Stubborn Brothers Beach Bar & Grille managed by Kyle Morey where you can get the traditional roast beef sandwich or turkey club wrap or try something different like their Rivalry Reuben which is made with turkey breast instead of corned beef. Fried Green Tomatoes with sirancha sauce and Cuban Dusted Fried Calamari served with cilantro cream sauce are also unique dishes offered for starters.
To experience the flavor and style of both Mexican and Southern California, go to The Taco Joint. They serve up shrimp, fish, pork, chicken and beef tacos and quesadillas, including a variety of fresh salsas and freshly prepared nachos.
The Jersey Girl is a must too. Philip and Deborah John have created an all-new warm, casual, hip dining room and bar serving California cuisine using farm-fresh seasonal ingredients. Hot Cheddar Crab Dip or the Eggplant Crepes made with ricotta, spinach, fresh basil, roasted garlic, and mozzarella are great for starters. The Grilled Mojito Hanger steak with latin pesto or the Seared Shrimp and Scallop Tomato Spinach Risotto are truly "Chef Selections" on their menu. This is great for those who want something a little different from all the other great food offered on Morey's Piers.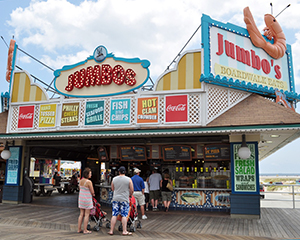 There are also 18 unique concession stands providing plenty of variety to satisfy many palates. What would a boardwalk be without the classics like Curley's famous fries with a lemon shake up. Curley's has been making their hand cut fries on the boardwalk since 1974. They peel 'em, slice 'em, and fry 'em right in front of you and what better to wash it down than with a nice lemonade shake up made with freshly squeezed lemons. If fries are just a side for you then pair them up with a real Philly cheese steak sandwich at Jake's Steaks located right next door. Thinly sliced rib eye with Philly rolls are brought in fresh daily. You can also go to The ALOHA Smoothie Company, Waffles and Ice Cream, and Mama's Kitchen serving up the classic hot dogs, corn dogs, cotton candy, and pretzels.
The kids will never get tired of the same old thing and there is enough range for even the most sophisticated palette. Whether you want to walk right off the beach into a laid back place like Wrecker's Beach Grill or dress up and dine at the Jersey Girl, you know they'll always be something for whatever mood you're in when vacationing at Morey's on the Jersey Shore.
HOTELS
---
Pan American Hotel
Check your cares at the front desk and explore the oceanfront Pan American Hotel. A stay here is your boarding pass to bask in the sunshine around a stunning pool by day and enjoy the vibrancy of Wildwood by night. You can take off on adventures each day with easy access to all that the Wildwoods offer including restaurants, nightlife, water sports and the famous Wildwood Boardwalk knowing there's a smooth landing awaiting you at the Pan American.
Port Royal Hotel
Set sail for adventure at the Port Royal and make luxuriously appointed accommodations your port of call on the Jersey Shore. Soak up some sun and salty sea air on a chaise with your First Mate from a private balcony with spectacular views of the sparkling Atlantic Ocean.
Starlux Boutique Hotel
Experience classic Americana couture when you vacation at the retro Starlux Boutique Hotel. Artfully crafted award-winning architecture will astound you. Their all-glass lobby and lounge, which serves as a social gathering place for guests, opens onto the pool promenade with the beach and boardwalk just steps away.
Blue Palms Resort
Live the classic Jersey shore vacation! Located in the heart of downtown Wildwood, The Blue Palms Resort overseen by Zack Morey is surrounded by fine dining, lovely shopping, vibrant nightlife and the vast white sand of the Wildwood beaches and boardwalk.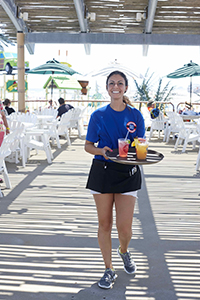 SeaPointe Village
The Jersey Shore's Premier Oceanfront Condominium Resort Community Located on prestigious Diamond Beach between the Wildwoods and Victorian Cape May, NJ is Seapointe Village Condominiums whose world-class amenities program make it a homeowners and vacationers paradise. You can explore the serene enclave of luxurious homes, townhouses, mid-rise and garden residences available for purchase and rental.
You can see that Morey's Piers offers so much summer family fun time you many not want to ever go home! And there's a good reason. Not only is Morey's Piers & Beachfront a family run business, the family is very active in the community as well. Will is a Cape May County Freeholder and Jack is a board member for the Greater Wildwoods Tourism Improvement and Development Authority(GWTIDA). They both spend a lot of time on county projects and care about the whole Wildwood community. That's why you will experience only the safest and best on all three of their piers: Mariner's Pier, Surfside Pier, and Adventure Pier. If you are looking for a close getaway for your family this summer, and the best and most memorably fun, wet, and wild waterpark vacation of all time, make sure you book your stay at Morey's this summer and be the coolest mom & dad of all time.
www.moreyspiers.com