FLOTUS Always Gets Noticed: Fashionable Impressions by America's First Ladies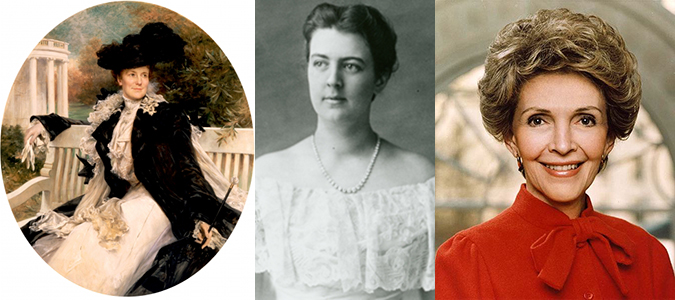 Top left: Edith Carow Roosevelt; Top center: Frances Cleveland; Top right: Nancy Reagan
By Miki Makrillos
Hollywood is notoriously for scrutiny put on Actors and Actresses during the red carpet appearances, and fashion style do's and dont's. However, fashion takes another dimension and yet an even more important place when we look at history's most-discussed, best-dressed list, such as that of the First Lady Of The United States (or "FLOTUS" in political-speak) over the course of our nation's history. First Ladies and their unique style statements convey fashion trends to not only our nation, but make a worldwide imprint on fashion statements.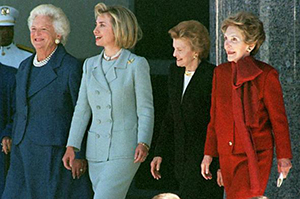 (L to R): Barbara Bush, Hillary Clinton, Betty Ford and Nancy Reagan
Historically some White House style statements have generated controversy. Martha Washington was known for her "queen's nightcap", while Dolley Madison had wacky turbans with peacock feathers in them, where her goal was to evoke European trends with detail. Mary Todd Lincoln is remembered for her endless yards of costly fabric, giant hoop skirts and rosette filled gowns. First Lady Francis Cleveland, was known as the "It Girl" with her statement hair worn in a low knot on the back of her shaved neck, a style that became known as "La Cleveland", and was accepted as a national style icon. The "mood" of First Lady fashion changed with Grace Coolidge's nickname "Sunshine" which came from her brightly colored flapper dresses, cloche hats and sparkled belts that appeared in the women's pages of newspapers. Mamie Eisenhower's favorite color, "Pink" set the tone within the White House decor. She was the representation of the 50's housewife. Her style of wasp-waisted dresses, matching handbags, shoes and hats set the tone during her tenure as First Lady.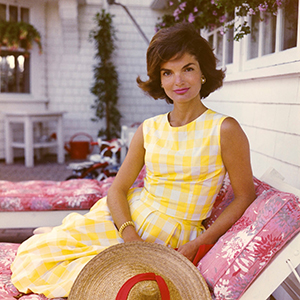 Jacqueline Kennedy Onassis
The Diva of First Lady fashion was captured by Jackie Kennedy. Her love of rich fabrics and feminine monochromatic colors set in simple sleeveless dresses, coats, and power statement scarves, captivated American Women. Lady Bird Johnson gave her gowns a new elegance pairing them with white gloves, and bringing a modern look with a luxe fur stole, which has been a standing evening fashion statement since.
Patricia Nixon followed her evening style statement of an embellished jacket giving a sleek and unexpected look for a formal affair. First Lady Betty Ford's signature white bag was as stylish then as it is now. Hollywood "magic" influenced Nancy Reagan's style, known for her always camera ready signature color - "Nancy Red". Her formal gowns by designer Galanos left an imprint of her elegance. Modern, minimalist lines seen in First Lady Hillary Clinton's use of a bold, color saturated coat makes a power statement. Currently First Lady Michelle Obama brings a more feminine yet fashionable look to her fashion trend. Her choice in Peter Soronen evening gowns, floral print dresses and "showing your best feature" open shoulder looks have empowered women to accept themselves and embrace their strongest physical assets.
Fashion will always leave an important, impressionable statement in conveying the mood and trends of its time. First Ladies have set the stage throughout these times to be the " fashionable models" of example on both a national and worldwide catwalk.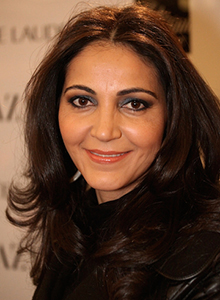 About Miki Makrillos
Miki Makrillos is a commentator on style and fashion on her website:
wonderwomantalks.com