Sunnies In The New York City Forecast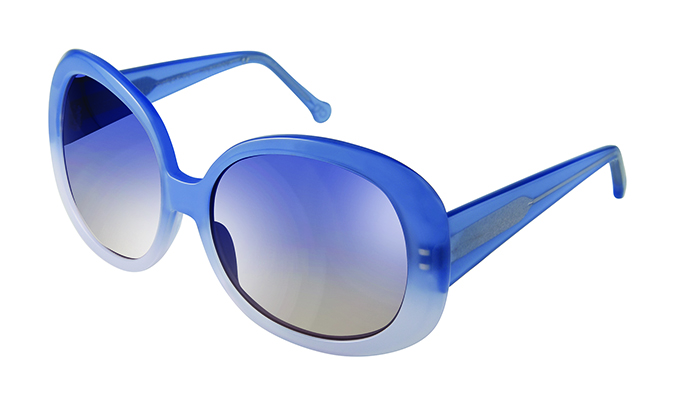 By Dianne Zoppa
We should whisper a quiet little "thank you" when we pop on our sunglasses. Yes, they are a "must have" essential that first and foremost protect our precious eyes. But we know that our love affair with sunglasses will never end because, whether we have gained that dreaded five pounds, or are having a bad hair day, sunglasses always make us look absolutely fabulous. Nowhere else is this more apparent than in New York City, the fashion mecca where sunnies are out and about year round, showcasing their eye catching splash of color and adding polish to every outfit with a certain panache.
As with all fashion, sunglasses shift towards what are the most coveted looks. Individualism ranks at the top of what influences our choices, but it's freshness and the endless trove of design elements that create trends.
New York Lifestyles Magazine spoke with Jade Hutton, an optician and fourth generation eyewear expert. She is Chief Creative Officer at Colors In Optics, ltd. in New York City, makers of handmade, uptrend luxury eyewear.
Jade identifies 2016's sunglass trends first and foremost as a "balance between timeless retro styling with fresh updates, contemporary design and a glamorous flair."
"Our customers have a cosmopolitan style. They're individualists, and very selective, leaning toward either classic looks with a modern twist – perhaps an oversized retro round expressed in an unexpected hue, or a traditional tortoise paired with eye catching mirror lenses. Or, there are those who want 'fresh off the runway' – this year, that's an oversized aviator or a flattering, chic brow-bar design. Above all, we find that the infusion of color continues to fascinate the aficionado of sunglasses."
For fashionistas seeking their very own look, Jade takes us through the key sunglass trends for Summer 2016 as she interprets them in the latest Colors in Optics collection.
---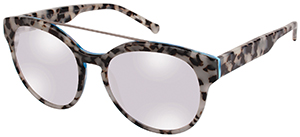 Brow Bar
From a cosmetic perspective, brows have been in the focus of all beauty mavens this season. But for Summer 2016, all attention shifts to the Brow Bar, like Daytona, a sunglass design with techy detail that commands attention with sophisticated architectural-like top bar creating the sleekest, uptrend sunnies.
---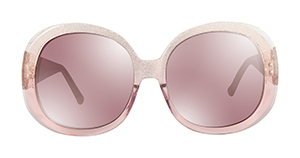 Oversized Glam, Sparkle
"Big" ruled the runways, as did glamour and these sunnies from Colors in Optics, ltd. marry the two. Named Jackie as an homage to NYC's beloved style icon, oversized lenses are captured in either pink crystal frames embedded with light-reflecting stardust or a soft, romantic blue fade with hombre toned lenses – another hot trend.
---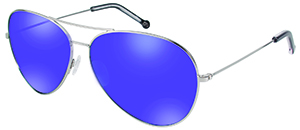 Oversized Aviators
This gorgeous design belongs in the Trend Hall of Fame – it never fails to looks wonderfully sexy on everyone and lends itself to creative interpretation. This unisex Aviator, Sheriff, flies high in a royally rich purple mirror lens set in a silver tone frame. It is available at Bergdorf Goodman
---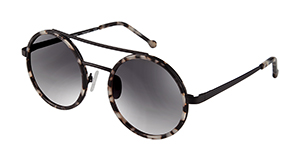 Round
A design that defies time, the Round look is dominant again for Summer '16. Its clean, studious yet sexy look invites creative touches, like this version with another leading trend detail, the brow bar – two for one! Here, a unisex Round, named Bowie in honor of one of NYC's most revered artists, shows how color, in this case a sweet rose gold, elevates a look. Its mate is in power-player matte black paired with salt & pepper tortoise.
---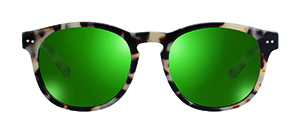 Modern Vintage
Classic shapes, especially rounds and squares, take a time trip into Summer '16, executed in unique tortoises, unexpectedly paired with hip mirror lenses in vibrant colorways, like the striking emerald green mirrors and oatmeal tortoise shown here in the Bond design, a modernized oversized version. For more conservative wearers, classic rich brown toned tortoise and sophisticated black remain perennial favorites.
---
Colors in Optics sunglasses range from $185 - $350. For more information call 1-866-393-3374.