The Hamptons Delivers Good Times for Great Causes
By Lillian Langevin
The serene seaside villages that make up the Hamptons are best known for their white, sandy beaches, fabulous homes, and incredible parties. It's also a summer hotspot for great charity events for worthy causes across the East End. Join the party this summer while giving back for these wonderful charities.
---
A Hamptons Happening 2015 Chris Wragge & Dr. Samuel Waxman ©Society-In-Focus
Samuel Waxman Cancer Research Foundation
12th Annual A Hamptons Happening
The 12th Annual A Hamptons Happening will mark the 40th Anniversary of the founding of the Samuel Waxman Cancer Research Foundation by noted oncologist and cancer researcher Samuel Waxman, MD. The benefit, which takes place on Saturday, July 9th, 2016 at the residence of Maria and Kenneth Fishel, will feature over 30 of the top chefs and restaurants in New York City and the Hamptons. The event will be hosted by CBS 2 News anchor Chris Wragge and will honor Sandra Lee, philanthropist, author, television personality and breast cancer survivor; Jayma Cardoso, Founder of the Surf Lodge in Montauk; and Deirdre Quinn, CEO of the luxury fashion company Lafayette 148 New York.
This year's A Hamptons Happening is chaired by event Co-Founders Marion Waxman and Laurie Schaffran and Co-Chair Karen Amster-Young. Additional chairpersons include Erin Jennifer Woudsma as Auction Chair and Erica Linden-Fineberg as Journal Chair. LDV Hospitality is the featured restaurant group at the event. The Honorary Lead Chef Couple is Fernanda Capobianco, founder of Vegan Divas, journalist and cookbook author; and Francois Payard, pastry chef, restaurateur and author.
For more information on A Hamptons Happening, ticket packages and sponsorships, visit www.waxmancancer.org/Events/Hamptons-Happening
---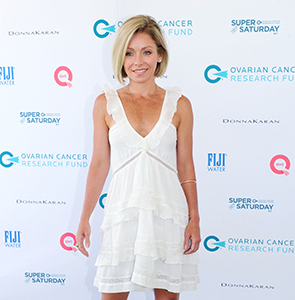 OCRFA Super Saturday 2015 Kelly Ripa ©Patrick McMullan
19th Annual OCRFA's Super Saturday
OCRFA's Super Saturday is a daylong shopping event that brings top luxury name brands in high fashion, accessories, beauty, children's, and home goods at 30-50% off retail to guests with a passion for fashion, charity, and bargains. Ovarian Cancer Research Fund Alliance (OCRFA) is the largest global organization dedicated to advancing ovarian cancer research while supporting women and their families. Previous participants in the sale include Theory, Alice + Olivia, Helmut Lang, rag&bone, Vilebrequin, mBaby, Vince, Diane von Furstenberg, Versace, and many more! This year's event will be hosted by Donna Karan, Gabby Karan de Felice and Kelly Ripa. OCRFA's Super Saturday will take place on Saturday, July 30, 2016.
For more information, please visit www.supersaturday.ocrf.org
---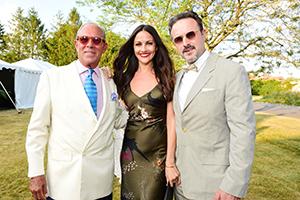 SH Hospital Summer Party 2015 Tony Urrutia, Christina McLarty & David Arquette ©Patrick McMullan
Southampton Hospital's 58th Annual Summer Party
Put on your seasonal finest for Southampton Hospital's 58th Annual Summer Party under big tents on a large meadow at the corner of Wickapogue Road and Old Town Road in Southampton. This evening of cocktails, dinner and dancing will benefit the Jenny and John Paulson Emergency Department, the only hospital emergency department serving the entire South Fork. Lawrence Scott Events will provide the ambiance and a showcase of gourmet offerings. Some attendees and supporters from last year's event included president and chief executive of the hospital Robert Chaloner; Congresswoman Carolyn B. Maloney; Laura Lofaro Freeman; Somers Farkas; the event's emcee David Arquette. The Southampton Hospital's 58th Annual Summer Party will take place on Saturday, August 6, 2016.
For more information, please visit www.southamptonhospital.org
---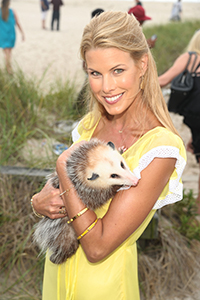 Get Wild 2015 Beth Ostrosky Stern &Blossom the Opossum ©Rob Rich
Evelyn Alexander Wildlife Rescue Center
The Evelyn Alexander Wildlife Rescue Center of the Hamptons will celebrate the Hamptons summer season with its annual GET WILD Summer Gala hosted by Molly Channing of Channing Daughters Vineyard. Notable attendees from last year's event included: Leslie Alexander; April Gornik & Eric Fischl; Amy Sullivan; Susan Penzner; Peter Beard; Dina and Steve Hanson; Anne Hearst and Jay McInerney; Linda and Ben Lambert; Howard Lorber and Jeaninne Gourin; Nicole Miller; Tony and Peck; Jill Rappaport; Jay Schneiderman; Jean Shafiroff; Fred and Nancy Thiele; Anna Throne-Holst; Ginnie Frati and Shelley Berkoski.
The Evelyn Alexander Wildlife Rescue Center, Inc. is a not-for-profit corporation dedicated to the rehabilitation of wild animals impacted as a consequence of human encroachment on their natural habitat. It is a grass roots organization that grew from a few concerned friends to a group of over 1,000 members and supporters. The center is a full-time professional wildlife hospital staffed by licensed rehabilitators, biologists, animal behaviorists and volunteers.
The 2016 Get Wild Event will be held on August 13, 2016. For more information about the Evelyn Alexander Wildlife Rescue Center of the Hamptons, please visit www.wildliferescuecenter.org
---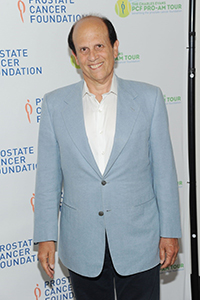 PCF Annual Gala 2015 Michael Milken ©Patrick McMullan
Prostate Cancer Foundation (PCF)
Firmly committed to curing prostate cancer, the Prostate Cancer Foundation is the leading philanthropic organization funding and accelerating research globally. Since 1993, its unique strategies for identifying and investing in the most promising research programs have generated life-saving results. The organization channels resources to the world's top scientific minds—cutting red tape and encouraging collaboration to speed breakthroughs. Prostate Cancer Foundation will host its annual gala in support of the 12th Annual Charles Evans PCF Pro-Am Tennis Tournament. The gala is a celebration featuring cocktails, dining and special performances. 100 percent of the funds raised throughout the evening will go to supporting groundbreaking discoveries in cancer research. Last year's event was catered by Robbins Wolfe, with performances by the late Natalie Cole and David Foster. The gala raised over $4 million, which is a record for the event, a record they hope to beat this year.
The annual gala will take place at the Parrish Art Museum in Watermill, NY on Saturday, August 28, 2016.
For further information on the PCF, please visit www.pcf.org