MNDFL Meditation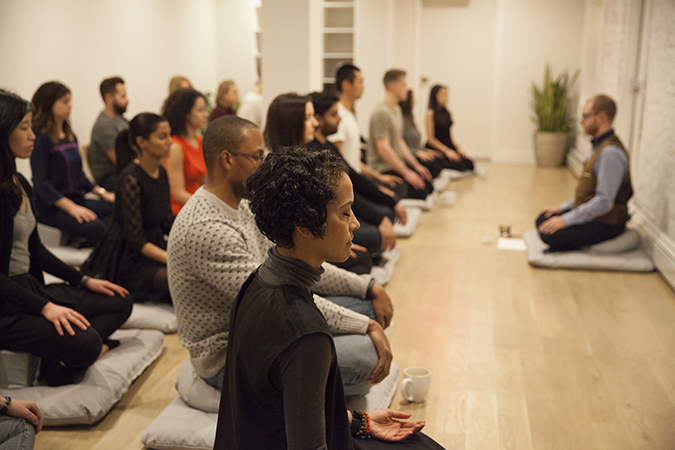 By Daniel J. Bollinger
Located in Greenwich Village is the recently opened meditation studio MNDFL Meditation. MNDFL offers 30-45 minute classes all day long with 27 different teachers all certified in varying disciplines. MNDFL offers a range of meditation classes from the complete beginner to the master.
The health benefits of meditation are starting to be recognized and scientifically proven. For example Harvard researchers at Massachusetts General Hospital determined that, "meditation literally rebuilds the brains grey matter in just eight weeks." It is the very first study to document that meditation produces changes over time in the brain's grey matter. It is well known that meditation improves immunity, memory, sleep, and helps combat stress. So if you want better sleep, a healthier immune system, and less stress in your life let me tell you why MNDFL is a very special sanctuary.
To provide some background on the co-owners Lodro Rinzler and Ellie Burrows, Ellie runs the business side of things while Lodro concentrates on the meditation.
Lodro Rinzler has been practicing and teaching meditation for over 15 years. He was a monk and has written many books on meditation including "Sit Like A Buddha: A Pocket Guide to Meditation" which is a great book for a beginner. Ellie Burrows was a film executive for many years. She practiced spiritual arts as a hobby but deep down wanted it to be her full blown lifestyle. So she quit the film industry, got her coaching certificate and met Lodro while volunteering for a non-profit he was running. One day Ellie pitched Lodro with a simple idea to create a meditation space to go to any time since there was nothing in NYC offering that. Lodro liked the idea... and viola! MNDFL Meditation was born.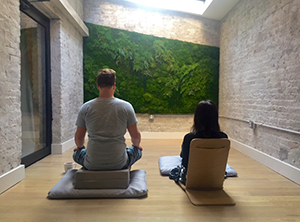 With 27 teachers MNDFL Meditation offers expert teachers from a variety of traditions including Buddha, Kundalini, Tibetan, Hindu, Jewish, and Zen all under one roof. All teachers offer simple techniques in an accessible manner. For those who practice the spiritual arts and know the power of intent looking over the schedule of classes you will see the theme oriented classes each offer something to meditate on. From meditating on breath, emotions, movement, sound, sleep, mothering, kids, to energy and heart MNDFL certainly has a class (or classes) that can help you on your spiritual journey to greater awareness. In essence you choose what would be most helpful to your day based on the intent of the class. For example, their Sleep class promotes, "At the end of your workday come in and let us take your mind from 100 miles-per-hour to 10. Unwind during a guided meditation session meant to put you at ease and allow for a smooth transition home and into bed. That is, if you can make it to bed. You just might fall asleep on our cushion." Even with each class theme each teacher has a different method of meditation. So no matter what your level and what method works for you one can certainly find it at MNDFL.
After class students are welcome to enjoy the lounge which is set up like a living room. There are many books available to learn about meditation for all levels from beginner to expert. Many of the teachers are themselves the authors of these books. The lounge also always serves tea since MNDFL has different tea sponsors that rotate periodically.
MNDFL exists to enable humans to feel good. They are New York City's premier meditation studio. They feature expert teachers from a variety of traditions offering simple techniques in an accessible manner. When classes are not in session, their meditation room is open to the public for self-guided practice. With all of the different teachers and classes MNDFL Meditation is a spiritual academy that knows that everyone is here for some reason. There is a communal atmosphere present that is very relaxing from the moment you walk in the door.
Take a look at everything MNDFL offers by visiting their website: www.mndflmeditation.com and book your cushion today.