Recipe of the Month Summer Fig and Caramelized onion Salad with Aged Balsamic reduction
By Elizabeth Howes
For years, this has been my go-to flavor combination for parties because of its broad appeal and versatility. California figs are available almost year-round, but the richest, most decadent fruit typically hits in August through early October. It's worth seeking out a couple of varieties for this salad. And if blue cheese isn't your thing, an earthy triple crème brie can easily stand in.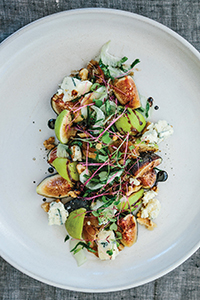 Serves 4
1 cup aged balsamic vinegar (preferably at least 12 years)
1⁄2 teaspoon Herbes de Provence
1 clove garlic, finely diced
2 tablespoons extra virgin olive oil, divided
1 tablespoon grapeseed oil
1 large yellow onion, quartered and thinly sliced
2 cups thinly shaved fresh fennel, placed in ice water until ready to assemble
2 pints mixed fresh figs (about 2 pounds), sliced into various sizes
4 cups packed spinach, thinly sliced into strips
3⁄4 cup walnuts, toasted and then roughly chopped
1⁄2 pound blue cheese, broken into bite- size pieces
1⁄4 cup microgreens (optional)
sea salt and freshly cracked black pepper, plus Maldon sea salt for finishing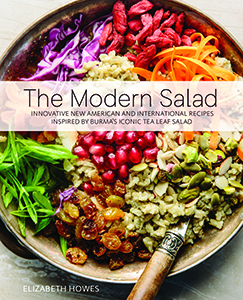 For the balsamic reduction, combine the balsamic vinegar, Herbes de Provence, and garlic in a medium saucepan. Bring the mixture to a boil over medium-high heat, then turn off the heat, allowing the garlic to lightly infuse the vinegar. Season with salt and pepper. Once cool, slowly whisk in 1 tablespoon of the olive oil until combined. Use immediately, or store in a glass jar in the refrigerator for up to a week. Bring the balsamic reduction to room temperature before using it because it becomes very thick when cold.
Next, caramelize the onion. Add the grapeseed oil and onion to a medium sauté pan over medium-high heat. Once the onion just begins to turn a light golden color, reduce the heat to low. Allow to cook for 30 to 40 minutes, stirring frequently, until the onion becomes very soft and a deep caramel color develops. To prevent sticking, feel free to add a small amount of water. Remove from the heat, and allow to cool. Then transfer to an airtight container, and store in the refrigerator for up to 5 days.
To assemble the salad, drain the fennel and dry well. Toss the spinach and fennel with the remaining 1 tablespoon of olive oil, and season with salt and pepper. Arrange the figs, fennel, spinach, caramelized onion, walnuts, and cheese on a large platter or on individual plates. Sprinkle with Maldon sea salt and black pepper, if desired. Garnish with microgreens, if using, and serve the balsamic reduction on the side.