Sizzling Saratoga Springs

By Lyle Seltzer
Located just over a three hour drive from New York City is the historic town of Saratoga Springs. In early times Saratoga was a site of legend to native Americans who revered the healing powers of its mineral springs – one of the few naturally carbonated springs in the United States. The site of key battles during the Revolutionary War, Saratoga Springs emerged in the 19th Century as a town at a confluence of health and society - the spas earned the town the moniker of "The Queen of Spas". As the industrial revolution proceeded apace Saratoga became a place for the well-to-do to escape the pollution and heat of New York City and enjoy the restorative waters, the fresh mountain air and, with time at hand, gambling.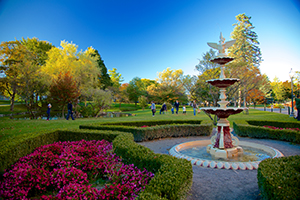 Saratoga is known for its horse racing but there are plenty of other activities including the arts, festivals, shopping, outdoor sports, dining and family attractions. The inaugural Saratoga Uncorked, a five day food and wine experience taking place July 20-24 is a major kickoff event in the city. The multi-day celebration of fine wine, gourmet cuisine and wellness and entertainment will kick off the racing season and both visitors and locals will be able to experience the best that Saratoga has to offer. The event will feature hundreds of artisans, including renowned chefs, sommeliers, vintners, brewers, distillers and local producers.
The historic Saratoga Race Course will host World-class Thoroughbred racing for a 40 day meet beginning Friday. July 22nd through Labor Day September 5th..The meet will feature 18 grade 1 stakes races, Breeders' Cup Challenge races, multiple graded stakes races, Family Mondays and special events. The highlight of the summer will be on Saturday, August 27th with the 147th running of the oldest stakes race in the country, the Grade 1, $1.25 million Travers Stakes. The race meet will conclude with the Final Stretch Festival, September 3rd-4th with live music downtown on both nights.
Saratoga doesn't just have thoroughbreds. More equine traditions continue with Saratoga Polo's 2016 season showcasing Winston Churchill's "sport of Emperors" July 8th through September 4th on Fridays & Sundays. Additionally, visitors can enjoy and celebrate 75 years of live harness racing on a beautiful half-mile track at the Saratoga Casino and Raceway alongside 1,700 gaming machines, the Vapor nightclub and dining options including casual dining at Lucky Joe's and an upscale Fortune's Restaurant which overlooks the live harness racing.The Saratoga Casino Hotel is a new 120,000 square foot, 100 room and suite hotel property offering the ideal location.
The Saratoga Performing Arts Center (SPAC) commemorates their 50th anniversary in 2016. Audiences experience world-class artistry while enjoying the beauty of nature from an acoustically superior open-air amphitheater and a lush, sloping lawn known for its optimal visibility. SPAC'S 5,200 capacity amphitheater was voted USA Today's 2015 "Best Music Venue".The New York City Ballet will take the stage for ten days from July 20th - 30th for their summer residency in Saratoga and Spac's New York City Golden Anniversary Gala will take place July 23rd at 8pm. Classical performances from the Philadelphia Orchestra, one of the preeminent orchestras in the world, will return to Saratoga from August 3rd – 20th, highlighted by the SPAC debut of Renée Fleming, Sarah Chang, Yannick & André Watts. SPAC will also be host to Alvin Ailey American Dance Theater, Opera Saratoga, The Chamber Music Society of Lincoln Center (Aug 7 - 23) and several major music pop and rock concerts all summer long.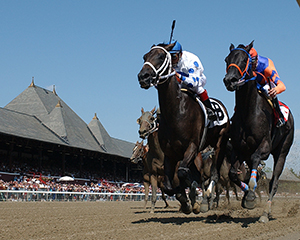 Saratoga is also rich in unique high quality golf courses, including the award winning Saratoga National Golf Club. Named one of the Top 100 public courses in America by Golf Digest, it is one of fourteen courses to tee off at in the area.
Accommodation options in Saratoga are widely available. There are a variety of hotels for all budgets. One of the more unique hotels is the Gideon Putnam, located in over 2,000 acres of Saratoga Spa State Park. Celebrating over 80 years since its foundation the Gideon Putnam was built atop an ancient spring long regarded as special for its mineral powers. Other hotels in the area include The Pavillion Grand Hotel, The Batcheller Mansion Inn, The Inn at Saratoga as well as a number of chain hotels. Saratoga Springs boasts a wide range of cuisines from gluten free to farm-to-table to fine dining. At the heart of the town at confluence of Union and Nelson Avenue is The Brook Tavern – close to the Saratoga Race Course offering a wide menu and excellent ambiance. Chez Pierre delivers the French cuisine experience whilst the Lake Ridge restaurant produces continental cuisine in a classical dining setting which guests are sure to remember.
A trip to Saratoga isn't complete without a stroll through the downtown streets along Broadway checking out the wide selection of boutiques and shopping establishments.
A complete list of racing events is available online at www.nyra.com, while getaway package and festival information can be found at www.ilovesaratoga.us and Visitors can find more information on performances at www.spac.org. More information on the Saratoga Casino Hotel can be found at www.saratogacasino.com and the Gideon Putnam Hotel at www.gideonputnam.com. Dining information can be found online at www.thebrooktavern.com, www.chezpierrerestaurant.com and www.lake-ridge.com.