Breaking Sweat in the Meatpacking District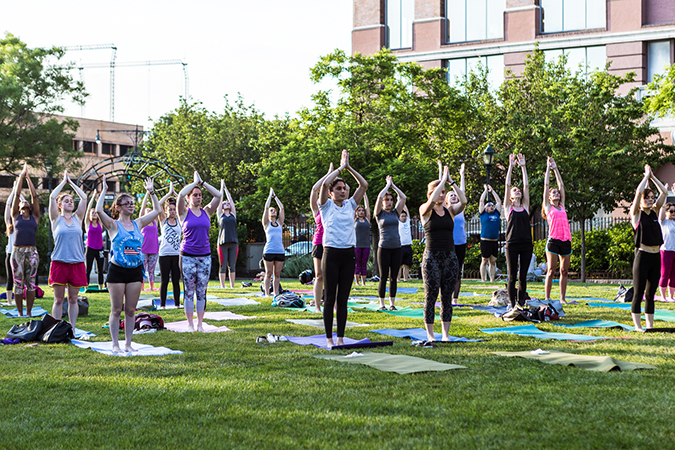 By Jessica Shepherd, M.D.
What is the best way to learn about your neighborhood? Explore it! The Meatpacking district is full of fashion houses, hip restaurants, exclusive boutiques and is much more than the nightlife that many associate as being all it has to offer. This community is at the peak of fitness and wellness thanks to Lauren Danziger, the executive director of The Meatpacking District's Sweat Sessions.
Lauren takes personal pride in this project and is immersed in the fitness community here in New York City. Danziger is a classically trained chef who was diagnosed with severe celiac disease, which has caused her to focus much of her life on healthy eating and a fit lifestyle. This summer will be her fifth year offering complimentary fitness classes for New Yorkers, which began in 2012 and have grown exponentially since then. NYLM sat down and chatted with Lauren to hear how she has transformed the perception of this area and get all the latest details on what the Meatpacking District has to offer.
What does wellness mean to you?
Wellness is about being in balance. It's the total package of FITNESS, DIET AND MENTAL HEALTH and being aligned and working together. For me the fitness and diet didn't fall into place until the mental aspect fell into place.
What inspired you to create this program?
The Sweat Sessions are held in the heart of in the Meatpacking District and was inspired by and created as a way to support the vibrancy of the district, to bring people to the area for something beyond the famed food and nightlife. Initially, it was once a month - June, July and August. The second year we increased the frequency and now it averages 3 times a month, May through August.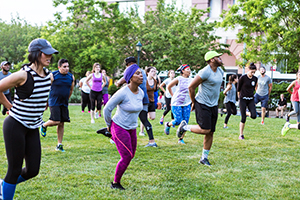 The impetus was to highlight different elements of the neighborhood and change the perception of the area. We wanted the locals to know the depth of business here in the Meatpacking District, and we found free programming a dynamic way to do this.
What makes the Sweat Sessions unique as a fitness program?
The variety is foremost. We have so many different modalities this summer, including everything from Barre, HIIT, Pilates, Yoga, Boxing, Cardio Dance, we also have ACCESS with Rebecca Kennedy, the first active recovery workout in NYC.
The variety keeps the mind active and keeps people from going into a "comfort zone" with one type of workout. A further benefit is that everything learned and experienced can be extrapolated to home because it does not require equipment and best of all it is free!
What has been the response to the program?
Plain and simple... it has been awesome! The Class by TT is a new feature that combines a must try mind/body experience! It incorporates vocalization and meditation into the intense body weight class to relieve stress.
How do you see Sweat Sessions impacting peoples daily lives?
It makes daily routines easier, It gives people a dose of vitamin D and an excuse to get outside, Classes are free, so its easy on the wallet, It is an opportunity to learn new ways to incorporate fitness into your life and lastly accessibility is key. Ultimately, people can begin to approach fitness from a different perspective and it's not intimidating.
How has your journey in health inspired this movement?
I have always loved being active and a lifelong tennis player until a misdiagnosed stress fracture in 2014 led to my not working out for 3 months. Unfortunately, it wasn't a stress fracture it was from my broken back years earlier that caused a spinal condition. I took physical therapy which I felt was not getting me to the level I needed to be. I found Barre which gave me the strength and power I needed physically but also mentally and as a resuIt lost 30 pounds. This transformed me and I became a better person also through therapy and feeling in control of my life. This changed my outlook on life because I focused on total wellness, not just working out or dieting. Through this injury I was able to find a path to be the best "me" I could be and I wanted to have others experience the same.
This year, the Sweat Sessions partnered with Samsung 837 who provides a "cool down" and an experience of wellness through access to healthy food from area restaurants and food purveyors, as well as access to try out some fit technology and how that can enhance one's wellness.
Jessica Shepherd
New York Lifestyles Health & Wellness contributor
Twitter: JShepherd_MD
Instagram: jessicashepherdmd
SnapChat: Jshepherdmd