Bedazzled in Vegas: The Wynn and Wynn Encore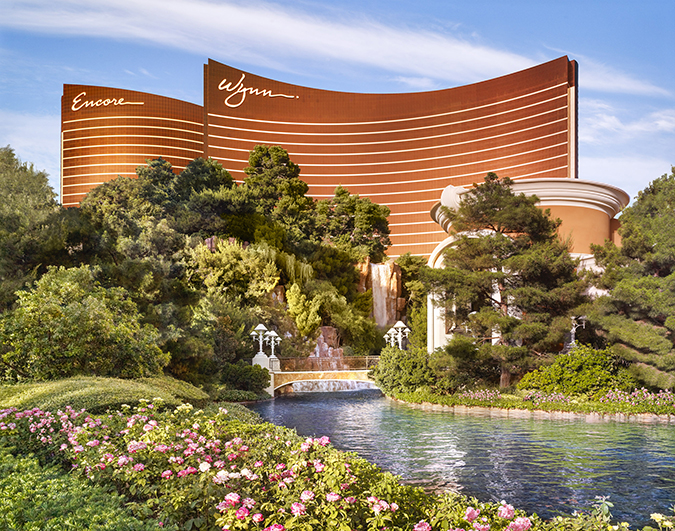 By Norah Bradford
The Wynn Las Vegas, a sixty four acre resort in Las Vegas, is known for luxury and distinctiveness in all the small details that make guests' stays memorable. It is among the world's most luxurious resorts, built on the site of the Desert Inn (where Liberace, Frank Sinatra, Dean Martin, Cher, Barry Manilow and many other major stars of the last half century performed), this 2.7 billion dollar resort was constructed next to the Palazzo and the Venetian Hotel. The Wynn hotel's forty-two floors contain an astounding two thousand seven hundred sixteen rooms. The Wynn and adjacent Wynn Resort Encore combined have a total of 4,750 rooms.
Industry insider Steve Wynn built both the Wynn and the Wynn Encore and played a key role in the 1990s resurgence of the Las Vegas Strip. His companies refurbished or built many of the most celebrated resorts in Las Vegas, including the Golden Nugget, the Mirage, Treasure Island, and the Bellagio.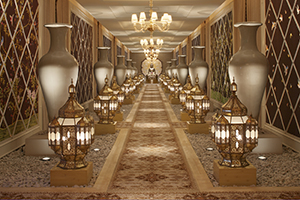 Renowned publications and travel industry insiders have been quick to take note of everything the Wynn and the Encore have to offer. Wynn and Encore hold more Forbes Travel Guide Five Star awards than any other independent hotel company in the world today. The Tower Suites at both Wynn and Encore, and The Spas at Wynn and Encore received the Forbes Five-Star Award.
Wynn offers an array of incredible dining options. Whether you're looking for fine dining, bars and lounges, casual dining, or even vegan dining, Wynn offers something amazing for everyone. Nine fine dining restaurants, nine casual dining restaurants, plus eleven bars and lounges provide a tasty variety of choices. Amongst those, Wing Lei, the haute Chinese restaurant at the Wynn Las Vegas, is the only Chinese restaurant in North America to have ever received the distinction of a Michelin star.
With its century-old pomegranate trees, and two private rooms, Wing Lei, embodies luxury and elegance. Designer Roger Thomas has created a restaurant interior with a unique ambience that exquisitely complements executive chef Xian Ming Yu's creations. Known as one of Las Vegas's most upscale and innovative restaurants, Wing Lei is a must-visit location for any visitor to Vegas and especially for hard-core foodies. Two tasting menus are available at Wing Lei, and a Peking duck dinner is also available. Executive chef Ming Yu creates cuisine that is at once surprising and familiar, like dinner entrée wok-fried duck in black bean sauce. Alaskan King Crab Salad is another crowd-pleaser: with miso-yuzu dressing, mango, and avocado, it's a gastronomic experience guests won't soon forget. Other menu gems include Sichuan chili prawns, walnut prawns, wok-tossed scallops and wok-fried Maine lobster. Wing Lei's sweet & sour pork, Mapo tofu, Cantonese chow mein, hand-pulled wok-tossed noodles, and Yang Chow fried rice are delicious as well.
The shows offered at Wynn and Encore are legendary. Le Rêve – The Dream, voted Best Production Show in Las Vegas by the Southern Nevada Hotel Concierge Association for no less than six years in a row, will mesmerize you with its unique romantic take on water ballet. Le Rêve – The Dream is among the most exciting shows in Las Vegas. Divers, acrobats, ballroom dancers, and synchronized swimmers perform an awe-inspiring piece in a 1.1 million gallon pool. The unique venue design means that every seat in the house has a complete view of the waters, and the show combines elements of romance, action, and fantasy to bring guests an experience unlike any other. Inspired by a 1932 painting of the same name by Pablo Picasso, Le Rêve is a colorful and abstract performance created by former Cirque du Soleil producer Franco Dragone.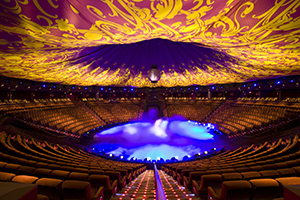 Synchronized swimmers glide through the water in beautiful patterns as aerialists soar through the air. Massive nets rise out of the water and performers take picture-perfect dives from them into the pool below. High divers perform breathtaking in-air acrobatic sequences as they descent towards the water. Behind the scenes, sixteen scuba divers participate in each performance, using fourteen air tanks and one thousand one hundred and twenty cubic feet of compressed air. Safety is paramount- every member of the cast is scuba certified. The ring of digital screens that are suspended from the ceiling project effects like falling rain and flying birds. With no seat more than twelve rows away from the stage, every guest is sure to have an unforgettable experience at Le Rêve - The Dream.
The Lake of Dreams features nine different mesmerizing shows. Wynn and Encore also both offer unforgettable nightlife experiences. Nightlife venues XS, Surrender, Intrigue and Encore Beach Club, are some of Las Vegas' most celebrated places to party. World-renowned DJs like David Guetta and Avicii spin frequently there, enthralling club guests. Guests have included Olympian Michael Phelps, singer Ne-Yo, Jenny McCarthy, and even Britain's Prince Harry.
The shops, spas, salons, fitness centers, pools, and golf facilities at Wynn and Encore are extraordinary. With many distinctive shops, the Esplanades at Wynn and Encore put the world's most renowned designers within convenient reach. From Chloe to two Chanel boutiques to Louis Vuitton, incredible shopping awaits Esplanades visitors.
Ready to relax and rejuvenate, Vegas-style? Head to the Spa at Encore, designed by Todd-Avery Lenahan of TAL Studio. Whatever your relaxation style, Wynn and Encore offer dazzling opportunities to do what you like most. The impressive sixty one thousand foot spa at Encore features thirty-seven treatment rooms, including fourteen naturally-lit garden suites and four oversized couples' suites for massage, body treatments, and facials. The spa also features a complete gym with two fitness movement studios which offer yoga, pilates, and conditioning classes. Personal training services are available on the gym floor, and several full-time fitness instructors are available for group classes or private instruction. The Spa includes separate women's and men's facilities with showers, steam room, sauna, hot and cold plunges and experience showers. Lockers with spa robes, slippers, and hair and body care amenities are also provided at the Claude BARUK Salon at Encore.
Guests can select from an extensive menu of massage treatments including the Thai Oil Fusion Massage, Four Hands Massage, and the spa's Encore Signature Massage. The spa's masseuses can also design a customized massage experience tailored specifically to your body's needs. The Expectant Mother Massage is another relaxing massage option. If heading to the spa is too strenuous, guests can also enjoy massage services in the comfort of their rooms.
Facial treatment options include the Trinity Hydration Facial and the signature Oxygen Infused Facial. Relaxing and result-oriented, facials at the Spa at Encore are sure to get you glowing. If you prefer body treatments, the Moroccan Mud Wrap or the organic Body Restoration Treatment could be just the thing. The spa's distinctive Transforming Rituals include the Encore Escape, Encore Foot Surrender, Fire and Ice Stone Ritual, or the signature Good Luck Ritual.
For more information see www.wynnlasvegas.com