15 Minutes With Chef Marcus Samuelsson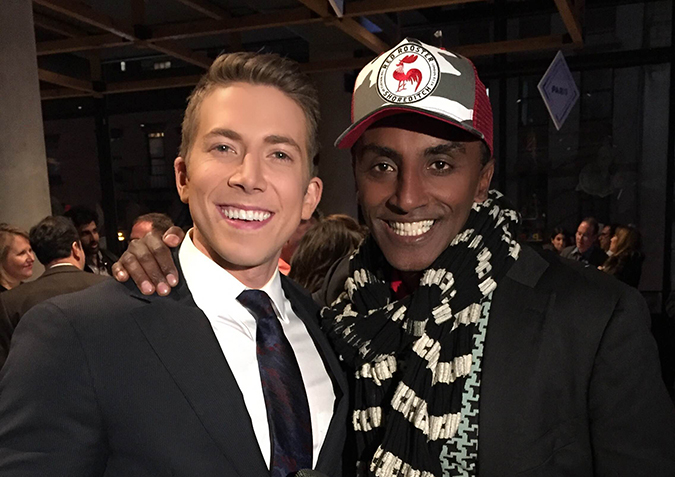 By Baruch Shemtov
Chef Marcus Samuelsson has taken the culinary world by storm for years, translating his multi-continental background into vibrant cuisine that's taken center stage everywhere from Harlem to the White House. As an influential force in Harlem, Samuelsson's popular Red Rooster has become a destination for visitors from around the world, while the chef's expanding empire of eateries, including Street Bird, is bringing his creative menus to fans around the world.
How would you describe your heritage?
I'm American. I was born in Ethiopia. I was raised in Sweden. But I'm American now. I mean all of us come from a place, right? Whether our grandparents, our great grandparents, or people like me. I immigrated to America so my heritage is [born in] North Africa, raised in Europe and living in Harlem.
And how does that experience influence your cuisine?
Being a chef, it's about understanding yourself and understanding your food and who you are as a person, and then teaching around that and creating recipes and food around that. So, for me, I will always have Ethiopian dishes in mind. I will always have European dishes in mind. And yet, I think a lot about the foods of the migration.
What would you say unifies all your restaurants?
It's a spirit and an energy of hospitality, making people happy, understanding a place. We're cooking not in an anonymous place. We're cooking in a very specific place: Harlem. That has a lot of meaning to a lot of people. So being part of a place, cooking from a place.
Why did you choose to create a restaurant in Harlem years back?
Well, it's been a community that I always admired and I learned a lot about, and I wanted to be a part of. So, to me, it was important to create jobs within the community and be part of the community that I admired. For me, why shouldn't inner city America have great restaurants? That was an idea that I thought I can be part of changing the conversation. I could be part of creating a great restaurant in an inner city and hiring from that community.
How has that community evolved since you established Red Rooster?
Harlem evolves like any community. We have obviously been fortunate that the community embraced us and we've been able to hire 150 people that have a job here in Harlem and seventy percent of them come from Harlem. That makes a big difference. That's important.
How does New York inspire you?
Well it does because it's a center of creativity and talent. The amount of talent that you meet and see in New York, that you learn from, customers. So for me it's a big part of why I moved here, is to be part of the most talented city.
What makes your cuisine unique?
It's our journey and it's my vision. Living in Japan or living in Europe or looking at the migration as a great place of inspiration, so I think the cultural aspect. And I bring that to the table.
When did you realize that you'd made it?
I don't think it's an either or. I think it's a place of you continue to work, you continue to work on your craft. I don't think that making it is a bus stop. Making it is an opportunity for me to work with something that I really enjoy. That's making it in a way. Being able to be part of an industry and adding to the industry, that's making it. For me it's not a bus stop of "Oh today I have made it or I haven't made it," you know?
President Obama certainly honored you when he gave you the opportunity to prepare his first state dinner for India. What was that like? It was a great moment, a very big moment in my career. And it's one of those moments that I will always treasure and remember.  It's a moment that I don't take for granted. I was very appreciative of it.
What still gets you excited?
Creating jobs and making a difference in the community.
Whats next for Chef Marcus Samuelsson?
Continuing to build on my food festival Harlem EatUp! Continue to work on Red Rooster and Street Bird and continue to add value in the community in Harlem and create jobs.
If you could only eat one food for the rest of your life what would it be?
Sushi. It's fish. That's what i was raised on. And there's an elegance to it that I love.