Book Reviews
By Chris Beakey & Jeffrey Stephens
ROGUE MISSION is the fourth thriller featuring CIA operative Jordan Sandor, a story that will appeal to fans of Jack Du Brul, Brad Thor, Daniel Silva and the late Vince Flynn.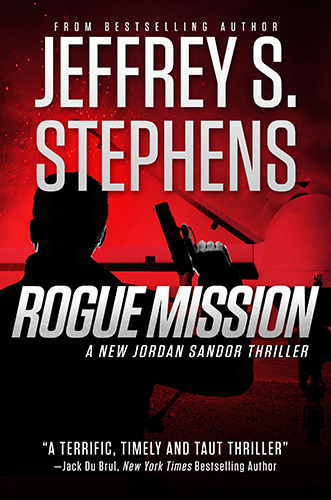 Stephens has the ability to evoke the "Oh God, this could really happen?" kind of fear that makes for great suspense – partly due to high-stakes plotting but even more so through Sandor's rebellious personality, adept use of violence, and indisputable moral code. Simply put, he's a lot like 24's Jack Bauer with a sense of humor, or a more realistic version of Lee Child's Jack Reacher, and ultimately the kind of friend you'd love to have in real life.
For these reasons and more, ROGUE MISSION is one of the best books I've read in this genre. I wasn't just captivated by it. I believed every word of it. When I reached the last page and looked from the living room of my DC apartment toward the White House I actually found myself hoping, "It won't happen here."
That is, unless Jeffrey Stephens decides to write it that way in his next Jordan Sandor novel, which I will have no choice but to read.
Reviewed by Chris Beakey, author of FATAL OPTION, coming in February 2017.
David Baldacci continues to turn out consistently entertaining stories at an astonishing pace. His last two works are no exception.
THE GUILTY features super-spy Will Robie in an unusually personal tale. Robie's father, from whom he has been estranged for years, is a well-respected judge in a small Southern town who has just been accused of murder. Although the judge refuses help from his prodigal son, Robie travels to Mississippi to clear his father's name. As expected, the ensuing path becomes increasingly twisted and ever more dangerous. The pages turn quickly as you race to the climax.
THE LAST MILE brings back Amos Decker, the man who can forget nothing. Working with a special FBI task force, he becomes embroiled in a murder investigation where the parallels with his own life become uncomfortably clear, even as the lines between guilt and innocence blur. Decker must employ all of his extraordinary mental agility to solve the case, especially after one of his own team disappears. Once again, you will be drawn into a well-written web of deceit and mystery.

Either novel or both make a nice way to spend a summer's day—and night.
Reviewed by Jeffrey S. Stephens, author of ROGUE MISSION.