Fashionably Blanc
By Miki Makrillos
New York goes undercover in code "white" during the summer months. The mission for this secret rendezvous is well kept among the approximate 5,000 randomly chosen participants. Even in the age of social media, the stylish, elegant, etiquette filled event Diner en Blanc remains a well kept secret. This "chic picnic" has become a stylish event that allows it's guests to unleash their fashion whimsy.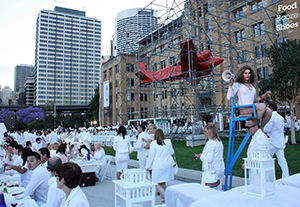 Diner en Blanc originated 27 years ago in Paris when Francois Pasquier held a picnic party in a public space inviting a handful of friends, and requested all his guests wear white attire. Since then, it has become an annual social event in Paris, hosted at the most prestigious public sites such as the Eiffel Tower, Champs-Élysées, and Place de la Concorde with approximately 10,000 guests in attendance. This event has since expanded to more than 60 cities around the world with the coordination of Francois' son, Aymeric Pasquier, who co-founded Diner en Blanc International with partner Sandy Safi. Together, they have made this event become an exclusive sensation worldwide.
In New York for the past five years waiting lists have totaled 35,000 applicants for only 5,000 guests. According to its co-founders this event is such a success because guests have to "commit to participate". Rules are strict for willing participants. After purchasing a ticket ($32.00), guests must be willing to carry their own table, chairs, a tablecloth, all white china, decorations, candles and food during rush hour, while planning days and sometimes weeks in advance for the "right outfit". Yes, there is a dress code of chic, strictly white dress, and attention seeking headwear. Participants are notified to arrive at a central location with their belongings and are told last minute to follow a team leader to the secret location.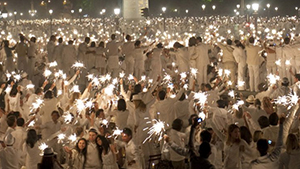 Past years landmark locations such as Lincoln Center and Pier 26 have been host to Diner en Blanc: an elegant, glamorous revisiting of high French society, and guests engaging one another, knowing that they are taking part in a truly magical event. It is a moment in time where there are no disruptions: no car traffic, no pedestrian traffic, but an all white unique event where stylish people of diverse backgrounds are brought together to share good taste and a love of beauty. It also gives people the pleasure of spontaneity, creative expression, and getting back to basic values that are forgotten in the bustle of city life, such as sharing a meal with friends, while getting dressed up for the celebration.
Presentation time is here!! The event begins after hours of setting up beautiful rows of white adorned tables. Men are sitting on one side of the table, and women on the other. All guests are elegantly and stylishly dressed in white suits, gowns, cocktail dresses and elaborate accessories. There is a silent stand by all, and a long standing tradition of white napkins waving in the air, signaling the start of the dinner "a toast to all!!". As the evening continues with mingling and dancing there is a beautiful picturesque New York skyline adorning this unique ethereal experience.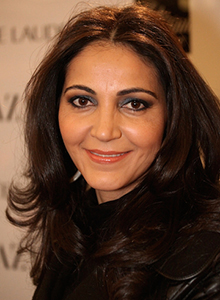 About Miki Makrillos
Miki Makrillos is a commentator on style and fashion on her website: wonderwomantalks.com