Summertime Sports: Keeping Your Eyes In Focus
By Dianne Zoppa
Summertime sports like tennis, golf, fishing and boating, require proper outfitting that includes thoughtfully chosen eyewear that can amp up both your performance and your style. Even athletes with perfect 20/20 vision will benefit from wearing the correct sunglasses, explains Sanford Hutton, CEO of Colors in Optics, Ltd. in New York City. An optician, former science educator, golfer and tennis player, Hutton has created luxury, high fashion eyewear for forty years. He offers these guidelines for choosing sunglasses that will keep you at the top of your game and looking sensational:
• It is crucial to select lenses that provide maximum UV absorption. When possible, add additional protection from glare and potentially damaging UV rays with polarized and/or mirrored lenses.
• Fit is essential. Temples and nose pads should feel comfortable and secure to accommodate head movements, such as following the trajectory of a golf ball or spotting the rapid back-and-forth action on the tennis court.
• Lightweight frame materials and shapes that provide adequate coverage and protection enhance performance. For example, boaters should consider oversized shapes that hug the face, helping resist off-the-water breezes that potentially can lift sunglasses when a boat moves at high speeds. Attaching a head strap affords extra security.
• Typically, high quality fashion sunglasses can be re-fitted with prescription lenses.
• If you wear prescription glasses, let your eye doctor know what sports you play. He/she will advise on appropriate tints and lens materials. Most experts would agree that for country club players and non-competitive water sports such as yachting, sailing and fishing, tint color is a matter of preference. For golfers, rose copper, browns, and ambers are ideal for heightening contrast on the fairway and reading the green as well as following the ball against blue sky. Rose copper tint is a bonus when putting, allowing the player to filter out the reds and yellows within the green field.
Some opticians advise that tennis players will gain an advantage in spotting the bright yellow ball through mirror-coated or polarized lenses to reduce glare on sunny days.
For water activities, here are some general tips: green tinted lenses will enhance visual acuity for specific light situations, such as sight fishing; gray tints are neutral and all-purpose, providing contrast and effective light filtering on water; purple or rose tints offer the brightest field of vision, especially applicable to sight, bass and inshore fishing.
---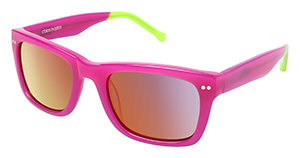 1. CS 270 MARIN by Colors in Optics, ltd, in Watermelon Pink with Lime Tips)
The rosy pink mirrored lenses of Colors in Optics' women's Marin style will help create contrasts on the golf green and, in this pretty watermelon pink and lime combination, add a summery blush of color to tennis togs.
---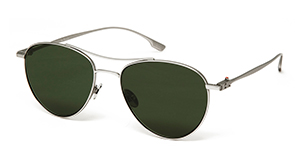 2. KT505 S06 Matte Silver with Olive Lens by Kiton
Sail away in Kiton's men's luxe Aviator in matte silver. The solid olive tinted lenses provide the practicality of a comfortable, lightweight and wind-resistant fit set in the elegant lines of this classic style.
---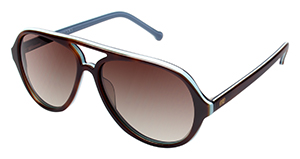 3. CP 244 BOCA by Colors in Optics, ltd. in Tortoise over Sky Blue
A handmade Aviator frame in acetate, Boca by Colors in Optics, ltd. offers uptrend brow bar detailing, shown here in Tortoise over Sky Blue. This unisex design features generously contoured polarized gradient lenses that enhance vision for country club athletes and sailors.
---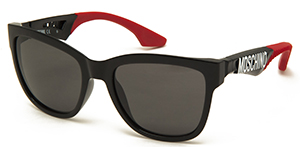 4. MO816-S01 Black and Red design by Moschino
Lunching in the clubhouse, competing on the links or courts, or simply soaking up the rays on top deck - Moschino sunglasses elevate the game with European panache. These lightweight, sporty frames, with rubber temples and a distinctive logo are both posh and practical.
---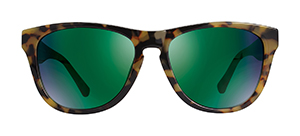 5. CS281 MARINE by Colors in Optics, ltd. in Tokyo Tortoise
The flattering and classic rectangle shape of Colors in Optics' Marine men's design in a rich Tokyo Tortoise offers polarized sea green mirrored lenses that are ideal for boating but equally effective on the court or fairways.
---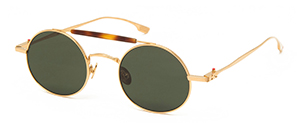 6. KT508 SO1 Kiton design in Gold with Tortoise detailing
For the yachtsman, a sophisticated sunglass in gold metal with a stylized tortoise brow bar, captured in a classic round Aviator shape. By the revered Italian design house Kiton, these will merit second glances.
---
Colors in Optics, Kiton, and Moschino sunglasses range in price from $175 to $575. For more information on these styles call Colors in Optics, ltd at 1-866-393-3374.The Kiton sunglasses are available at E.B. Meyrowitz & Dell, 19 W. 44th St., NYC; the Moschino sunglasses are available at Bloomingdale's.