320 Guest Ranch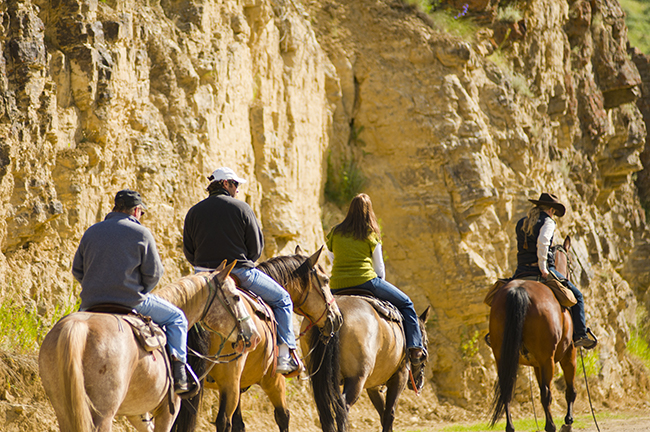 By Gretchen Kelly
City slicker that I am, whenever I think of Montana, I think of Brad Pitt. That's because two films that feature Montana and Big Sky country feature Pitt: 1992's A River Runs Through It (actually filmed in Bozeman and on the Gallatin River that does indeed, run through it) and 1994's Legends of the Fall. So by the time I got a chance to visit Big Sky country, I expected Brad to be the one picking me up at Bozeman Airport.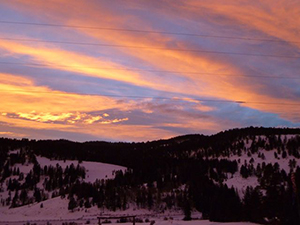 While Brad did not in fact come to pick me up, I felt the allure of his Montana films all around me as I checked into my personal log cabin lodge (complete with fireplace). Later, I strode outside to take in gulps of the fresh mountain air that surrounds this over 100-year-old property, which began life as a homestead in 1898 and welcomed its first guest as a ranch in 1905.
The phrase "Big Sky" is not just a tagline, it's an actual description of what you'll see arching over you the whole time you're at the 320 Guest Ranch. Located in Gallatin Forest, along Brad's famous Gallatin River, the 320 Guest Ranch is perched in splendid isolation in a landscape that brings out your inner cowgirl (or boy), no matter how citified you are. I quickly acclimated myself to replacing the sound of city traffic with birdsong and to the cool, clean air and natural beauty that is all around. And on my first night, when a bracing chill came to the 320 Guest Ranch, I warmed to the feel of an old-fashioned crackling fire in my wood burning fireplace like an experienced ranch hand.
Rested and warmed, the next morning I woke up, put on my Montana-style cowboy cut jeans and went to meet horseman Marce Hoffman who was going to get me out on the trail, along with some of my fellow travelers and accompanying ranch staff.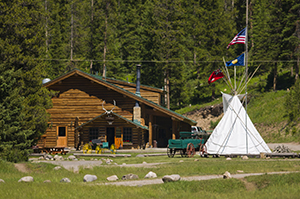 Although I've had experience on a horse (in a Queens, NY stable of all places), I got into my Western-style saddle with a smidgen of nervousness (you just never know). But as Hoffman pointed out, the trail is easy and the horses calm and reliable—so much so that the 320 Guest Ranch often does "Tote" rides for kids. Children ride with a ranch hand and a family member on either side on flat ground with absolutely no fear. I felt excitement as I nudged my equine partner to start the ride out onto the flower-covered hills fringing the 320 Guest Ranch. Although we didn't see any on this trip, Hoffman says that riders often spot elk, deer, eagles, moose, coyotes, bears and sometimes even a lone wolf or two (safely as the horses tend to intimidate the wildlife to a safe distance).
After a bracing ride that was so smooth it felt like swimming through the clear, cool mountain air, we ended up back at the camp for a wagon ride to a riverside barbecue. As so much of my cowgirl references are cinematic, this part made me think of Oklahoma! (different state, I know) or Seven Brides for Seven Brothers. If you have one of those sparkled vintage cowgirl skirts and studded boots, this is the time to wear them! At the riverside, the smell of roasting elk and beef, chili, and (later) s'mores lured us all to the feedbag without much talk. The conversation was saved for later as we sat with cowboy coffee (roasted on fire) and listened to a local female storyteller in her boots, hat, and fringe, weave tales of cowgirls from times past. The ranch often brings experts to its riverside barbecues (this month, they have a Teddy Roosevelt interpreter—perfect for the 320 Guest Ranch's proximity to Yellowstone).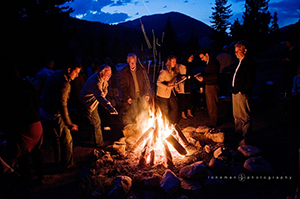 Although sleeping in was tempting (the beds are that comfy!), I had to get up early the next day for our trek to Yellowstone (happy 100th birthday National Parks!). The Park is only 36 miles from the 320 Guest Ranch, so there's enough time to get there and see everything you dream of seeing. We saw Old Faithful gush (right on time) as well as hundreds of local bison that wander the park freely. We also took some time to tour the Old Faithful Inn, the 1903 hotel that evokes Frank Lloyd Wright, Theodore Roosevelt and the early days of the love affair of America with its National Parks.
That night my final meal at the 320 Guest Ranch's restaurant was an elk carpaccio and an enormous hand-cut steak with a side of hand-cut fries. I rationalized the carbs as fuel for my ride the day before, and they were worth it! In the morning, as we drove toward the airport, my guide pointed out a stretch of the river where guests can fly fish just like in the movie and where the film, in fact, was made. In the shimmering afternoon sun, I swear I saw the Golden Boy himself, casting a line as delicate as a spider's web and smiling in my direction.
The lodge is open year-round, but some facilities (like the restaurant) have some seasonal closings so check with the property to find out what will be open when you stay. If you want to ride horses, bring boots or a shoe that has a heel on it—the best footwear for getting saddle-side. Also, make sure to bring sunscreen and bug repellent as you're outside and in strong UV territory.
For more information on 320 Guest Ranch, visit:
320GuestRanch.com.
---
Gretchen Kelly is a New York City-based freelance journalist and editor.
---