A Sporting Club…And So Much More!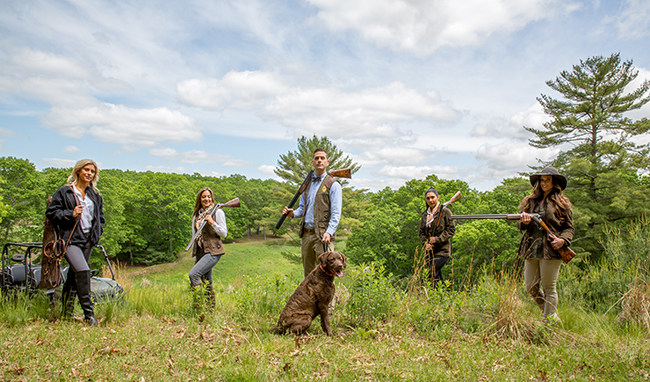 By Neal Stroka
Sporting Clubs have long been one of the recreational pursuits of the privileged. Scenes of beautiful, well-dressed people running through the fields dressed in their designer best along with their even more beautiful dogs have filled the society pages for generations. That was then. Today, a new breed of the classic sporting club is becoming the trend, where shooting clay pigeons are important, but so is rock climbing, fly fishing, tennis, and golf. A prime example of this is under three hours from midtown Manhattan—The Preserve at Boulder Hills. Located in southwestern Rhode Island—just past the Connecticut State line—this retreat encompasses nearly one thousand acres right along Route I95; it's approximately thirty minutes from Providence, one-and-a-half hours from Boston and about two hours from New York City.
Behind the gates sits a gorgeous private golf and sporting sanctuary dedicated to providing unique natural experiences to the exclusive few who chose to make this their home away from home. The Preserve offers a wide variety of year-round activities in a secluded setting. A sportsman's paradise, it features six stocked fly fishing ponds, five breathtaking waterfalls, and five rustic upland bird hunting fields nestled in a vast expanse of unspoiled natural habitat.
When it comes to golf, veteran course developer and owner Paul Mihailides brought on the award-winning golf course architect Robert McNeil, to transform the rugged property into a world-class 18-hole executive golf course, a sculpted work of art, carved out of the untamed beauty of nature. "The layout blends handpicked elements of the old course and the natural character of the site resulting in a routing that is meant to ignite a visual and strategic charge," said McNeil. "When you think of Rhode Island, buffalo meandering in meadows is certainly not the first thought that comes to mind. Imagine eyeing a shot to a pin tucked on a high plateau protected by bulging rock and framed by meadow grasses when a group of bison passes along the high ridge in the distance!"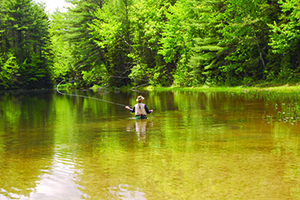 The property also includes clay and seasonal bird shooting fields designed by Jack O'Brian and Chris Batha. Other activities including rock climbing, camping, cross-country skiing, ice skating, snowshoeing, mountain biking, swimming, tennis, zip lining, horseshoe pits, allow owners to enjoy outdoor recreation in a serene year-round setting.
Due to its unique location and facilities, The Preserve has become the desired spot by brides and grooms who want to have an unforgettable dream wedding. The club boasts a professional food, beverage, and events coordinating providing outstanding cuisine and attentive service, all within a dramatically beautiful natural setting found nowhere else in the region.
The Preserve at Boulder Hills is a tranquil retreat where homeowners can spend days enjoying the pristine wilderness of New England in a lush and unspoiled setting, and at night relax in their private lodge while experiencing world-class amenities at their doorstep. For more information, visit ThePreserveRI.com.
Neal Sroka is the founder of the Sroka Worldwide Team at Douglas Elliman Real Estate specializing in resort real estate in the Caribbean and Latin America, SrokaWorldwideTeam.com. Contact him at StrokaTeam@Elliman.com.