Checking In at Corinthia Hotel London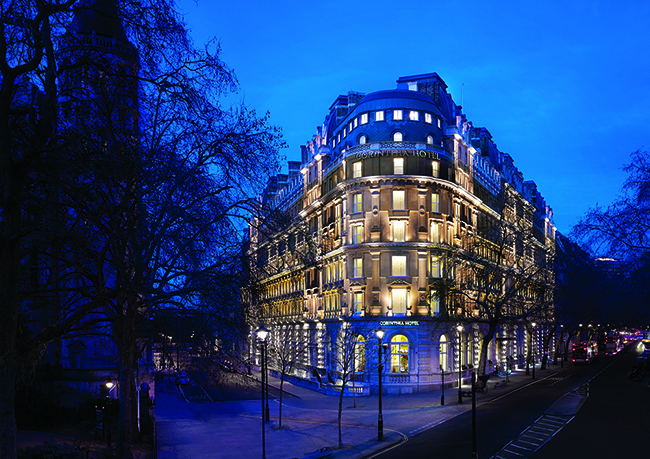 By Susan Toomy
The Corinthia Hotel London is a luxury hotel nestled between the River Thames, the iconic structures of the British government, and 10 Downing Street. It's a mere stroll to the art exhibitions at the National Gallery and fabulous dining near St. James and Mayfair.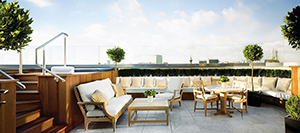 Corinthia Hotel London has an interesting historical pedigree. The establishment opened in the late-19th century with its brochure advertising its virtues which would not be lost on the modern visitor: "That the hotel's location is particularly recommended to ladies and families visiting the West End during the Season; to traveler's from Paris and the Continent, arriving from Dover and Folkestone at the Charing Cross Terminus; to Officers and others attending the levees at St James; to Ladies going to the Drawing Rooms, State Balls, and Concerts at Buckingham Palace; and to colonial and American visitors unused to the great world of London."
During the Second World War, the hotel's location led it to be requisitioned by the British government to provide extra space for administrating the conflicts. Room 474 was the first headquarters of Winston Churchill's secret army known as Special Operations Executive (SOE), what today is part of the Secret Intelligence Service of James Bond fame.
After the building had been sold in the mid-2000s, an extensive refurbishment took its history full circle back to its roots as a luxury destination in the heart of London. Today, the hotel boasts 294 luxuriously furnished rooms, including 43 suites with Hypnos beds, Nespresso machines, and Loewe televisions.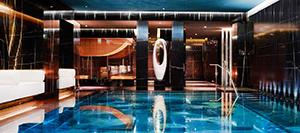 After seeing the sights of London, soothe the body and soul at the exclusive ESPA Life at Corinthia. The multi-level spa features 17 treatment rooms, a private spa suite, nail studio, indoor swimming pool, vitality pool, amphitheater sauna, and private sleep pods. The spa café complements the overall offering by serving light, nutritious refreshments. There's also a 24-hour gym.
Dining and entertaining options abound and are all first-rate experiences. Massimo Restaurant and Bar, a large open dining space with massive columns serves flawless Italian cuisine. The Northall restaurant looking toward the River Thames serves International Culinary Director Garry Hollihead's impeccable interpretation of classic British food. For afternoon tea or drinks the Lobby Lounge, illuminated by a custom chandelier by Baccarat, is an exquisite venue. For evening drinks the more intimate Bassoon Bar offers cocktails and classic drinks in replica Queen Victoria glassware. Regular live music underscores the theme and the name of this see-and-be-seen-in venue.
This London outpost of the exclusive Corinthia Hotel chain is heaven-on-earth, with service that would make anyone feel like royalty.
For more information on the Corinthia Hotel London, Whitehall Place, London, please visit: corinthia.com/hotels/london