The Expressive Artist: Jan Dilenschneider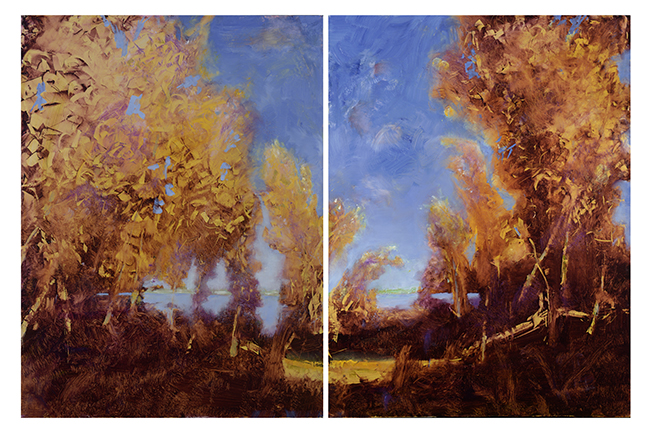 By Patricia Canole
Some say art is a mirror. Some say it is decoration. To American Expressionist Jan Dilenschneider, it is the tool with which she can reach deeply into the viewer, make him think and react, and draw from her paintings a shared experience that transcends the material and temporal.
"It's how much I can get them to participate in that painting; how much I can get them to feel...," the New York-born artist says.
Dilenschneider, a city resident for more than 25 years, today takes cues from the inspiration-rich milieu of Long Island Sound in her waterfront home in Darien, Conn. Her studio, its glass walls inviting revelation from the confluence of land, sea and sky, is a window on the world, enriched by the energy and emotion she brings forth from canvas and pigment.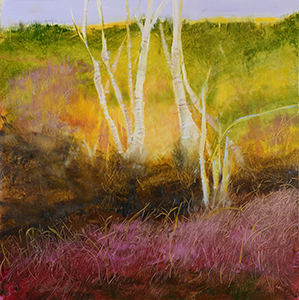 In the short span of a few years, Jan Dilenschneider has gained notoriety in the art world, especially in Europe, where she exhibited 14 new works as part of her show entitled The Fourth Dimension, at the European Art Fair in Monaco in July. This follows the prestigious Art Paris Art Fair, held this spring at the Grand Palais, where her works were shown by Galerie Pierre Alain Challier, which has hosted three Dilenschneider solo exhibitions in the summers of 2013, 2014 and 2015.
"Pierre took a chance and gave me my first solo show in Paris," Dilenschneider said, displaying the catalogs for her shows at the Galerie. "He has an incredible eye for the detail of the painting."
In this country, she will exhibit October 7 through November 12 in a location vital to the history of American art, the Sill House Gallery at the Lyme Academy of Fine Arts, in Old Lyme, Connecticut. Old Lyme is known as the Home of American Impressionism.
Dilenschneider has also shown her works at the Bellarmine Museum in Fairfield, Connecticut.
Her connection with the viewer is a theme running throughout Dilenschneider's work, whether capturing the kinetic frenzy of Superstorm Sandy on the Sound outside her home, or the placid floral beauty of golden lily pads in the Caribbean. It is also a defining element of her expressionism – her paintings go beyond representing an artist's impression of reality, instead purposely enhancing it in a way designed to stimulate a response.
"A good way to look at it is how can I excite someone's eye," Dilenschneider says. "The first is color. When I paint, I look deeply into the subject to see and experience the color."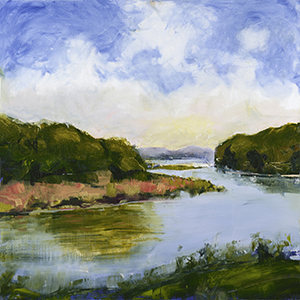 A wave of her arm calls attention to the waters of Long Island Sound out the window. "Some people look and say the water is blue. Some say green. But I see a lot of pink, and I would highlight that. Pink and green are complementary colors and that would excite."
"I will sometimes add color where it isn't; I will paint green against the blue, highlight the purple," Dilenschneider says. But just as important as the color is its application.
"The other major thing is gesture," she says. Dilenschneider approaches a canvas boldly, holding that the initial stroke of hand is key to the connection it will ultimately make with the viewer.
"I make it a strong, emotional gesture," she says. And indeed, the tools that she uses beyond the brush – sometimes a squeegee, sometimes her bare hands and forearms covered in pigment – to add color here and remove it there, to create a new texture atop one that exists already on the canvas, invite the viewer to participate emotionally through the depth and energy of the motion they convey.
Dilenschneider employs gesture as an emotional beacon in many of the diptychs and triptychs she paints, noting that while these closely related series of two and three works can be hung together, they can just as well stand alone. Pointing to one diptych set, she notes, "Each has a gesture line, but not the same gesture."
She calls them "pairs" to indicate that each is complete and independent of the other.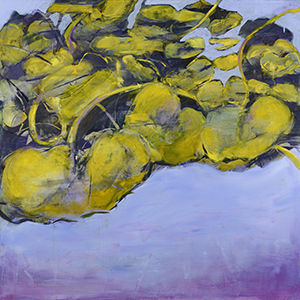 French newspaper Le Figaro wrote of her work in 2015, "She wields her brush with wild passion and tremulous elation, bringing trees, flowers, grass and reeds to calm, majestic life...The luminous Dilenschneider has placed landscapes side by side in what may or may not be diptychs – the viewer is free to decide. Indeed, freedom is the very theme that the artist has chosen to explore in her Paris exhibition following the January attacks."
Following the European Art Fair in Monaco, Dilenschneider has been busy creating and selecting two dozen works for her exhibition in Old Lyme. Lieutenant River and Edgar Pond, both inspired by the local landscape, will be among them, as will Flora Against a Blue Sky. At least one of her commanding vertical triptych's is also destined for the Sill House show.
In speaking about her paintings, Dilenschneider likes to quote Paul Klée, "One eye sees, one eye feels" – something that applies to the viewer as well as the artist, she feels.
"If you ask me the meaning of my paintings," she said, "I don't know. The only narrative is what the viewer brings to it. There's a time at every exhibition when you have to speak about your paintings. I'm self-confident, and I have a lot to say. But if you could say everything, there would be no reason for the painting."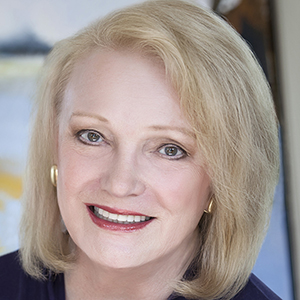 About Jan Dilenschneider
After a successful career in New York with Estee Lauder and Revlon, Jan Dilenschneider returned to painting, selling her first canvas just three years ago. Since then, her studio doors opened to the world and  she has had three successful solo shows in Paris at the prestigious Galerie Pierre-Alain, a solo museum show at Bellarmine Museum in Fairfield, Connecticut, and participated in ARTPARIS ART FAIR and European Art Fair in Monocao.