Golf Perfection On The Island Of Kauai
By Patricia Canole
Beauty may be in the eye of the beholder, but some places give beholders more reason to appreciate them than others. Take Kauai. This lush, 533-square-mile Hawaiian Isle enchants visitors for many different reasons. Whether your dream day is zip lining above treetops, careening over waves in a sea kayak or horseback riding into Waimea Canyon—Mark Twain dubbed it the "Grand Canyon of the Pacific"—the Garden Isle is for you. Beach lovers find its selection of strands irresistible, and divers can't get enough of the warm waters off the shore. And for golfers—it's simply paradise. Kauai is one of the world's top golf destinations, with world championship courses.
---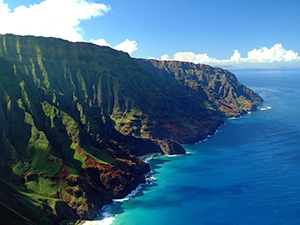 ON COURSE
Like Hollywood filmmakers who shoot here, golfers visit Kauai for the spectacular scenic backdrops. But they also enjoy a challenge. Here, courses are crafted with nature's help and helped along by some of the game's most talented architects.
THE OCEAN COURSE AT HOKUALA
This former 27-hole Kauai Lagoons course still captures the original Jack Nicklaus Signature design. The newly opened course received a major update in 2015 that shortened it to 18 of the best holes from the original layout. The course renovation still possesses the unique qualities of the original Jack Nicklaus Signature layout. The front nine starts out gently but steadily becomes more difficult. The first nine holes are set within lush foliage, and while the tropical scenery is stunning, it's the coastal back nine that challenges best. The oceanfront views are unrivaled even in Hawaii where there is no shortage of beautiful scenery (hokualakauai.com/golf).
---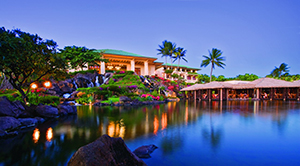 POIPU BAY GOLF COURSE
Nestled between the Haupu Mountain and the blue Pacific, this 7,123-yard, par-72 course with a links-style layout was once the home of the PGA Grand Slam of Golf. Designed by Robert Trent Jones, Jr., this 18-hole course features undulating greens and water hazards on 7 of the holes. The par-4 16th hole has the coastline weaving along the entire left side. Occasionally, you might see rare Hawaiian monk seals, native nene geese, green sea turtles (poipubaygolf.com). The adjacent Grand Hyatt Kauai Resort & Spa offers special golf packages for guests (kauai.hyatt.com).
---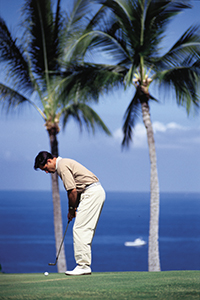 PRINCEVILLE MAKAI GOLF COURSE
Nearly six years ago, a multi-million renovation reconfigured the greens from two 9-hole courses into one beautiful 18-hole course known as the Princeville Makai Golf Course. The Robert Trent Jones, Jr. designed course reshaped bunkers and added two new large practice tees. The 7,223 yard par 72 Makai Course's signature holes includes the challenging par 3 third. Bali Hai and Hanalei Bay vistas provide golfers a once-in-a-lifetime experience. The golf club has a newly built clubhouse with large lanai where the Makai Grill is located, serving breakfast and lunch daily (makaigolf.com).
---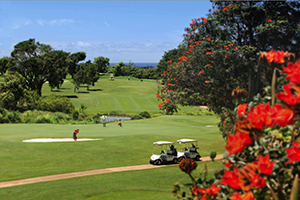 KIAHUNA GOLF CLUB
Nearly 32 years ago, the Kiahuna Golf Club opened as the first course located on the south shore resort area of Poipu. Since then it has undergone a renovation with added yardage. This Robert Trent Jones, Jr. par- 70 course pays homage to ancient Hawaii by incorporating a design around archeological and historical sites. Seven holes feature water hazards while a stream flows along the 12th fairway. Charming diversions include Joe's on the Green restaurant for tasty delights (kiahunagolf.com).
---
PUAKEA GOLF COURSE
Imagine walking up to the first tee with a Pacific Ocean view in front of you and Mt. Haupu towering over you. It's not a dream; this is Puakea Golf Course. Designed by Robin Nelson—Hawaii's prolific golf course architect—the course plays around deep ravines and streams fed by fresh mountain rainwater. Bonus: This facility offers a complete schedule of clinics, private/group lessons. PGA professional instructors will help you master your game (puakeagolf.com).
OFF COURSE
Poipu's sun-drenched strip of hotels on the southern coast offers the most man-made action on Kauai, and the widest range of accommodations. Poipu Beach-based Outfitters Kauai (outfitterskauai.com) will organize a hair-raising zip line tour that ends at Kipu Falls, where a rope swing sends you soaring 30 feet above a pond. On the North Shore, active types flock to this area for the two-hour hike along cliffs on the Na Pali Coast and take you from one breathtaking view to the next, eventually spilling out on Hanakapiai Beach. From there, it's another two miles inland to gorgeous Hanakapiai Falls. Need more adventure? Then take a ride on a Blue Hawaiian ECO-Star helicopter, which boasts the only panoramic views of Kauai's interior from every seat (bluehawaiian.com).