Grounds For Sculpture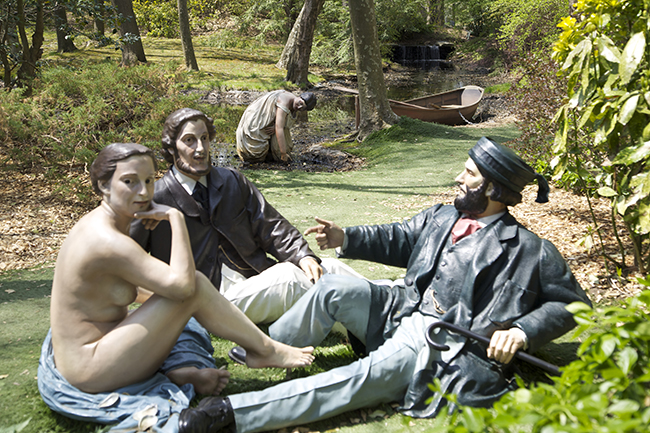 DEJEUNER DEJA VU Seward Johnson ©1994. Photo by Paula A Stoeke
By Jeff and Stephanie Sylva
Grounds For Sculpture situated in Hamilton, New Jersey is the perfect destination for a family outing. Just a 75 minute trip from Bergen County, this 35-acre sculpture park and museum is located on the site of the former New Jersey State Fairgrounds. Grounds For Sculpture was established in 1992 to promote a greater understanding of and appreciation for contemporary sculpture. The landscaped grounds and historic, renovated buildings feature changing exhibitions throughout the year.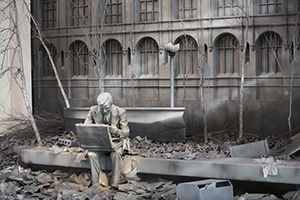 DOUBLE CHECK Seward Johnson ©1982 Photo by Carl Deal III
We had a chance to visit Grounds For Sculpture following recommendations from several friends. Once there we opted to pick up some Sculpture Site Maps and a Self-Guided Tree Tour brochure to tour the grounds ourselves, but guided tours conducted by trained volunteer docents are also available. We were impressed with the outdoor exhibition space and museum facilities located in such a serene, landscaped setting. Seasonal exhibits, by established as well as emerging artists, are housed in two 10,000 square foot gallery spaces. More than 230 sculptures are sited outdoors. The sculptures range from life-size to monumental in scale. The park is designed to provide an arboretum-like setting, with more than two thousand rose bushes, rhododendrons ,other flowering shrubs, and over one thousand trees. Topographical contours and backdrops were excavated to display much of the sculpture.
Families will be most enthralled by the sculptures of J. Seward Johnson, who envisioned this public sculpture garden and museum back in 1987. Close to twenty of Johnson's tableaus based on well-known nineteenth-century paintings are on view throughout the park. These life-sized three-dimensional works "allow an intimacy with the paintings that the paintings don't allow themselves", says Johnson. His three-dimensional play on a two-dimensional artwork piece brings paintings one step closer to real life. Johnson explains: "I use my art to convince you of something that isn't real. You laugh at yourself because you were taken in, and in that change of your perception, you become vulnerable to the piece and intimate with it in a certain way".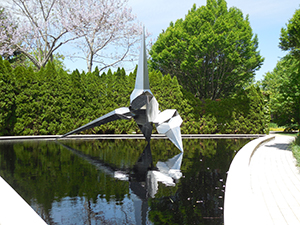 DORIAN, Bruce Beasley ©1986
We watched children delight in these life-size works as they touched the sculptures, posed for pictures with the figures, and compared the sculptures to renditions of the original paintings which were displayed nearby. To be able to actually step into the scene of a painting is certainly a unique experience. Johnson is also known for his life- sized sculptures of ordinary people in contemporary life situations. These sculptures have been placed in public settings throughout the world – some right here in Bergen County! After visiting the Gardens For Sculpture, take your family to the Ridgewood Post Office to see "Special Delivery" – a postman standing outside sorting through his mail sack or to the Hackensack University Medical Center lobby to see "Between Appointments" – a man napping on a bench with the Wall Street Journal covering his face, and "After Lunch" – a man asleep in a chair holding an economics book.
You may want to schedule a visit with your family to Gardens For Sculpture when a program from The Artist Lecture Series or a hands-on-workshop for children is being held. These experiences complement the seasonally changing exhibitions. In addition to the visual arts, special events include music, poetry, theater and dance. The park recently celebrated its 15th Anniversary of its formation as a non-profit charity. And because the facility is open year-round , special events are held and can be found at groundsforsculpture.org. They may include fun activities including glass-blowing demonstration, a community quilt project for families and musical performances.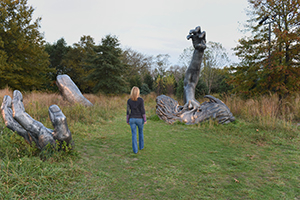 THE AWAKENING Seward Johnson ©1980 Photo by Gregg Felsen
When your family gets hungry, you can opt for casual fare at the Café in the Domestic Arts Building where you can dine indoors or outdoors in the courtyards. The Gazebo Cafe, housed in a two-story structure with an observation deck above and a lower deck overlooking the lotus pond, also features casual fare. If you're looking for more upscale dining, you can visit Rat's, the unique restaurant that makes guests feel like they are in a French village, complete with Claude Monet's famous bridge over a lily pond. The name Rat's originates from the character Ratty, from the famous book "The Wind In The Willows", one of J. Seward Johnson Jr's favorite books. The character Ratty had a delightful imagination and far-reaching dreams. We can all let our imaginations soar as we take in all the park has to offer.
Helpful Advice Should You Go:
• Grounds For Sculpture is open year-round Tuesday – Sunday.
• Admission: Adults, $18; Seniors 65 and over, $15; Students 6 to 17, $10; Children 5 and under, Free.
• Parking is free.
• For more information call (609) 586-0616 or check the web at groundsforsculpture.org.