My New York Story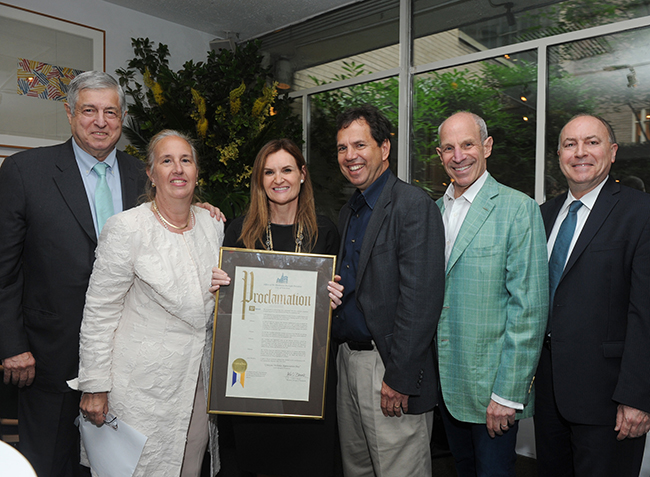 Tim Zagat, The Honorable Gale Brewer, Cristyne Nicholas, Nick Nicholas, Jon Tisch, George Lence
By Cristyne Nicholas
Although Lin-Manuel Miranda's infamous lyrics for his smash Broadway hit Hamilton, were written about New York City in 1776, I think the words pretty much sum up how I feel about our city in 2016, "Look around look around...how lucky we are to be alive right now... In the greatest city in the world...New York."
Sometimes I still pinch myself at how lucky I am to be alive and work in the greatest city in the world—New York. True, it may not be perfect, but when it comes to the excitement and energy, I thrive on, New York is the place for me.
My dad once told me that if you love what you do for a living, you will never work a day in your life. It is important to do what you love and love what you do. I credit being the youngest of five girls, none of whom are the shy type, with giving me the experience necessary for public relations. From the time I could speak, I knew I had to be heard. I also learned how important it is to choose your words wisely and carefully. I naturally gravitated to the field of public relations and served as a press secretary and spokesperson for members of Congress, a President, and a Mayor. Eventually in 2007, along with George Lence, I co-founded a boutique public relations firm, Nicholas & Lence Communications.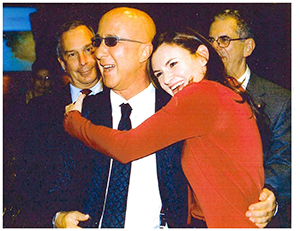 Paul Shafer and Cristyne Nicholas
Although it hasn't been all fun and games—and there have been many times when it certainly felt like work—it's the thought of having so many clients that are rooted in the DNA of NYC that makes it more bearable even fun at times.
Simply put, the art of public relations is the art of storytelling. It is helping someone or a business craft a message that will resonate. It is giving a voice to those who may struggle to get their message across. Sometimes, it's getting clients in the news. Other times it's getting them out of the news. Like New York City itself, public relations isn't for the faint of heart. Clients want and deserve your full attention and on any given day, you may have to "drop everything" and manage a crisis.
Luckily as the former spokesperson for Mayor Giuliani (1993-1999) during the days when the city was fighting crime, cutting a massive budget gap, putting out fires (literally and figuratively), dealing with protests, shootings, blackouts and other unfortunate events, the Mayor would sometimes hold multiple press conferences a day. Every day at City Hall was a lesson in crisis communications.
That training came in handy earlier this summer on July 12th, when we got a call from Statue Cruises, the ferry company that transports roughly 4 million visitors annually to the Statue of Liberty and Ellis Island. It was to alert us to a crisis that was unfolding in real time. Two fathers with their daughters were in a small, poorly constructed pleasure craft near Ellis Island when it capsized. Luckily Statue Cruises' deck attendant Kevin Suarez witnessed the catastrophe and dove in to save the family and located the youngest girl, 5-year-old Myara, who was missing under the boat.
Kevin who is fluent in Spanish was able to calm the family in their native language and get them to safety with the help of the NYPD Harbor Unit. Kevin saved the day and the following week we held a ceremony on Ellis Island reuniting Kevin and the NYPD with the Fernandez and Rodrigues families. This was truly meaningful and also gave the NYPD the recognition it deserves during these tough times.
Of our many successful PR initiatives, I am most proud when public relations can play a positive role and impact the lives of so many. Such was the case when Nicholas Lence secured a profile of our client the Big Apple Greeter (BAG) on CNN. At the time, BAG was in dire need of financial support. The story was broadcast nationwide, and luckily a wealthy heir to one of America's oldest oil families saw the story while home in California. She was intrigued with BAG's mission of matching volunteer New Yorkers with visitors to share their experiences by visiting their favorite neighborhoods. She went online, contacted the founder Lynn Brooks and later that week wired a large six-figure donation which allowed the organization to continue to operate.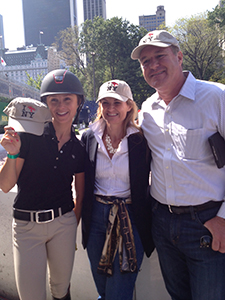 Georgina Bloomberg, Cristyne Nicholas, Mark Bellissimo
Whether publicizing the great work that is being done at the New Balance Track & Field Armory, hosting thousands of kids from all walks of life to train together "and keep on track" or putting a media spotlight on The Wendy Hilliard Foundation in Harlem that is grooming young gymnasts to pursue their dreams of becoming the next Olympians, it is a joy to share these amazing New York stories with others.
I will end with one more. This past spring, a reporter called inquiring about the Port Authority's plan to remove an overpass that was damaged from the September 11th attack to make way for the new and improved bridge being developed by our client Brookfield Properties. The reporter shared that some members of the 911 community may be distressed if they thought that the façade was going to be destroyed and discarded. When we shared this with Brookfield, which is also a member of the 911 community, they quickly got in touch with the September 11th Memorial Museum and the FDNY, to arrange for both organizations to receive the historical artifact to be publically displayed as a reminder of those we have lost and never to forget.
Although there will be days when work will feel like work, public relations allows you the honor and privilege of telling important stories.
Again to quote Lin-Manuel Miranda from the closing song of Hamilton: "Who Remembers your Name…Who Keeps Your Flame…Who Tells your Story."