Punk Rock Is Alive and Well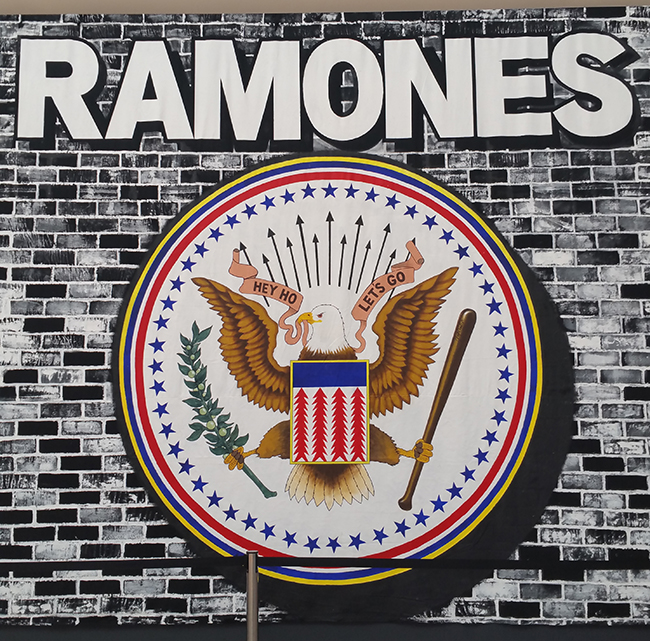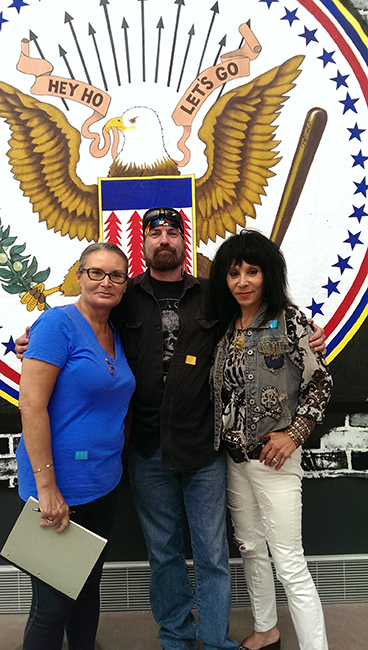 Article and Photos by
Denise Mercedes,
Jeannie Pawlowski
and Richie Realms
Earlier this year, Queens Museum was the host of the spectacular 40th Anniversary of the Ramones, and they're self-titled first album which forever changed rock music and pop culture. The lifetime retrospective at the Queens Museum was a collaboration with Ramones Productions, Inc., JAM, Inc., and Silent Partner Management and showcased an extraordinary collection of archival memorabilia of every aspect of the band's career.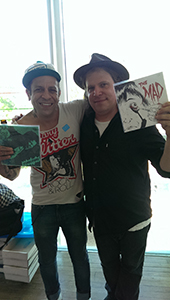 For the uninitiated, the Ramones were an American punk rock band formed in Forest Hills, Queens in 1974. They are considered the first group to define the punk rock sound. Although none of them were related, they adopted pseudonyms ending with the surname "Ramone." They performed over two thousand concerts, touring virtually nonstop for 22 years. Then, in 1996, after a tour with the Lollapalooza Music Festival, the band played their farewell concert and disbanded.
For those who missed the exhibition in NYC, the Hey! Ho! Let's Go: Ramones and the Birth of Punk will be presented again on the west coast at the GRAMMY Museum in Los Angeles from September 2016 through February 2017 (grammymuseum.org).
Visitors to the Queens Museum exhibition were also treated to an exclusive Punk & Metal Flea Market. The one-day affair on June 25th brought artists, designers, and the like who all share a love of punk rock and who mirror the spirit of the music. The MUSICREALMS artists and designers are part of the upcycle movement; that is recycling usable items and re-fashioning them to various degrees—giving new life to the right things that might otherwise be discarded and stylishly turning them back into art.
---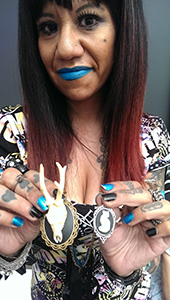 Amanda K/Spotted Skin Designs
This uber-talented jeweler features a selection of dazzling cameos and other miniature, animal-skull themed pendants. Dancing Pegasus, noble cats, a seated horned devil on his throne—and many other fantastical creatures adorn each elaborately framed wearable piece. In the artist's words: "The rock & roll in our souls is only complemented by the heavy metal in our blood, and our works reflect this in subtle and not so subtle ways." The once acclaimed German jewelry designer-sculptor-artist Axel met Amanda when she was a tattoo artist in 2002. He became her mentor, passing on his masterful techniques and tradition. Alex's work can be seen in Guns & Rose's November Rain video. As his protégée, Amanda continues the work, expanding her horizons in jewelry making and small sculpture.
Info: SpottedSkinDesigns.com; Facebook.com/SpottedSkinDesigns; Twitter and Instagram @SpottedSkinDesigns
---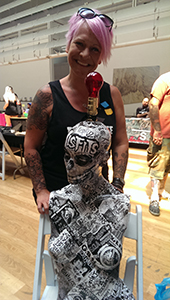 Monica Rakocy and Michael Elardo/Rude Girl
They put a totally bizarre and unique twist—with a wicked and highly irreverent sense of humor—on home goods and décor. These artists work with repurposed and upcycled items implementing wild decoupage techniques that mainly are incorporating early punk and hardcore flyers wildly affixed to their giant human-sized mannequins and large dog mannequin sculptures that also serve as standing lamps. These artists integrate a completely new imaginative expression to mannequins, large prayer votive candles, grandma's china, and more.
Monica is a college professor at an Upstate New York fashion school. She also embellishes tea sets and fancy dinnerware that one would not find in Martha Stewart's china cabinet. Michael is a lifelong punk-hardcore enthusiast and historical archivist of the genre who helped create their unmistakable signature style in decoupage. He is always on the lookout for vintage flyers from that era.
Info: Facebook.com/RudeGirlDesigns, Instagram.com/RudeGirlDesigns
---
Shelby Cobra/Vicious Vesture
Her mission is to help change the fashion industry through upcycling and hopes to see more independent designers thrive rather than just the mass production of "fast fashion". She attended The Art Institute of Philadelphia and in her first year of college, enrolled in a fashion history course and learned about British Punk culture. That late '70s decade impacted her like a bolt of lightning. Shelby launched her company in 2013 immediately after graduation. As an upcycle artist-designer with a socially and environmentally conscious ethic, she believes using vintage and recycled clothing equals recycle-reuse-reborn and is her fashion approach. Ms. Cobra has custom outfitted members of Philadelphia's Mananandgal, a death metal band, and Blend Mode, an Electronica group.
Info: Facebook.com/Shelby.Arata, Instagram.com/Vicious_Styles
---
Jahnny Vommit
At 23, Jahnny is a spectacularly creative and busy artist-cartoonist—and rock singer—with brash humor and a bursting youthful energy. Educated at Fashion Institute of Technology and a School of Visual Arts graduate, Jahnny successfully merges her graphic images with razor sharp wit, charm and abandon. She began by making T-shirts in high school. Inspired by the Archie comics of her childhood, Jahnny has specialized in becoming a talented alternative cartoonist and illustrator. Her Special From Satan cookbook—a thin, collectible limited edition gem contains recipes with hilarious comments and advice, lifestyle, and grooming tips. Each page is illustrated from a folio of celebrity pictures Jahnny found in the street—which inspired the little book. She enjoys creating limited editions of "random collections of things". Jahnny also creates the artwork for her Brooklyn-based band Heavy Negative in which she is the vocalist.
Info: JahnnyVommit.com, JahnnyVommit.Storenvy.com, Facebook.com/HeavyNegativesBand
---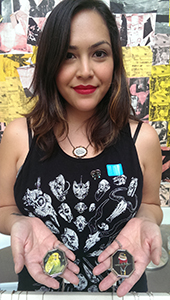 Jenn Cortes/Alternate Empire Art
She is a painter and mixed media artist with a BA in Studio Art and Art History, CUNY Hunter College. She specializes in stunning miniature framed paintings, many of them being tiny and glorious portraits of birds, animals, and creatures of her imagination which can also be worn as jewelry. They are reminiscent of the pre-age of photography miniature portraits carried by loved ones for remembrance sake. In the artist's own words: "My artwork is an act of reflection. I enjoy being absorbed in every detail, as it serves as a meditation for myself. I adopt themes used in religious art and combine that with the precious nature of biological specimens. When I began doing smaller works, I realized that they could be worn. Much like some jewelry, it is precious and alluring to the viewer and the wearer.
Info: JennCortes.com
---
Bubba and his friend Bubba/Lucky's Unique Antiques
Their interior décor creations have an almost prehistoric yet stylish and contemporary feel with their otherworldly version of home goods, bone-related sculptures and other appropriate oddities. A skillfully designed standing-upright goat skeleton lamp demanded everyone's immediate attention. Only the boldest of customers of this "shock furniture" would venture to invite more reserved relatives over to the house for supper.
Info: Instagram.com/LuckysUniqueAntiques, 215-278-5714 or 609-222-1550
---
Jonelle Greene
This highly energetic and focused upcycle young designer, specializes in bleached apparel and home décor design. Jonelle is an artistic Bronx native who is a graphic designer and a professional design consultant; she recently returned from an assignment in Abu Dhabi as a high-level corporate arts event planner. Jonelle formerly worked as a screen printer in Philadelphia, but moved back to New York. Since 2013, after creating some of her first upcycled pieces involving bleach and hand-dyeing processes, she loved that the experiments with bleach created new forms with each textile experiment. She took some classes at Mood, the hit TV show Project Runway fabric supply shop to augment her skills. Jonelle revamps sweaters into clever pull-on hats and reinvents plaid shirts by bleaching them out for a new modern-day look with added materials stitched on for detailing.
Info: Etsy.com/shop/FREELoadApparel
The creative artists MUSICREALMS featured here are keeping true to their individual visions; most have also made upcycling the foundation of their expression. In their own way, these people are reinventing DIY-Punk by breathing a new and exciting life into it for new generations to understand, appreciate and enjoy.
---
Denise Mercedes
is the founder/guitarist of The Stimulators and artist endorsed by Hagstrom Guitars of Sweden. She's also the former lead guitarist of Girls Girls Girls (2006-2016) and Bible Black NYC. An original project in the works.
Jeannie Pawlowski
is staff writer of MUSICREALMS and has been published in New York Natives. Her early photos of the Bad Brains was most recently on exhibition in Subliminal Projects Gallery's Banned in Babylon: The Art and Culture of the Bad Brains, Los Angeles, CA.
---
Event organizers:
Marielle Rebecca and Erin Terror
For future events of NY Punk Rock- Heavy Metal Flea Market,
please check their social media sites.
Facebook: www.facebook.com/NYpunkmetalflea
Instagram: NYpunkmetalflea
Email: punk.metal.flea@gmail.com