WHAT'S OLD IS NEW AGAIN
By Patricia Canole
There's no argument that New York City is the number one capital of steakhouses. Where else can you sit down and be served a juicy porterhouse charred to perfection? Unlike the more modern minuscule tastings on oversized plates being served at trendy places, steakhouses seemingly can't give you enough of their fare to consume. More often than not, these chophouses almost always feature darkened wood clubby atmospheres offering patrons generous portions of char and charm. We recently visited the three classic steakhouses (all extending back to the 19th and early 20th centuries) for a new look at how simplicity can very often mean complete satisfaction. Here's our bite on the best.
---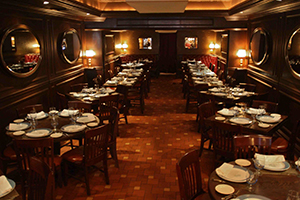 OLD HOMESTEAD
For those craving a carnivore's dream, head downtown to (where else?) the Meatpacking District now one of the city's trendiest locales for fashion, nightlife, hotels—and, of course, Old Homestead Steakhouse. The iconic chophouse has been operating in the same location since 1868. Back in the day, it was known as The Tidewater Trading Post, when the Hudson River nearly washed up on its doors. During that time, the steakhouse attracted the well-heeled—mostly ladies and gentlemen who could afford a splurge at the then-pricey cost of 8 cents. In fact, it was that popular, patrons would wait hours for one of five tables for what was described as the biggest and best steak in town.
Over the years and several landfills later, Old Homestead has continued to serve up its legendary USDA prime dry-aged slabs of beef—including the signature Prime Rib, Filet of Mignon on the bone, and Gotham Rib Steak on the long bone. Seafood aficionados enjoy the Colossal Crab Cakes, Whale-size Lobsters, and Seafood Towers with Shrimp, Clams, and Oysters. The restaurant is also famous for its classic sides of creamed spinach, garlic mashed potatoes, and sautéed mushroom caps.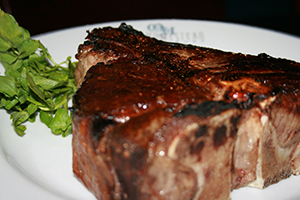 For nearly seven decades, Old Homestead has been operated by the same family. Now owned and managed by the Sherry Brothers—Greg and Marc—whose paternal grandfather Harry started as a dishwasher only to later purchase the establishment. And like Harry Sherry, the two brothers have pioneered many industry firsts. Always on the cutting edge to introduce new experiences to their customers, they worked closely with the USDA and its Japanese counterpart, to bring Kobe, the most expensive and decadent beef in the world, to the U.S. This led Greg to gain access to Wagyu that is sold only at special auctions in Japan.
Step into this historic building and you'll find a diverse group of Wall Street types and Financial movers and shakers making deals alongside fashion models, music industry elite and a parade of celebrities from Hollywood and the sports world. Equally famous is the restaurant's facade, which features the celebrated Annabelle the Cow, the life-size bovine sculpture perched on the two-story marquee above the entrance. A star in her right, she's made appearances on Seinfeld, Law and Order, and many other TV shows and movies. Harry Sherry received Annabelle from a Nebraska farmer who loved visiting New York City—and ate at his favorite steakhouse every night during his stay. Sherry didn't know what to do with this gift, so he had it elevated to the marquee. She's remained there overlooking Ninth Avenue and greeting customers for nearly 60 years.
Old Homestead also has outposts at Borgata Hotel Casino & Spa in Atlantic City, and Caesars Palace in Las Vegas.
Best Bets:
Colossal Crab Cake
The Gotham Rib Steak on the bone
Porterhouse Steak for two
OLD HOMESTEAD
56 Ninth Avenue
212-342-9040
theoldhomesteadsteakhouse.com
---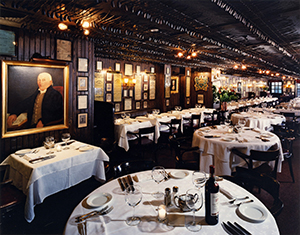 Keens Steakhouse
When Albert Keen opened his restaurant on West 36th Street in 1885, he figured it would be just another chophouse serving the old Herald Square Theater District. Well, after 131 years you might wonder how it's outlasted a multitude of imitators. And with past regulars including Babe Ruth and Teddy Roosevelt along with other luminaries who have dined here, it's little wonder it's become a favorite for locals and visitors alike. Walk in the door and you'll be transported to another time: There's memorabilia from more than 100 years of New York history, including playbills, political cartoons, and photographs, as well as a collection of more than 50,000 pipes from back when regulars would store theirs there. However, the real spectacle comes in the form of the charred steaks and chops, including a gargantuan bone-in Prime Rib. Not to be overlooked are the 16 choices for dessert. If you are on a schedule, however, step into the adjacent pub room for lighter fare including Prime Rib hash considered by those-in-the-know to be the best in town.
Best Bets:
Fresh Oysters
Prime New York Sirloin
Two Double Lamb Chops
Keens Steakhouse
72 West 36th Street
212-947-3636
keens.com
---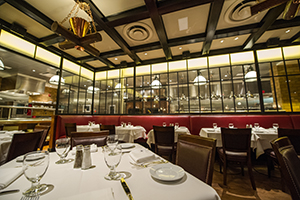 GALLAGHERS STEAKHOUSE
It's difficult to mistake what Gallaghers is all about. All you have to do is take a look at the street-level meet locker to discover what's to come inside. Gallaghers promises a prime New York experience from start to finish. Excellent steaks grilled over blazing hickory coals, rubs from coffee to porcini mushrooms and an affordable lunchtime menu with a giant Porterhouse is just the beginning. The steakhouse starts by selecting the finest USDA prime beef, which is then aged to tender perfection for at least 21 days in a temperature-controlled meat locker.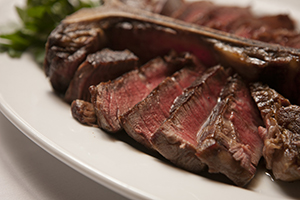 During its 89-year history, Gallaghers has been witness to legendary events at the crossroads of the world. Now with Dean Poll at the helm, Gallaghers is sure to continue to be a place for festive occasions. His takeover has brought back the glamour of this landmark steeped in history. Like his Central Park's Loeb Boathouse, Poll sees Gallaghers as an integral part of the fabric of New York and is passionate about retaining its original glory and character.
With its trademarked combination of the very best USDA-prime steak, a classic cocktail list, and a congenial staff who will never forget your name, Gallaghers serves up an authentic New York experience in dining.
Best Bets:
Chilled Medley of Seafood
Roast Prime Rib of Beef
Porterhouse
Gallaghers Steakhouse
228 West 52nd Street
212-586-5000
gallaghersnysteakhouse.com
---