THE BEST NYC WINE BARS
By Tina Mulqueen
My (now) husband and I had our first date at a wine bar in Manhattan. Unbeknownst to us at the time, that bar would come to hold great significance for us. It had a cozy, upscale feel with an Italian ambiance and a diverse menu of share plates that perfectly paired with selections from an extensive wine list. More significantly, it's where we shared pieces of history—our conversations flowed even more quickly and easily than the wine—and started the foundation for our relationship. At the time, we didn't even think to jot down the name. That's why, for the past two years, we've been trying to find it. While we have yet to accomplish our goal, the journey hasn't been for naught. In our search for our wine bar, we've experienced some of the best that Manhattan has to offer. Here are some of our favorites.
---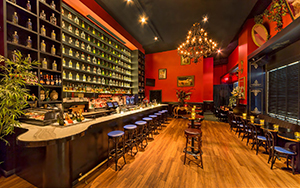 LEA WINE BAR
This hidden gem is located under the bridge near the entrance to Grand Central Station. It has an intimate feel centered around an artsy wall of liquor, though their apparent focus is on wine. The tapas menu offers some really interesting and delicious options. We had the Brazilian Pasteis, which is a deep-fried chicken empanada, and the chicken satay. Both were fantastic. There's an extensive wine by the glass menu that features exciting blends that were unfamiliar to even a wino like me.
LEA WINE BAR
230 Park Avenue
212-922-1546
leanyc.com
---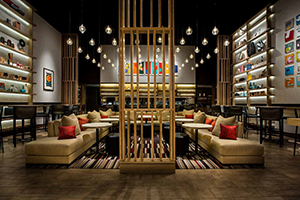 ALDO SOHM WINE BAR
The Aldo Sohm Wine Bar touts a laid back environment that captures the energy of the city. True to its name, the bar features living room-style sofas and a contemporary atmosphere punctuated by colorful, art-filled walls. We enjoyed exceptional French and Spanish wines from their menu of over forty-by-the-glass options. If you're sipping with a group, their bottle menu is even more impressive—they have more than two hundred selections. Wines by the glass from the Rioja region can be hard to come by, so if you like fruit and spice, try one of their many selections.
ALDO SOHM WINE BAR
151 West 51st Street
212-554-1143
aldosohmwinebar.com
---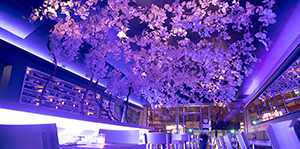 OOVINA WINE BAR
Walking into Oovina, and the adjacent wine gallery, Oovah, we were immediately drawn to the unique decor. The bar area was tastefully decorated with tree leaves which covered most of the ceiling. The light fixtures reflected the light up and into the tree leaves which gave a warm and intimate feel to it. Beyond the decor, the bar menu had much to offer in the way of cocktails, sangria, and, of course, wine. Wines by the glass featured some of our favorite Portuguese and Spanish wines. Being a wine and tapas bar, we expected a pretty nice spread of Latin wines, but what we didn't expect were wines from Austria, Italy and Germany. The staff is incredibly knowledgeable about all things food and drink and willing to teach you all about what Oovah has to offer.
OOVINA WINE BAR
496 Ninth Avenue, #1
212-967-3892
oovinanyc.com
---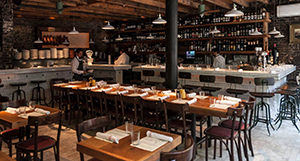 ARIA WINE BAR
We found this little gem in the West Village. The modern, rustic decor was immediately warm and inviting. We sat at the white tiled bar and were almost overwhelmed with the wine selection which served as the bar's backdrop. There are over 20 different grape varietals, ranging from Montepulciano to Riesling, to our favorite Italian. Perfect for a romantic dinner or a casual day drinking expedition, Aria offers beautiful wines and pairs them with amazing food. Try the Tiramisu!
ARIA WINE BAR
117 Perry Street
212-242-4233
ariawinebar.com
---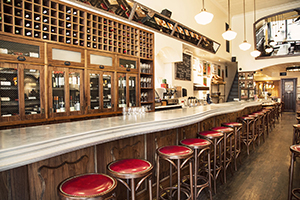 VIN SUR VINGT
Vin Sur Vingt has three locations around NYC. Classic French decor foreshadows a lengthy menu of more than fifty French wines by the glass and bistro fare. It's a great place for my husband and me: We have developed an affinity for Rhone Valley reds. They have some fantastic blends from that region, as well as many from the Burgundy and Bordeaux regions. They are also one of the only wine bars that we've found that serves by-the-glass selections from Beaujolais—one of our favorite—albeit lesser available wine regions. We enjoyed the warm brie with melted honey, which paired nicely with our moderately tannic wines.
VIN SUR VINGT
201 West 11th Street
212-924-4442
vsvwinebars.com
---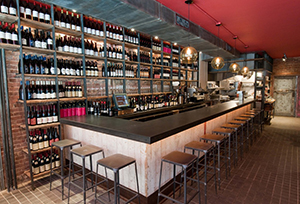 TERROIR WINE BAR
Bedecked by the building's raw materials (including wood beams and exposed brick walls), Terroir does an excellent job of capturing the architectural nuances of Tribeca. If you're the type who loves Riesling wines, then here's the place to be. Co-owner Paul Grieco loves the wine so much; he even has a Reisling on tap!). There are more than two dozen reds as well as whites by the glass. And for those who wish to experiment, Terroir offers a three-ounce size, thus encouraging imbibers to find a favorite (if only for the evening). The food menu might include a good duck prosciutto sandwich or a red wine and oxtail risotto balls, which we enjoyed!
TERROIR WINE BAR
24 Harrison Street
212-625-9463
wineisterroir.com
---