PAMPERED PETS
By Stacey Delikat
When it comes to spending on our pets, some of us will spare no expense. The American Pet Products Association found Americans spent $60 billion on everything from food, to vet care, to services for their pets last year. That number is only expected to rise in 2016. Today, dog owners are ordering up specially-prepared "take-out" meals, making appointments with the acupuncturist, and even consulting with an event planner to celebrate a milestone. And that's just the beginning. Read on and get inspired!
---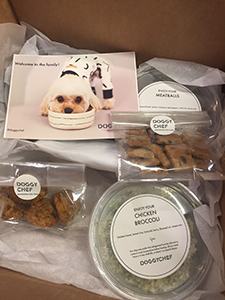 GOURMET FOOD
Twice a week, Jax gets a special delivery to his Tribeca apartment. The white cardboard box is hand-labeled with his name and neatly packed with individually portioned meals and snack bags. "I figured, we're in Manhattan, always on the go, constantly ordering take-out, so it only seemed natural that now the option is available for pets as well," said Aly Kirsch, a Tribeca mom.
New Yorkers have long had access to specially-tailored, chef-designed, calorie-counted meal delivery services, but now, gourmet meals are available on-demand for pets, too. Once Jax, a Cavapoo puppy, tried his first meal from delivery service Doggy Chef (doggychef.com), he put a firm paw down when it came to never going to back to eating out of something as pedestrian as a can.
"We used to feed him wet dog food and mixed it with dry kibble. He liked it," said Kirsch. "But after trying Doggy Chef, when we went to give him the usual mixture of the dog food - he walked away!" Doggy Chef is one of a growing number of start-ups like Pet Plate (petplate.co) and The Farmer's Dog (thefarmersdog.com) that deliver homemade, human-grade dog food direct to your door. Think menu choices like beef-quinoa meatballs, chicken and broccoli with brown rice and basil truffle treats. "You see that it's like something a human would eat," said Kirsch. "It looks appetizing to me. Sometimes I feel like he's eating even better than we are."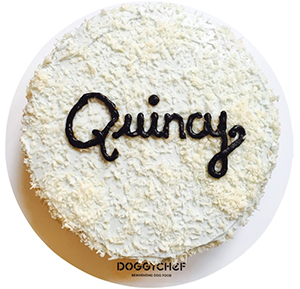 The ingredients for Doggy Chef's recent limited-edition "Salad," read like a recipe you might find in a California-inspired cookbook: sardines, whole wheat pasta, watermelon, parsley and multi-vitamin mix. "Some of our options are gluten free, some are grain free, some are poultry free. So there is something for every dog," said Deborah Goldberg, who started Doggy Chef earlier this year.
Goldberg graduated from the Institute of Culinary Education, only to decide she wanted to cook gourmet food for dogs. She launched her business in April and now cooks for about 150 dogs in Manhattan and Brooklyn. Meals range from $4.95 a dish to $150 a month for twice-weekly delivery. Not necessarily human-grade pricing, but much more than the regular pet food most of us rely on. "Today, people are investing so much effort and money in staying healthy, exercise, eating organic for themselves," Goldberg said. "So they want to do the same for their dogs."
The dogs may love the fresh "human" food, but as to whether it's better for them, Dr. Richard Goldstein, the Chief Medical Officer at the Animal Medical Center says not necessarily. "An entirely 'human-grade' diet of whole foods for a dog is not necessarily the best choice for your pet," Goldstein said. "The most important thing to consider when choosing dog food is whether or not it's complete and balanced, or more specifically if it is a diet made specifically for dogs. Because the nutritional requirements for dogs are very different than those in humans." That said, he added the fresh, made-to-deliver foods could be a good option for a healthy dog with no underlying disease.
---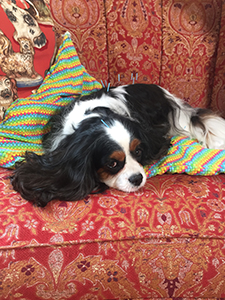 ACUPUNCTURE
We love our furry companions so much, we want to improve and extend their lives, and entrepreneurs are seizing the opportunity, whether through fancy food or services like dog massage and acupuncture.
"There's no limit to what you can do to spoil your pet these days," said Dana Humphrey, who is known as The Pet Lady (thepetlady.net) and tracks the latest industry trends and products. "They're becoming our family members. And just like family members, they sleep, eat good food, and love. It's just a different way we're looking at the way the pet is in the household."
Dr. Tracy Akner is a veterinarian and animal acupuncturist (acupunctureforyourdog.com) who makes dozens of house calls across Manhattan each week to treat dogs and cats. She charges $275 a visit and treats animals with everything from chronic digestive and orthopedic problems to anxiety. Her patients include Bosi, a six-year-old, prize-winning Cavalier King Charles Spaniel who lives on the Upper East Side and has been getting treatments for years for a heart condition and inflammatory mouth condition.
Akner has been doing acupuncture on pets for a decade but says the specialty has taken off in recent years. "I get more calls now," she said. "I think there are people who have a real intense connection with their pet and take care of them the way they would take care of a child or themselves."
---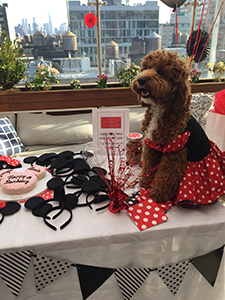 CELEBRATIONS & MORE
We're not just spending on food and health services, but on "pawdicures," Ralph Lauren-inspired doggy outfits, and pet parties. Yes, in some dog-obsessed circles, it's now the norm to throw lavish parties for your pet. There are "Barkday" parties, "Bark Mitzvahs," and even dog weddings. "It's more common than you think nowadays. Everyone we know is having a dog party for their pet," said Paige Chernick, who threw a "barkday" celebration for her 3-year-old Golden Doodle, Charlie, last year and is planning another one in the fall.
"We've gone to quite a few this year, and we had our own," said Cara Foldes, who threw a "Woofstock"- themed party with a friend. "It's almost like planning a wedding, to be honest with you. There's a lot of stress and planning, but we have such a great time celebrating our dogs."
But no need to take all that "pawty"-planning stress upon yourself. Hayley Ramunno runs Puppy Parties NYC (puppypartiesnyc.com), a full-service event planning company for dogs. "We do everything from start to finish: invitations, the decorations, the set up," said Ramunno.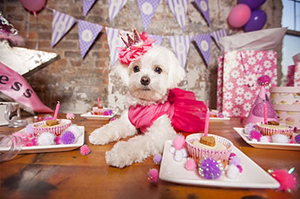 She used to plan corporate and social events for humans, but a successful princess-themed party for her own dog, Bailey, several years ago turned an idea into a business. "After the event, people just could not stop talking about the party," she said. "We'd see our friends a year later, and they would tell us how great the party was, so I knew it would be something." Ramunno charges between $300 to $1,500 to plan a puppy party spectacular. Most events are themed and include special dog-friendly "pup cakes" and treats, and specialty cocktails like "barkeritas". It's like you're going to throw a party for your kid if your child has a first or second birthday so why not throw a "barkday" party for your dog?" she said.
In this day and age of doggy-ownership, nothing is outside the realm of "pawsibility"!
---