ENTREPRENEUR'S CORNER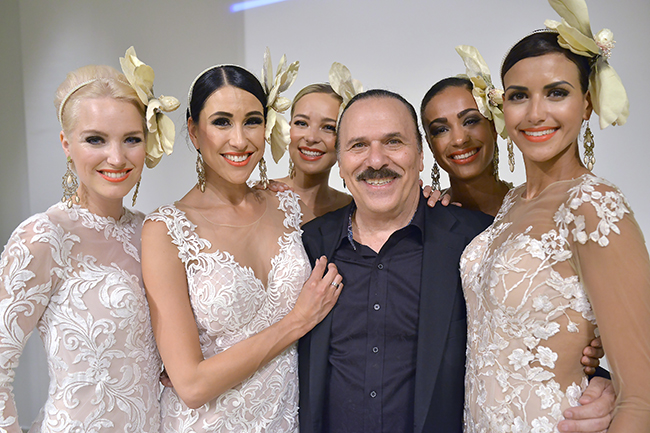 By Patricia Canole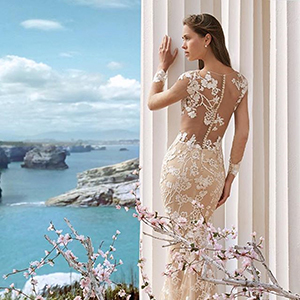 We all know the Big Apple is the core of finance, entertainment, media and, of course, fashion. Last month designers showered us with the latest in haute couture. This month, however, fashion runways are still lighting up the city with the newest in bridal fashion. It's a week where bridal designers unite with buyers and members of the press, invite-only behind-the-scenes viewings, and non-stop rushing to the next celebrity-studded show uptown, downtown and all around town.
New York Lifestyles tracked down one designer who for the past 35 years has been inspiring the world of bridal fashion. Demetrios—an icon in the bridal industry—continues to be the one name that has become synonymous with luxurious gowns. He is headquartered in the Fashion District with salons throughout the US and a global vision that has expanded his company into Europe, South Africa and beyond.
At his Manhattan showroom in the Fashion District, we found Demetrios putting the finishing touches on the latest styles before showtime. We were thrilled to see his most recent 2017 Collection which is unquestionably feminine. He makes it his mission to make each bride radiate with a dream-like elegance and sophistication. What has made Demetrios so enduring through the decades is his unique ability to design incredibly gorgeous gowns that are simply unforgettable. One thing he does promise is that Spring 2017 will be a passage to a new attitude of looking positively chic and stylish!
Why is this collection so different than past showings?
The 2017 Collection stands apart from my previous collections because it offers ultra-chic trends balanced by timeless design. It is one of my unique lines consisting of alluring sleeves, plunging and natural illusion necklines, and dramatic backs in a diverse array of silhouettes with intricacies to captivate any bride-to-be. I have incorporated a blend of style and artistry to this new collection. Classic and contemporary paired with luxurious fabrics, lace patterns creating the most trendsetting designs.
You recently celebrated over three decades in the bridal industry. Can you explain the Demetrios philosophy and whether it has changed throughout the years?
My philosophy hasn't changed. I believe the experience of buying a wedding gown should be exceptional and one a woman should look back on and cherish. Brides so often feel vulnerable when it comes to choosing "the gown" for the most important day of their life, and they need to be in expert hands, working with someone with experience who will listen and understand them. I have ensured that everyone who works at a Demetrios Salon can offer expert advice. And now that I've expanded, my gowns are even more widely available around the world.
You're clearly very passionate about the industry. How did you get started?
I was born near Athens in Greece, but before too long my parents decided to move the family to America and settled in Ohio. During this time, I helped my parents at their family-owned bridal salon and discovered an interest in bridal. The idea of designing wedding gowns grew and since then has been an incredible experience.
What do you enjoy most about being a designer?
I like designing gowns for women and transforming them to look more beautiful than ever before. Designing a wedding dress is about realizing someone's dream that will often have been with them since childhood.
The brides you dress are very stylish. In three words what is it about your style that attracts brides-to-be?
I can do it in two: Understated glamour!
What are the hottest trends you predict for 2017?
Lace: Very light, beautiful laces. People think of lace as traditional, but the laces we use are soft and cut into contemporary styles. This coming season you will see even more sleeves. There is also a strong emphasis on dramatic back. Glamour is everywhere!
What is your advice to the bride-to-be?
There is no such thing as a perfect look—it all depends on the bride. The ideal wedding dress is the one that reflects most accurately her style and character. The best advice I could give is not to go too far with the sophistication. Sometimes less is more!
Tell us something we don't know about you?
I am a minimalist. This is reflected in the design of my home and salons, which are very simple in terms of décor.
The bridal industry has seen many transformations over the years with trends that come and go. But one thing has not changed: Demetrios' passion for creating gowns will forever remain the same.
For more information on the Demetrios Collection, visit demetriosbride.com