15 MINUTES WITH DAVID BARTON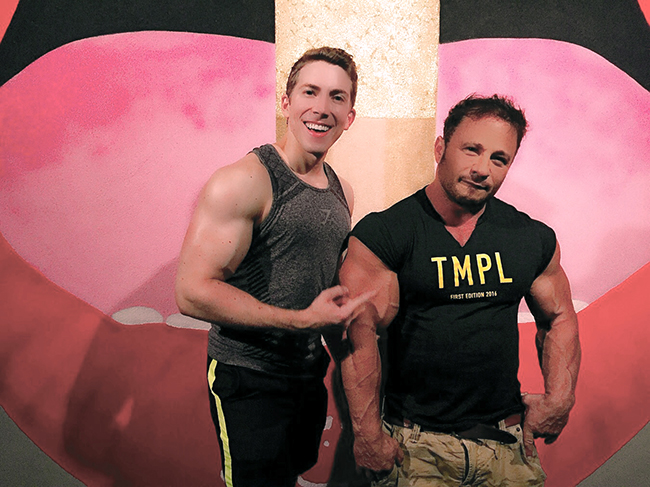 By Baruch Shemtov
David Barton reinvented the gym experience in 1992 with his chain of David Barton Gyms. Instead of the sterile environment accessible at the time, Barton's gyms felt more like nightclubs, motivating members with mood lighting and pulsating dance beats. After leaving the company in 2013, Barton embarked on a new journey, opening TMPL Gym in New York's Hell's Kitchen. With the gym's unique, technology-focused approach to fitness and an emphasis on metabolic analysis, Barton is once again redefining the way we work out.
What makes TMPL unique?
When I started my first business, I wanted to update the gym business. It was the '90s, and I wanted to make it okay for people who didn't want to go to the gym because it wasn't cool. I started TMPL because I feel the gym business needs another updating, and it's a new model by which members are serviced individually, not as one homogeneous group of people. Every person can be assessed based on their unique metabolic profile, and this is a very different way to look at this business as a service.
Why is an individualized approach so necessary?
It's the future. It will allow people to finally know that they can change their body in a predictable way; tell them exactly how their body will look and feel based on what's going on with their metabolism. Chemistry overrides physics all day long. So, the body's chemistry, to understand that is to be able to control how somebody's body will change.
What's been your fitness philosophy over the years?
A little information goes a long way. People are so misinformed out there about what works. There's a lot of information out there on social media and YouTube and magazines. It's very easy for people to spend a lot of time and energy and spin their wheels. So my philosophy is to try to educate the people who come here about what will work. Because usually minor adjustments will go a long way.
What would be your best advice for someone who's just getting started with their personal fitness?
Come to TMPL. Get useful information so that you're not doing something that's ineffective or injurious. There are some basic movements that the body is designed to perform and doing those movements against resistance will make the muscles firm and beautiful. The human body hasn't evolved in a long time, so the rules haven't changed.
What's kept you motivated over the years?
Vanity.
TMPL Gym
355 West 49th Street
917-521-6666
tmplgym.com
DAVID'S NEW YORK FAVORITES
A Coffee…
Abraço on Seventh Avenue. It's a little kiosk, and they've got a line out to there. Honestly, it's far and away the best coffee in New York.
The Perfect Gift…
I just sent my sister tulip bulbs. She'll have something that keeps blooming.
Dinner…
Employees Only where the food is absolutely great. Most people go to the bar, but the food here is tops. They serve until 4 AM.
Some Time Along…
What I truly love is to be alone at night. I kick back on the sofa and watch a movie—and know most everyone is asleep!
A Celebration…
Our yearly toy drive party at the gym is the best celebration hands down.