CHITA RIVERA Always Seeking New Challenges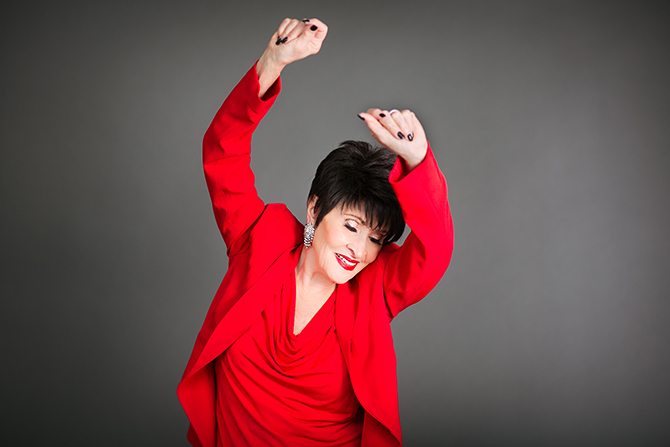 By Griffin Miller
"A few years ago I was walking down Broadway, and I saw a poster for a revival of Bye Bye Birdie. I went a little further, and I saw another poster, this one for Chicago," recalls Chita Rivera, who picked up Tony nominations when she starred in the original productions. "But what really hit me was when I turned my head, and this bus goes by with a giant ad for West Side Story."
Flashback to September 26, 1957: opening night of West Side Story, a show that redefined musical theater and took theatergoers on a pedal-to-metal thrill ride, with music that soared and dances that defied gravity one moment and took on powerful earth-bound movements the next. It was a production custom-made for Rivera, and it turned her into a Broadway star.
---
Meeting Up With The Greats
---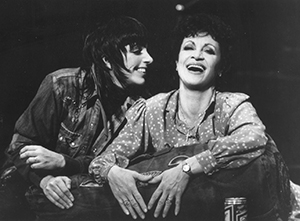 Liza Minnelli & Chita, THE RINK
Photo by Ken Howard
At this point in time, Rivera was in her mid-twenties and had been a professional dancer since her late teens. And unlike industry experts who found West Side Story's choreographer Jerome Robbins "difficult and demanding," his style and hers meshed perfectly. "He was a genius, it's that simple," said Rivera, adding with a laugh, "I called him 'big daddy'... ours was a great relationship. Dancing is hard and if you're not pushed to do it and do it right, what's the point? I knew what he was doing was important and it felt good to be challenged."
And seeking out new challenges is what Rivera has done her entire life. "I wanted to show off when I was little and I was a tomboy. So one day I jumped off the sofa onto the coffee table," said Rivera, citing that as the moment her mother realized her energy needed to be channeled into ballet.
"I was 11 when I began training at home, which was Washington, DC—and 17 when I went to New York to audition for George Balanchine. And I remember getting off the elevator and seeing this long-limbed beautiful ballerina... and I shriveled. People think I'm tall, but I'm not. But I remembered my teacher from DC telling me 'stay in your own lane... be yourself,' which I guess I managed to do," Rivera recalled. Suffice to say Balanchine offered her a scholarship to the School of American Ballet. "I can still feel that day in my body," she said. "So young, New York City... I was let out of the home and into another world. It was scary."
She got over it. Then, without any planning on her part, her ballet aspirations took a U-turn the day she accompanied a friend to a chorus audition for the touring company of Call Me Madam. She landed a principal dancer spot and, as time and Tony nominations tell us, she never looked back.
---
Content With Her Life
---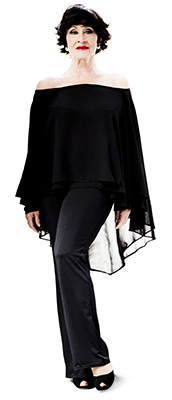 Photo By
Laura Marie Duncan
It's interesting speaking with Rivera—the dusky timbre of her familiar voice. The thoughtfulness she brings to the interview. The humor. Her contentment with her life as it is and her drive to do more. "I'd love to do another Broadway show—hopefully, that will happen," she said. "I'm going to London with my club act. London's always good to me," then, after a beat: "I am very happy being where I am."
Now, at a time of life when many of her musical theatre peers have bowed out of the game or, at the very least are sidling into retirement (i.e., the occasional guest spot on Law & Order: SVU or CSI), Rivera is thumbing her nose at R and R. Instead, she's electing to spend her 80's accomplishing pretty much what she did in prior decades: dazzling theatregoers with her triple-threat artistry.
During the 2012-2013 Broadway season, for instance, she played a scene-stealing Princess Puffer in the revival of The Mystery of Edwin Drood. In 2015 she gave a Tony-nominated lead actress performance as Claire Zachanassian in the Kander and Ebb musical The Visit opposite Roger Rees, who passed away about a month after the show closed on July 10, 2015, having left the show in late May.
"We didn't know until the very end," said Rivera. "There he was, with this illness, refusing to do anything but go on with performances. It was my first show with him, and I feel cheated I didn't get to know him sooner. But I had him for a short time... he was a light and funny and smart and brilliant actor, and for a while we had a very good time."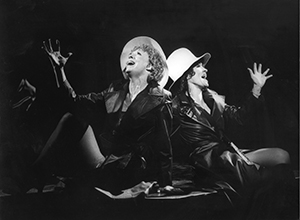 Chita Rivera, Gwen Verdon, Chicago 1975
Photo by Martha Swope
As for her 2016 project, she's making her Carnegie Hall debut in Chita Nowadays, a one-night-only celebration of her killer career, heavily laced with signature numbers. They'll also be appearances by Broadway stars Javier Muñoz (Lin–Manuel Miranda's heir apparent, and Hamilton's current Alexander Hamilton); Tony nominees Brandon Victor Dixon (Hamilton's Aaron Burr); and Andy Karl (one of Rivera's Edwin Drood costars); plus long-time friend and Tony-winner Alan Cumming.
---
The Winning Smile
---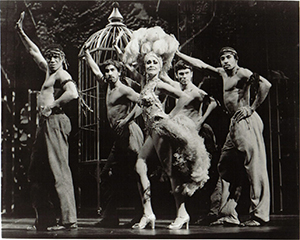 Chita, KISS OF THE SPIDER WOMAN
Photo by Catherine Ashmore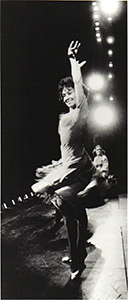 Chita Rivera, WEST SIDE STORY
Photo by Leo Koribbean
The show's poster, however, is all Rivera: A study in black and white with onyx tuxedo, top hat, cane, snow-white shirt and just a wisp of a smile—lipstick red to amp up the neutral palette. There are a couple of other dashes of red—shoes and pocket-handkerchief—but it's her smile, somewhere between knowing and impish, that seduces the eye while capturing the what? Complexity? Determination? Passion? Joy? Read into it what you will. After all, it comes from the woman producer Daniel Nardicio calls "...a national treasure" and a "musical theater goddess."
It does seem sadly fleeting, however, that November 7th is the only day Rivera has to charm the socks off a Carnegie Hall audience: longtime fans, fans in the making, friends. "My life is all about relationships," Rivera said. "Audiences, friendships, family—and feelings, laughter."
That said, I asked the two-time Tony Award winner what sort of advice she'd give to young people looking to follow in her dance steps. "You have to be passionate about what you want to do – follow your heart. Auditions teach you as a person to be strong. And be ready at all times, because if it comes, it will come quietly. Oh, and when you go to a dance audition remember to bring your own shoes."
---
Griffin Miller is a New York-based freelance journalist specializing in theater, travel, and lifestyle.