GO WITH THE FLOW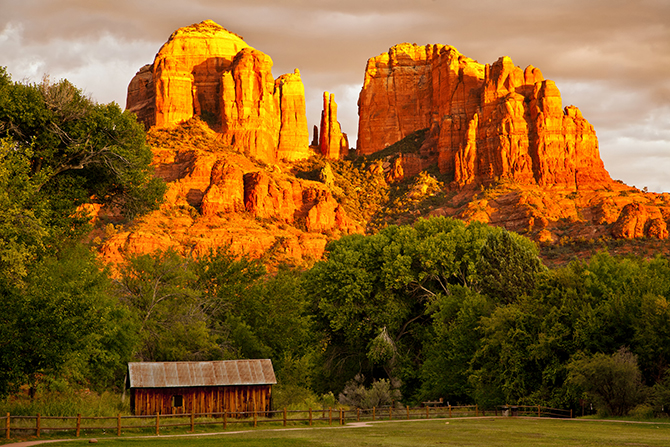 By Mira Temkin
From the moment you arrive in Sedona, you'll feel the vortex energy. This Arizona desert paradise pulls like a powerful magnet, attracting those who seek healing and renewal. With beautiful red-rock buttes, magnificent canyons, and quieting pine forests, Sedona's natural beauty awakens your senses; mind, body, and soul. Against the rising or setting sun, the mountains appear to glow in brilliant oranges and bright reds. Located at the base of Oak Creek Canyon in Red Rock Country, Sedona is known as a spiritual power center throughout the world. It's not your imagination: The power from these vortexes produces the most remarkable energy on the planet.
---
THE FORCE IS WITH YOU
But just what are they? "Vortex sites are enhanced energy locations that facilitate prayer, meditation, mind/body healing, and soul exploration," said Pete A. Sanders Jr., author of Scientific Vortex Information. "The reason for the spirituality is the actual geography of Sedona, which holds every major vortex. People come to explore the energy that creates transformation through meditation, tours, and classes. Many come away with a new sense of self that guides their future." Sanders continues. "The vortex sites are interwoven within the real world of Sedona. As a result, visitors experience how to live their spirituality in their daily lives. Sedona's splendor provides insights on how to create inner harmony you can maintain at home."
Sanders also conducts Scientific Vortex Tours (freesoul.net) that end at the top of the Airport Mesa. Climb to the peak and be rewarded with exquisite views in every direction as well as a new sense of peace. Reiki Masters, bookstores, metaphysical shops and educational centers abound to connect you to the spiritual. Go into an exploration mode. Take a class or two. Find what moves and inspires you and incorporate these practices into your routine.
---
WHAT TO DO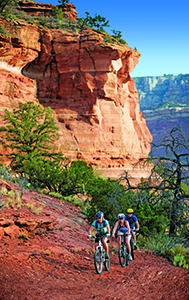 The Chapel of the Holy Cross is the Frank Lloyd Wright-designed church, built into the mountain, offering a place for reflection and serenity. As one of the Southwest's premier arts communities, Sedona is a paradise for both buyers and collectors. Take a trolley tour and shop in Uptown for Native American art, wearables, and crafts. For those on a personal journey, you'll find chakras, candles, crystals, and aromatherapy oils.
Helicopter rides, hot air balloons, and Jeep tours are a dazzling way to enjoy the gorgeous landscape. Pink Jeep Tours (pinkjeeptours.com) and other companies deliver great off-road adventure as you fly over boulders and explore the sandstone petroglyphs. Take to the skies and the vistas will astound you, giving you a new perspective on the world. Check out tours via air or shuttle that leave from Sedona bound for the glorious Grand Canyon.
Enjoy Sunday brunch at L'Auberge de Sedona (lauberge.com) and relax by Oak Creek, sipping a Mimosa. Feast on omelets, fresh baked bread, luscious fruit and other delicacies as you watch the ducks splash.
---
WHERE TO STAY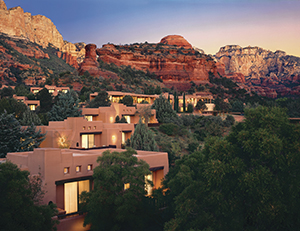 Enchantment Resort and Spa (enchantmentresort.com) is both a pinnacle of indulgence and luxury. Surrounded by multi-colored mountains and nestled in the beautiful Boynton Canyon, Enchantment offers a range of packages, including tennis, golf, adventure, and family outdoor getaways. With classes in exercise, yoga, morning rituals, vortex walks, and guided meditation, there are more than a hundred complimentary activities to inspire your retreat. Hiking is a must, and the resort offers an extensive list of trails, guided tours, and mountain biking trails, differing in elevation and length. A popular hike goes out to the Kachina Woman rock formation, which stands over one of Sedona's famous energy vortexes. Or, hit the links at Seven Canyons, an 18-hole, par 70 Tom Weiskopf-designed course open only to resort guests and club members.
On the grounds of Enchantment is Mii Amo Spa (miiamo.com)—which means Moving Forward—ranked among the top in the U.S. Steeped in Native Yuman wisdom and tradition, this 24,000 square-foot spa offers various restorative treatments to strengthen and restore natural balance. Massage therapies, body wraps, Ayurveda, facials and spiritual sessions open the pathways to renewal. Highly skilled therapists use custom-blended oils and lotions to promote maximum healing and wellness. Many treatments take place in rooms with open windows, making the experience that much richer.
Dine in one of the five venues that feature contemporary cuisine with Southwest influences and locally sourced ingredients. When it comes to dining, think home grown. Sedona practically invented the farm-to-table concept and chefs take advantage of the local fruit and produce as well as fresh fish from the creek. Be sure to try a prickly pear margarita.
Journey to Sedona and embrace the inspiration as visions of the red rocks stay etched in your mind forever. For more information on Sedona, check out visitsedona.com.