SNOWY WONDERLANDS
By Patricia Canole
If you're the kind of person who prefers the click of the ski boots gripping their bindings to the clink of margarita glasses beachside, the mountains may just be your ideal escape. From the East to West, we've rounded up some of the best places to ski. We've also found scenic gondola rides, trails for cross-country skiers, all of which you can experience during ski season. Here's where to hit the trails.
---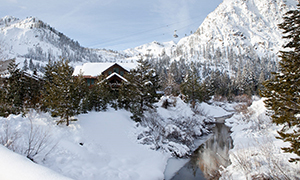 CALIFORNIA
LAKE TAHOE
The 4,000 acre of runs around the Squaw Valley ski area's six Sierra peaks will put you to the test. And while the village may have plenty of shops and a healthy dose of attitude, there's no pretension once you ascend the mountains. Skiers will find happiness along the 32 Mile Mountain Run, where seasoned schussers can test their abilities on bumpy Monkey's Run, or on tricky Siberia Bowl, which might be dubbed "advanced intermediate' but is far more advanced than intermediate. Once darkness falls, get a moonlit view by taking to the trails. If anything it's breathtaking. When you've had enough for one day, ski down to the Plumpjack Squaw Valley Inn (plumpjacksquawvalleyinn.com), located at the base of the mountain. Have a drink at the bar, and head to your room to dive into a pile of comfy snow-white down comforters.
---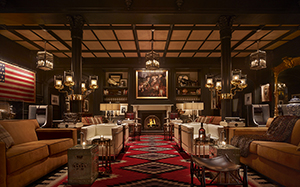 COLORADO
VAIL
It doesn't matter if gliding down a snowy mountain is your nirvana or nemesis, the mountain resort communities in Colorado beckon in every season. Just two hours from Denver, Vail is a replica of a Swiss Village. Nearby, the Four Seasons Resort Vail (fourseasons.com) features an award-winning dining experience at its restaurant and a spa with indoor pool, as well as a full menu of beauty and body treatments.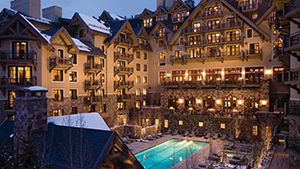 ASPEN
This area is as well-known for its tony après-ski activities as it is for the slopes themselves. Its cobblestoned streets are lined with designer boutiques as well as cherished mom-and-pop emporiums of Western wear. Like the town, the skiing is first-rate. Aspen Mountain (aka "Ajax") is right downtown; the slopes are a mere gondola ride away from those impressive shops. A stay at Hotel Jerome (hoteljerome.aubergeresorts.com) is exceptional. Aspen's oldest hotel opened in 1889, created a sensation with its decadently modern conveniences (think elevators and indoor plumbing). Today, the property continues to maintain its comfortably old-fashioned ambiance without sacrificing what rate as modern amenities a heated pool and Jacuzzi.
---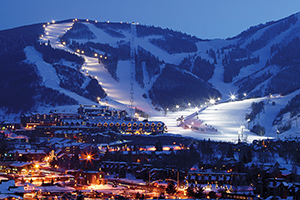 UTAH
PARK CITY
If the words "no snowboarders, please" are music to your ears, then check out Deer Valley Resort (deervalley.com)—a Rocky Mountain paradise. While Deer Valley may be a tad quieter than the better-known Park City Mountain Resort (parkcitymountain.com), just a mile away, it's no less challenging. If it's an adrenaline rush you're after, launch off of Empire Canyon's Chute, which drops 3,000 feet. Book a table at the Viking Yurt (thevikingyurt.com), a dome-roofed tent built on a mountaintop at The Park City Mountain Resort; a sleigh will meet you at the base of the mountain and carry you up the hillside. At the yurt, you'll find a five-course dinner and a wood-burning stove waiting for you. Dine on local game, such as elk with black truffle risotto as you warm up by the fire.
---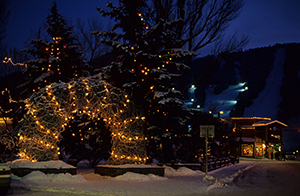 WYOMING
JACKSON HOLE
Just say the words "We're skiing out West," and visions of slope-utopia spring to mind: huge mountains smothered in fresh, feet-deep flakes, tall evergreens separating endless runs, harrowing chutes dropping thousands of feet; and chairlifts reaching up toward the sky. In other words, the Jackson Hole Mountain Resort (jacksonhole.com). This two-mountain property, which is located in the impressive Teton Range, delivers the quintessential American West ski experience—plus a whole lot more. While it's most famous for challenging double-black-diamond runs, the real beauty of Jackson Hole is that there's always a quiet, out-of-the-way trail where you can make fresh tracks! A stay at Spring Creek Ranch (springcreekranch.com) will bring you back to nature with magnificent views of the Grand Tetons and nearly 1,000 acres of land populated by deer, moose, and the horses at its riding facility in the valley below. In addition to the resort's accommodations, there are also the privately-owned condominiums and vacation homes that dot the butte—large, lavishly furnished and featuring completely equipped kitchens. The resort also has an "Adventure Spa," offering a combination of guide service and post-outing treatments, and in-house naturalists who lead guests on "Wildlife Safaris" into the park.
---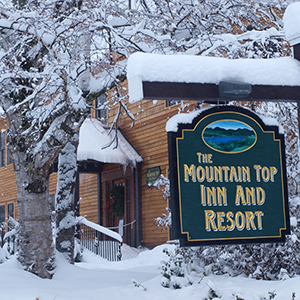 VERMONT
KILLINGTON
East Coast ski resorts always play second-best to their West Coast siblings—unless the destination happens to be Killington Resort (killington.com), the largest ski resort in the East, and the one with the most varied runs. This sprawling property offers 200 snow-packed trails that weave around the Green Mountains and promise the most thrilling downhill rides this side of the Mississippi. Beginners can trail off on Pico Peak and Rams Head Mountain, while speed demons rip down Killington Peak. When the runs close, head back to your Mountain Top Inn and Resort (mountaintopinn.com) haven in Chittenden. There you can head into the night on snowshoes. A hotel guide will lead you a half-mile up a mountainside to a peak overlooking frozen Chittenden Lake. Once there, you'll warm up beside an open fire with Godiva hot cocoa and chocolate-raspberry vodka martinis!
---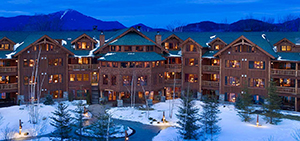 NEW YORK
LAKE PLACID
The site of both the 1932 and 1980 Winter Olympics, Lake Placid (lakeplacid.com) is also home to an Olympic Center that houses the Olympic Museum and Hall of Fame. The museum celebrates Lake Placid as the birthplace of winter sports competition in America and exhibits include original sports equipment, artifacts, and memorabilia. Nearby in Wilmington (close to the village of Lake Placid) is Whiteface Mountain—ranked No. 1 among Eastern U.S. ski resorts.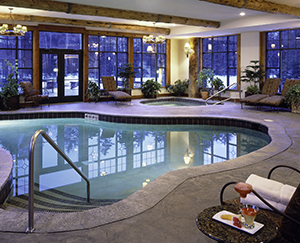 Whiteface has a 3,430-foot vertical drop that's the biggest in the East and has enhanced its lifts, trails, grooming, and snowmaking. Most skiers call it "a Western mountain in the East. From the time you arrive to the time you leave, The Whiteface Lodge
(thewhitefacelodge.com)
in Lake Placid, you are wrapped in the lap of Adirondack luxury. Bonfires are held some evenings, and there's a schedule of activities conveniently delivered to your room that will keep the entire family busy. The ice skating rink is open daily; ice skates and snowshoes are available for guests to use and are maintained in a frigid yurt. For rest, the 5,800-square-foot mountain spa provides a full complement of luxury services, both for individuals and couples.