REDEFINING LUXURY RENTALS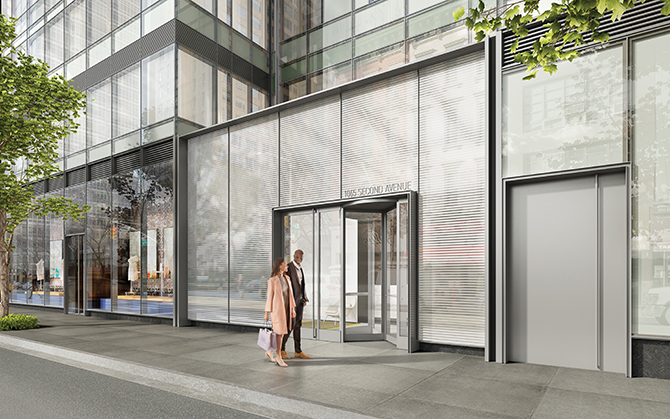 By Daniel J. Bollinger
Aalto is the rental portion of 252 East 57th Street, one of the most luxurious new developments in Sutton Place. Aalto57 - its entrance located at 1065 Second Avenue - is of the same quality, developed by World Wide Group and Rose Associates. Skidmore, Owings & Merrill (SOM) were the architects on this project with Daniel Romualdez overseeing the interiors and Roger Duffy the chief design architect.
Aalto57 is comprised of floors 1-30 and encompasses 168 rental units offering studios to three bedrooms. New York Lifestyles was invited to tour the one-and-two bedrooms with Richard S Lebow of World Wide Group who has overseen the company's marketing, sales, and leasing programs for its residential properties. They are not your average luxury apartments. The residences here were designed more like a condo with larger open layouts with "condo proportions" and unique designs with some very special amenities.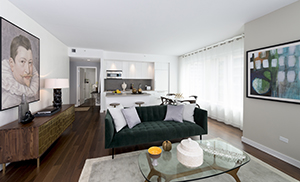 UNIQUE DESIGNS
One bedrooms all have open layouts some with a formal foyer. Step into the kitchen and you know they are of a more luxurious standard because Miele, Bertazzoni and Blomberg are top of the line quality. The kitchens have fully-integrated cabinetry and the neutral colors. One unique design in the kitchen is a "movable island," a custom designed piece that has locking casters. This thoughtful design was created to comply with ADA (Americans with Disabilities Act) wheelchair maneuverability. This gives you the option of even bringing the island to any corner of the apartment to completely open up the space for parties or an event. All one, two and three bedroom residences come with a "moveable island."
Bathrooms are simply beautiful: Lacava sinks, Grohe and Toto fixtures, and rain shower heads reinforce the higher standard which Aalto57 represents. One design detail that impresses is the full-length mirrored medicine closet on one wall in addition to the standard medicine cabinet above the sink. This provides plenty of storage and then some. There's more: All washer/dryer closets have automatic lights that go on when the cabinet is opened and turn off when closed. In larger apartments, this feature is provided in all the bedroom closets as well.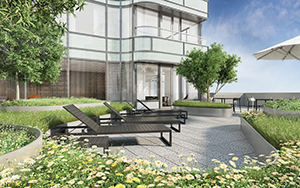 ROOMS WITH A VIEW
Oversized windows abound in these apartments providing plenty of natural light. There are window sunshades of different grades: The bedroom sunshades are a higher grade and block out more sun than in the living room. And speaking of windows, Aalto57 has installed double pane windows with argon gas inside to make your apartment virtually silent. For anyone who has lived in New York City, you know this is more a necessity than a luxury.
The larger rentals provide more volume in the spaces as opposed to the rectangular shape many city apartments have. Bathrooms are a good example of this "condo proportion" larger than average design which features double sinks and stand up showers. The two bedrooms have huge walk-in closets and Juliette balconies.
The amenities represent a higher standard of luxury as well. A children's playroom, bike storage, and industrial washer dryers you will see in many new buildings. Fitness centers are also standard in today's buildings, but Aalto57's gym is larger than most and has state of the art machines. But what sets Aalto57 apart is the fact that they have a Luxury Attache trainer on site for all of your personal training needs. A rare amenity that Aalto57 has is a half-court basketball area with an automated device that can raise and lower the hoop. But a superb comfort you'll find is their indoor/outdoor residential lounge located on the 9th floor. The outdoor lounge is very inviting with patio tables and chairs and even has a fire pit. - The indoor lounge is comprised of three different rooms separated by solid, high-quality pocket doors and includes a  main room with sofas, a TV room, and home office area set up for formal business meetings with a catering kitchen.
A Luxury Attache concierge service is also provided for residents and includes coordination of children and teen activities, introductions to school admissions consultants, move-in/out coordination, access to trusted child and pet care services, tickets and events access, travel, dining and nightlife, event planning and gifting. What more could one ask for?
Aalto 57 is redefining luxury rental. Their condo-styled apartments offer superior amenities, and an attentive staff ensures that you will experience only the best. For more information, visit aalto57.com.