A SoHo SHOWCASE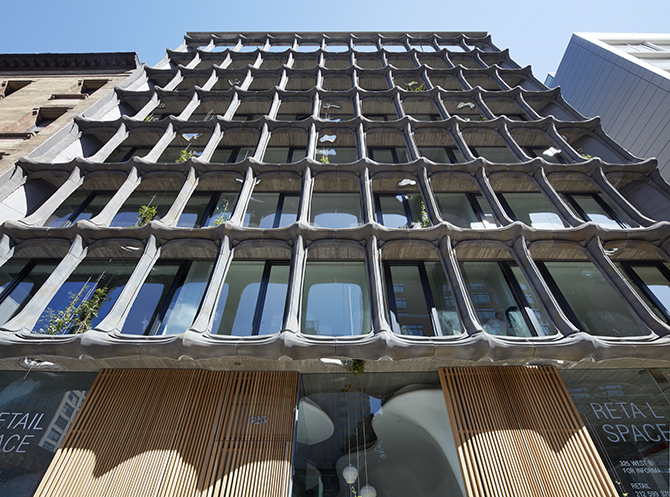 By Daniel J. Bollinger
You can't miss this building's façade on West Broadway in SoHo with its unique cast-aluminum exterior with vertical gardens over a glass curtain wall. This is XOCO 325 (pronounced Sho-Co), a designer showcase. The impressive showcase, thoughtfulness of design and quality construction are the result of DDG.
XOCO is the Catalan word for chocolate and is apropos considering this building was a former chocolate factory. The 21 one-to-four bedroom condo residences are equally memorable with many design details that make this building a true gem. SoHo is one of the chicest neighborhoods in Manhattan being a luxury retail mecca thereby making it a coveted residential area. Located across the street from The Soho Grand which is one of the most sought-after luxury boutique hotels in New York City, DDG has executed a development that is worthy of its location.
The high ceilings (starting at 10 feet) and open floor plans not only accentuate a luxury lifestyle but create an excellent fluidity throughout the main living areas of the home. There is no trim around hallways of the common areas. Rather, to accentuate the fluidity between rooms, you will see rounded curves made of sculptural plaster. There are endless curves on all walls that help set the fluidity of the space. The floating and recessed walls create a space that is open and continuous. Joe McMillan, Chairman and CEO of DDG says, "We have achieved timeless spaces that are balanced in their sizes and features." But it is the finer design details that take this project to the next level.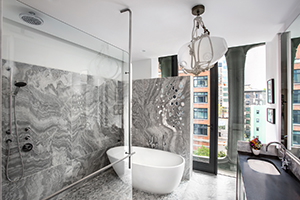 THE NICHE FACTOR
XOCO 325 exhibits great niche factors in their bathrooms and in their shower rooms and next to the deep soaking tubs. But DDG has taken it even further with niches in the bedroom and kitchen. In the four bedroom residence, we toured, a slot about the width of a king-sized bed is perfect for books and other incidentals—and close to the sleeping area. In the kitchen area they have a matching one: Whether it be cookbooks, bottles of spirits, or flowers, there is a generously-sized niche waiting for you in this excellently designed kitchen.
In the dining room, there is a beautiful medallion detail set into the ceiling accentuating the dining area. The hanging chandelier reinforces this space. Unique sculptural details blend very well with the rounded kitchen recess. The bathrooms take the design to a new height as well. The floating walls create a free flowing space, and the simple lines create a warm feel. The shower area with a rain shower ceiling spout and deep soaking tub (both with niches) define the space. But the work of genius of XOCO 325 is their marble Mashrabiya that closes off the wet space. A Mashrabiya is a perforated screen. DDG's openings in their Mashrabiya is meant to mimic water sticking to the glass, with an artistic set of holes in the marble that project fascinating rays of light onto the wet space. Again, DDG shows superior design thinking in this unique design feature.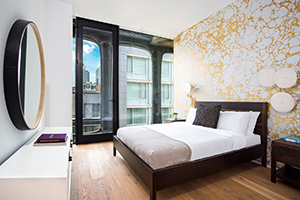 SEE IT IN PERSON
XOCO 325 is a designer showcase. The layouts of the residences are superb. But the finer details described here really need to be experienced in person. XOCO 325 has many amenities including a 24/7 concierge doorman, a bike room, and private storage. Their unique amenities include a private courtyard garden that features a naturally lit, sculptural concrete fitness studio. The best amenity is the fact that you are in the heart of SoHo on either West Broadway or Wooster which are quieter streets compared to Broadway or Spring Streets.
We categorize DDG's work with Toll Brothers and Extell—names you can trust. DDG not only developed and designed this project but is also staying on as property manager of the building—a good sign that they stand by their product. With the trendy ambiance it evokes, there's no question this building is becoming a music mogul and Hollywood Celebrity address.
For more information, please visit: XOCO325.com