WHAT A WONDERFUL WORLD!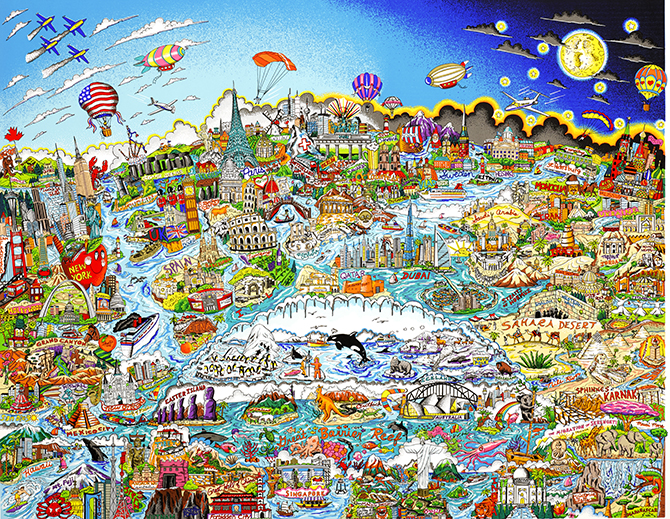 By Julie Maner
Did you know that the Big Apple has it's very own art ambassador? His name is Charles Fazzino, and he's an internationally renowned 3D pop artist who is most famous for painting cityscapes of New York. His signature three-dimensional technique makes his work immediately recognizable to thousands of his collectors. "No matter where I travel," says Fazzino "my most famous works remain those I create of New York City. It's my favorite place in the world and seems to have a magical hold on people from all walks of life."
Fazzino has enjoyed a more-than-thirty-year career in the art world. His works are exhibited in art galleries and museums in more than twenty-five different countries, and he has been commissioned to create artwork for such high profile events as The Super Bowl, the Major League Baseball All-Star Game, the GRAMMY Awards, the Daytime Emmy Awards, and much more. When he's not in the studio being creative, he's globe-trotting to cities around the world for gallery appearances and signings.
His work is distinguished by its 3D nature, along with its vibrancy and an incredible level of detail. Contrary to popular belief, each and every Fazzino artwork is meticulously cut, glued, and assembled by hand. Fazzino no longer cuts each piece himself—he has freelance artists who help him with that—but thirty years ago, it was him and his family on the living room floor wielding the scissors and knives.
---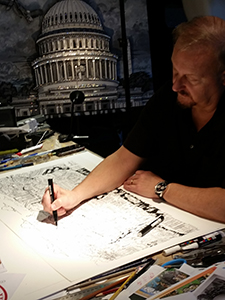 FLYING HIGH
While many are familiar with the collection of the artist's 3D works that adorn the walls of homes and galleries throughout the world, they are not as well-versed in some of the larger scale installations Fazzino has created—most of which are in the New York Tristate area. One of his most impressive works can be found in the American Airlines Terminal at JFK International Airport. It's a 10-foot-wide, 3D, hand-painted airplane sculpture and it sits right in the middle of the main terminal intersection.
"That airplane was a labor of love for me," states Fazzino. "Admittedly, when American Airlines sent me the sculpture and asked me to paint it, I was at a loss. I had no idea what to do with it. But then the inspiration struck, and it commemorates all of the places throughout the world where American Airlines flies from JFK. We unveiled it in a big ceremony, and to this day, I get a kick out of watching all of the tourists take pictures of it when I fly out of JFK." There are a dozen more Fazzino works throughout the terminal including a 13-foot mural of New York City, replete with mobiles that greet passengers as they descend the escalator to baggage claim.
Fazzino has also worked with several tristate area hospitals. The décor for the Newark Beth Isreal Medical Center's children's wing was based on Fazzino's art and featured two 40-foot wall murals. And recently, Westchester Medical Center unveiled its Fazzino-designed Health COACH (Community Outreach and Community Health). The COACH travels to events throughout Westchester, Rockland, Dutchess, and Orange Counties, linking together WMC's many campuses and facilities.
---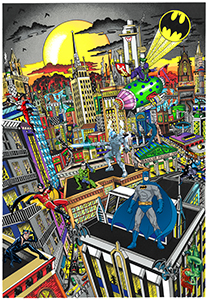 THE STROKE OF AN ARTIST
In 2013, the New York tour company, THE RIDE, commissioned Fazzino to design one of its state-of-the-art tour buses and the FAZZINO RIDE was born. Nominated for a 2013 Drama Desk Award, the part-tour, part-interactive-Broadway-show, traveled the streets of the city, garnering lots of attention along the way.
Fazzino is often asked to describe how he came to develop the 3D technique that he has spent decades perfecting. It happened by chance while he was starting out as a professional artist, traveling up and down the East Coast, participating in juried art shows with his flat acrylic paintings. He went into an art supply store where they were giving a class on paper tole or decoupage. Fazzino sat in with the group, mostly made up of retirees, cut up greeting cards and wrapping paper with tiny scissors. "We took the greeting cards and used aquarium sealant to make them 3D," he recollects. "Then we dipped them in a resin glue to finish them off."
After taking the class, Fazzino tried the technique with some of his pieces, making photocopies of them and creating a similar 3D effect with scissors and glue. The 3D works were the only pieces that sold at his next art show. He knew he was on to something. Today, he describes the technique as layering artwork "almost like you would layer a lasagna" and claims that he was inspired by the pop-up books his mother gave him when he was a child.
---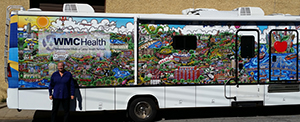 GIVING BACK
There is no doubt that Charles Fazzino has made an indelible mark on the contemporary art world, having masterfully walked the line between artistry and commercial success. His art has touched thousands throughout the world. His work is in the collections of two past United States Presidents and countless other celebrities and corporate giants, and his charitable endeavors have raised more than $1 million for good works all over the world. Most recently, he created an edition of artwork that raised the most money of any donor to the efforts of the hospitals in Paris treating the victims after the bombing attacks there in 2015.
When viewed as a whole, his entire collection forms one of the most comprehensive illustrative histories of contemporary life in existence today. Fazzino's art offers universal appeal to people of all ages and from diverse cultural backgrounds, and his impressive mastery of color and composition have established him among the top contemporary artists of his time.
---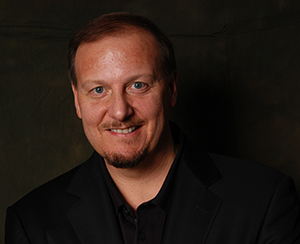 Charles Fazzino, a graduate of the School of Visual Arts in New York City, has inserted his unique, detailed, and vibrant style of artwork into the very fabric of modern culture. Fazzino's artworks are exhibited in hundreds of museums and galleries in more than twenty different countries. His legacy will mark him as part of the next generation of famous pop artists as he follows the paths originally forged by pioneers such as Andy Warhol, Keith Haring, and Red Grooms. View the entire collection at fazzino.com.