POISED FOR PAMPERING: SPA'S THE WORD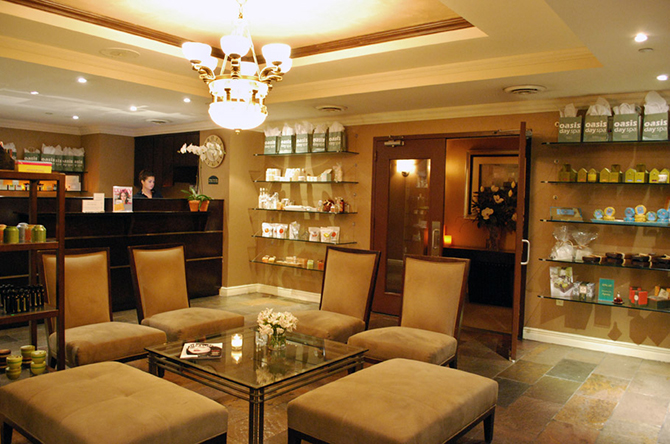 By Griffin Miller
With winter winds and holiday pressure looming, it's not a bad idea to take a deep and essential breath—the kind that points us to our happy place of real escapism. Some find it in yoga, others on treadmills or pumping iron, while the more bliss-seeking among us simply surrender tight muscles and frayed nerves to the experienced hands of facial and massage therapists.
Thankfully, Manhattan has become a magnet for high caliber spa "artists" from across the globe, individuals who are more than happy to ensure our stress levels for seasonal shopping, dining and family gatherings are tempered by bliss. Time to feel beautiful!
---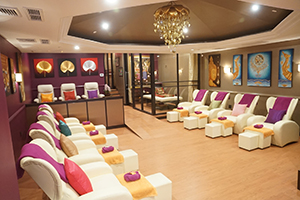 SHEVA THAI SPA
When you step into Sheva Thai Spa, one of Manhattan's newest boutique spas, you're greeted by a massive gold Buddha—the sort of attention grabber that tends to mesmerize first-timers for a few moments before they turn their attention to the smiling young women dressed in traditional Thai attire at the front desk. Clearly, the backdrop is far from conventional. Rather, it's a sort of garden of unexpected—even unconventional—spa delights.
The space opens up to a graceful enclave of spa chairs where authentic Thai foot and acupressure services take place, while the back section is set aside for pedicures and massage suites. The décor is Asian eclectic—with artwork, figurines, fabrics and a soothing waterfall coming together to create an intimate and exotic otherworld separating you from the bustle of Lexington Avenue outside.
Sheva's menu offers massages that range from total Thai to a blending of classic Swedish massage with ancient Thai techniques; soothing facials; and an almost decadent collection of manicures and pedicures. But it was their trio of signature foot treatments that caught my attention and led me to the "Royal Thai Body Treatment" which begins with serious attention to the feet and invites you to "Rejuvenate your inner being from head to toe."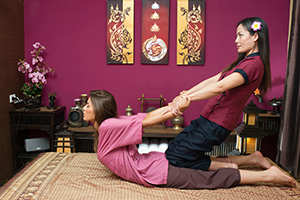 When you sign up for this 60-minute service, you shed your clothes, not for a robe, but rather a roomy scrubs-like ensemble that allows the therapist to roll up the pant legs to the calves. And since this is such an all-body experience my therapist, the lovely and fabulous Tenzin, not only took my feet, legs, hands and arms into spa nirvana (detoxifying and hydrating sea salts, essential oils, foot masque and other amazing things), she also gave my neck and shoulders a deep-tissue massage.
And you can add to that assessment a few more winning Sheva Spa elements: You do not need to make an appointment: walk-ins are encouraged, so much so that the spa is officially "Sheva Thai Spa Express!"
SHEVA THAI SPA
500 Lexington Avenue
(between East 47th & East 48th Streets)
646-846-8377
shevaspany.com
---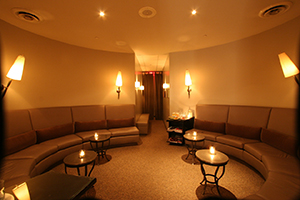 OASIS DAY SPA NYC
It began on a Thursday afternoon following an incredibly hectic morning in the city that never sleeps. One of those days when it seems your treadmill life has dissolved into a blur. And so, with barely 10 minutes to spare before my three o'clock appointment I trotted down the stairs to the front desk of Oasis Day Spa NYC—a popular mecca for workaholics, overwrought celebrities or, for that matter, anyone on the fast track to frantic—and I knew immediately salvation was at hand.
In the spirit of full disclosure, I admit this was not my first fall pilgrimage to Oasis in search of sanity and rejuvenation. During my initial visit (in 2013), I was one of the first to experience the spa's "Phyto Stem Cell Facial," which has become—no surprise to me—one of their most sought-after treatments thanks to the Swiss apple stem cells that form the basis of the products used. The products, themselves, developed by the vanguard French skincare company GM Collin, were designed to target sun damage, lines, and discoloration. Afterward, I wrote, "I could see a noticeable improvement after a single... treatment. Advantage me."
However, since Oasis Day Spa is known for both creativity and upping the ante on a good thing, this time, out when I zeroed in on "Skincare Services: Exclusive Seasonal Spa Specials," I was intrigued to find something new on the menu. The "Fall Renewal Facial" in which the "Phyto Stem Cell Facial" is teamed up with their "Diamond Microdermabrasion Treatment." I had to bite.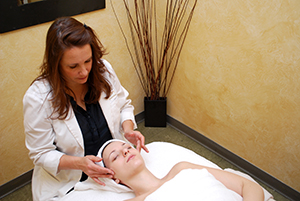 So on that very harried Thursday early last October, I once again found myself in one of Oasis' pristine facial rooms under the care of an experienced (and endlessly patient) aesthetician. She gently talked me through each step of the process that involved a deep cleansing treatment, extractions, oxygen-vitamin infusion, hydrating seaweed mask and addictive facial massage.
With copious anti-oxidants and all those apple stem cells working in luxurious harmony to give me a noticeable autumnal glow—in a single visit, no less—I can't help but give this seasonal Oasis facial two thumbs up. Still, my vote comes with a tick-tock caveat: the Fall Renewal Facial is not a year-round pleasure, so check with the spa to be sure it will be around post-November. And if not, there are myriad classic services and packages—not to mention the next seasonal exclusive—to keep you in Oasis' compelling gravitational pull.
OASIS DAY SPA NYC
1 Park Avenue
(between East 32nd and East 33rd Streets)
212-254-7722
oasisdayspanyc.com
---
HOLIDAY SHOPPING, THE PREQUEL
When it comes to bathrobes, it's first about the fabric and how it feels against your skin. Kelsey MacLean's Adult Spa Robe (aka her Luxury Cotton Bathrobe) is outstanding. With a 100% Pima cotton outside and 100 percent terry interior, it is beyond comfortable and with a softness that improves with every wash.
Also, these all-white robes can be personalized with any number of embroidered colors, scripts, and designs—from monograms to full names, to totally cool graphics, or customized logo. Bonus for Last Minute Gift-givers: Orders ship within 24 hours Monday through Friday except for holidays—even with personalization. Visit kelseymaclean.com for robes/wraps and her complete line of adult and kids clothing.