THE FRENCH CONFECTION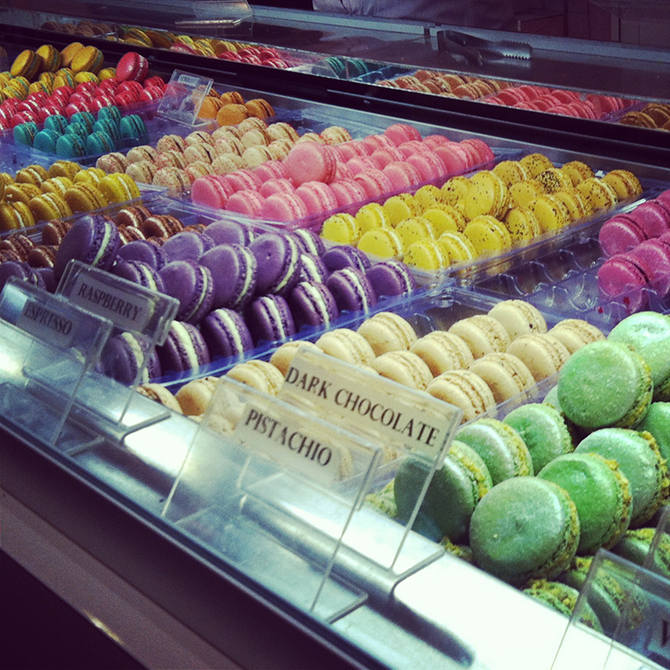 By Patricia Canole
Move over cupcakes. Once the popular finger food of trendy New Yorkers, they've been eclipsed by the macaron—the 2016 dessert of choice. The French spell it macaron; however, Americans have to do it their way in spelling and style. We spell it macaroon. What makes this tempting treat so incredibly fun to taste? Perhaps it's their delicate beauty or the distinct texture. Whatever it is, we love them.
The craze is hardly new. Historians have chronicled that macarons can be traced to a 9th-century Italian monastery. Then, in 1533, the monks traveled to France with their recipe and eventually joined the pastry chefs of Catherine de Medici. It was the French who refined the recipes to what we know today. During the 20th century, Pierre Desfontaines Laduree had the idea to join two meringues and fill them with ganache. The concept held, and today the Parisian bakery, Laduree, continues the tradition and is known around the world for its dozens of exciting flavors.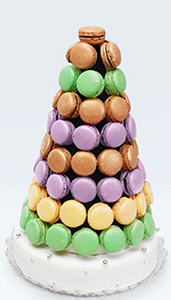 SWEET TREATS
It is said life should be exciting and so should your dessert. But you don't have to travel to Paris for the best macarons. New York's own Macaron Café (macaroncafe.com) is where the excitement runs deep. Owned by husband-wife team Cecile and Arnaud Cannone, it's a shop of many colors—and flavors.
Opened in 2007 in the Fashion District, it soon became the place to be. Cecile and Arnaud will never forget the huge welcome they received. "The warmth and enthusiasm of the New Yorkers who flocked to our little shop was truly overwhelming." she said. With an oh-so-subtly-delicious recipe for a little almond delight, you could say that Cecile's a born pastry chef. She told us that everything she knows about making macarons she owes to her family in France. "As a little girl, I spent hours in the kitchen and loved the desserts we created. I still continue baking at home on weekends with my sons. You might say baking is my therapy!"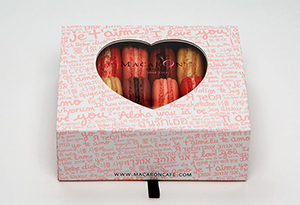 Today, there are an additional three outposts and a booming e-commerce business too. Cecile bakes them by hand with nearly 70 flavors, all of which are gluten-free and kosher, and—because one imagines macarons are bought as gifts—the packaging is pretty, with a range of ribbon colors from which to choose. There are the classics such as Vanilla sharing shelf space with such luscious flavors like Honey Lavender, Matcha Tea, Orange Blossom, Earl Grey, and the list goes on. There's even a decadent chocolate macaron that is particularly addictive. Cecile confessed that she can't live a day without eating chocolate. "Yes, definitively the dark chocolate for sure. And then depending on the time of the day or the weather, I love the floral ones—it's a very French thing to eat flowers." To keep things fresh, Cecile loves to add seasonal favorites for Halloween, Thanksgiving and the Holidays and, of course, Valentine's Day.
Of course, should you decide to indulge at one of the cafes , you can enjoy them with a French press coffee or Mariage Freres tea. And though it's tempting to indulge in a confection-only lunch, the café also serves up gourmet sandwiches and lovely packaged salads. We particularly liked the Paris sandwich of ham, gruyere, and French pickles on (what else?) a baguette. Still undecided, try the Croque Monsieur special.
---
Macaron Café Locations
750 Third Avenue
(between 46th and 47th Streets)
212-983-2370

625 Madison Avenue
(at 59th Street)
212-486-2470

152 West 36th Street
(between Broadway and 7th Avenue)
212-564-3524

303 Greenwich Street
(between Reade and Chambers Streets)
212-343-2570