100 YEARS IN THE BAKING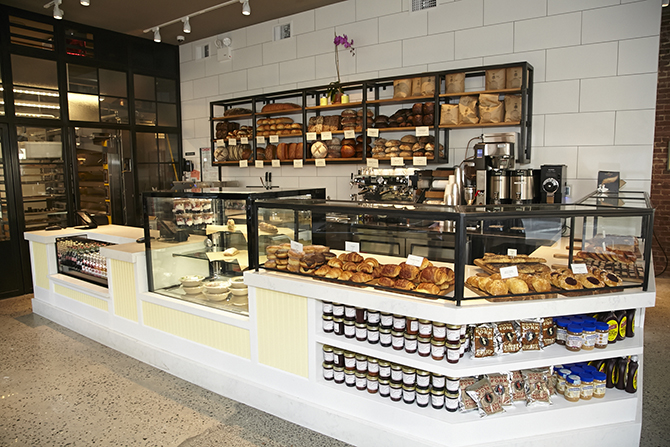 By Sarina Appel
Orwasher's—New York's original artisan bakery—is an institution. Founded in 1916 by a Hungarian immigrant family, the bakery began as a small storefront on the Upper East Side. It was borne out of a desire to serve local immigrant community members and focused on the high-quality rye, black and grain bread that reflected the traditions of their homeland. After being passed on from generation to generation of the Orwasher family, the business was sold to Keith Cohen in 2007. Since then, Keith and his team have worked hard to respect the brand's rich history while incorporating a distinctly current point of view. As part of this evolution, they have partnered with regional farmers for raw materials, working with local wineries to create their starters and developed a new line of contemporary artisan bread to satisfy today's palates.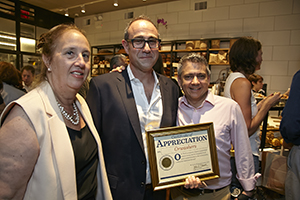 From left Gale Brewer, Keith Cohen of Orwasher's, Doug Kleiman
HOW IT STARTED
When Cohen purchased the original bakery on East 78th Street and realized it had reached the end of its natural lifespan, he prepared for a reinvention. Though he admits to not being entirely sure what he was doing, he did have history on his side. His grandfather and great-grandfather were both kosher butchers in Brooklyn, and Cohen loved working with his hands since he was a kid. "I grew up in Bayside, Queens, and was more interested in cars than school. In fact, I had a 1971 Mustang and then a 1970 Trans Am and learned how to replace the brakes, change the springs, and find my way around the engine. No doubt about it, I was just a mechanical kind of guy, and early on, my dream was to go to Germany to learn how to make Mercedes and Audis."
Instead, after college, Keith Cohen ended up getting a job at a bakery. The place was called Tribeca Oven, and "I stayed there for fourteen years, learning every facet of the trade, from production to customer service to repairing equipment. I loved the solid mechanics and chemistry of bread-making. For me, it wasn't that different from customizing a car. You get a vision in your head of how the car, or loaf of bread, is going to look and feel and perform, and you realize that vision." Cohen explained.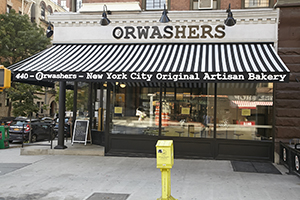 A BETTER BREAD
In 2007, Cohen decided it was time to go out on his own and was determined to revive the Orwasher's brand. Shortly after purchasing the nearly 100-year-old bakery, he began his quest to take Orwasher's back to its early 20th-century roots. Local ingredients and a concentration on old world techniques are at the core of his bread recipes. "Taking over a place like Orwasher's, and figuring out how to rejuvenate it, was a delicate dance. Its bread was great, and people had been buying it for a long time and had come to love it just as it was. But I knew it could be better. Still, I didn't want to change everything at once and disenfranchise all those longtime customers," he told us. "So it took time, about two years, to start making that transition from the old Orwasher's to the new. We kept the hundred-year-old brick oven the old owners had always used, but added another, more modern one, too. We also came up with properly written recipes, with exact, to-the-gram quantities and precise baking times and temperatures." The old Orwasher recipes had been passed down from father to son, with the assumption that everyone knew what a "pinch of salt" meant. "Plus, I wanted to work with all-natural flours; I didn't want to have any bleached or bromated stuff. Natural flours have different absorption rates and required new recipes, new proportions."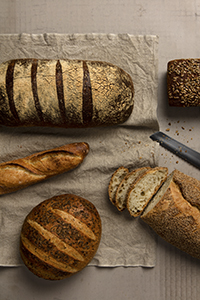 ANCIENT TECHNIQUES
He also modified the rye starters, creating ones they could control better, and endlessly tweaked the formation times till they were just right. "Even as I was working to update the bakery, I was constantly looking to the past. I wanted to replicate traditional old-world baking techniques," Cohen explained. "I tried to use refrigerators and retarders as little as possible, and I became interested in older methods of natural fermentation."
In his book, Artisan Bread: 100 Years of Techniques and Recipes (2015), Cohen offers a glimpse of his time-tested professional baking methods including step-by-step directions for baking a variety of different breads and rolls. "In 2008, I started experimenting with the ancient technique of making bread using the natural yeasts that grow on the skins of wine grapes," he said. "My friend Christopher Tracey at Channing Daughters Winery on Long Island gave me part of his Chardonnay and Cabernet Harvest, and we used the grape yeasts to create natural starters. These starters are very robust. There's a difference in their yeast makeup, and the breads they make are entirely distinctive with gorgeous crusts."
In September 2016, Orwasher's opened its flagship Upper West Side bakery and café at 440 Amsterdam Avenue. As a natural menu extension, the new Upper West Side bakery is the first to bake Orwasher's sourdough bagels. Another unique offering is the selection of chef-designed sandwiches and salads made with fresh meats, cheeses and produce sourced locally wherever possible.
To accommodate the growing demand for the company's exceptional products, Cohen shifted production from its original location in 2012 to a new state-of-the-art facility in Hunts Point in the Bronx. Orwashers offers a wide variety of fresh baked bread at its Upper East Side location in addition to more than ten farmers markets throughout Manhattan, Brooklyn, Long Island and Westchester, and at the new Upper West Side location.
What began in 1916 as an old-world bakery on East 78th Street has grown into an artisanal culinary institution that delivers 10,000 loaves of bread each day to dinner tables, restaurants and farmers' markets throughout New York and the surrounding metro areas.
For more information, please visit: orwashers.com