JEWELRY AS SCULPTURE
By Patricia Canole
For its annual 2016 Fall exhibition, the Aaron Faber Gallery challenged celebrated artists to create jewelry pieces inspired by the principles of modern sculpture. Jewelry as Sculpture as Jewelry opened last month at the Gallery's Fifth Avenue location with commissioned interpretations of contemporary sculpture's influence on jewelry art. "Defining contemporary sculpture in all of its aspects is not the purpose of this exhibition, but it can be said to include movement, light, sound, concept and installation, as well as form and dimension," said Patricia Faber, exhibition curator, and co-owner of the Gallery. "I selected the artists based on their body of existing work, and the fact that each of them has been exploring the sculptural aspects of jewelry for some time, and often taking it to the edge, pushing the boundaries," Patricia explained. "Another criterion is that they all work in precious metals—sterling, gold and platinum—and are accomplished master goldsmiths. What I love about working with artists in jewelry is that they are always challenging themselves to grow and experiment, which means for me there is always a sense of fresh new directions to present to our collectors and public." Here, some of the jewelry artists and their works.
---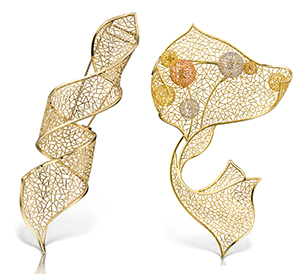 BAIYANG QIU
Growing up in a small traditional jade shop owned by her family in China, Baiyang Qiu's jewelry making started at an early age. As a child, Baiyang traveled with her parents to many remote areas including Tibet and Xinjiang, where all manner of colorful, precious stones were found and unearthed. This primal attraction is forever a part of her memory. Collecting the broken stones of damaged jewelry from the floor of the family's workshop in a little treasure box, she always dreamed of creating her own. After receiving her M.F.A from Savannah College of Art and Design, Baiyang started her own jewelry practice. "My current works are set up with extremely fine gauge wire of high karat gold and platinum. By combining traditional fabrication with new technologies, my work presents a delicate aesthetics as well as wearable jewelry."
---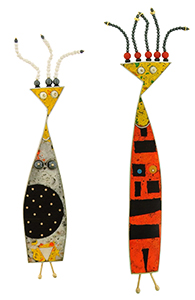 TOD PARDON
This artist's jewelry reflects the myriad intellectual and visual influences on the artist of the 21st century. His brooches are fabricated in sterling silver and then inlaid with a variety of materials, including glass resin, exotic woods, and gemstones. A wooden stand accompanies each brooch so that it may function as a sculpture when not being worn. Each one is individually numbered and titled. The artist received a B.F.A. from Alfred University and an M.F.A. from Syracuse University. "I've always seen my jewelry as objects, first and free-standing; their wearability a plus."
---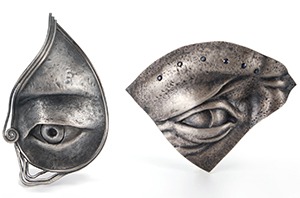 SO YOUNG PARK
She creates one-of-a-kind jewels in 18K gold and sterling silver. So Young Park investigates ideas that intrigue her: nature's form, or surface texture, or dimensionality, working in precious metal. Her current collection explores form, texture, and color through concave gold and silver circles that are then textured. She creates texture by piercing the surface with hundreds of gold beaded pins that move softly with the wearer. She adds color to silver by using patinas in metallic blues, purples, and grays. Her work is geometric and abstract, yet tactile and organic. So Young Park graduated from Busan Art High School in South Korea where she concentrated in fine art painting. Afterward, she attended Kon-Kuk University in Seoul, South Korea. My pieces express changing from anger, sorrow to desire, hope, and the power of life through human figures and mixing organic plant forms.
---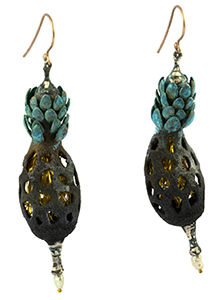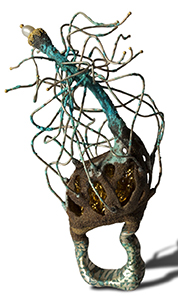 ARATA FUCHI
Fuchi creates hand-fabricated jewelry-as-sculpture. His work is diverse, including granulated textured silver and gold jewels, silver geometric forms that frame intricately meshed pure gold networks, and fantastical organic forms, often appearing outsized or overgrown. The works are intimate in their detail, with minuscule granules of pure gold set in silver, or tiny granules embedded in large forms, all of which Fuchi fabricates by hand, working with microscopic level magnification. Arata Fuchi was born in Japan, graduating from the industrial design department of Tokyo Zokei University. He entered the professional design collaborate with a watch and jewelry manufacturer for four years, before going into the intensive study as a goldsmith at the Le ArtiOrafe School in Florence, Italy. He has been creating his jewelry since 2006 in both Japan and Italy.
---
This month Jewelry as Sculpture as Jewelry travels to the 2016 SOFA Art Fair in Chicago (sofaexpo.com). For more information on The Aaron Faber Gallery, visit them at 666 Fifth Avenue (aaronfaber.com).