ON STAGE REVIEWS
WITH PAT COLLINS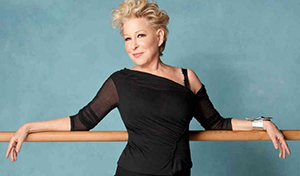 HELLO, DOLLY!
SHUBERT THEATER
The Divine Miss M broke all previous Broadway box office records with a total of over nine million dollars on the first day tickets went on sale. Yes, it is good to have Bette Midler back where she belongs in a revival of Jerry Herman's musical which opened in 1964 and starred Carol Channing. Previews begin March 15, 2017.
---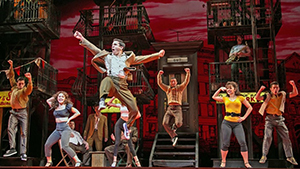 A BRONX TALE THE MUSICAL
LONGACRE THEATER
The well-told tale set in the 1960's comes to Broadway with Jerry Zaks and Robert DeNiro co-directing the musical inspired by Chazz Palminteri ' s 1989 partly autobiographical Off-Broadway one-person show about a young Italian-American boy whose loyalty to his father is tested when he is befriended by a powerful neighborhood Mafioso. Mr. DeNiro directed and co-starred in the film version in which Mr. Palminteri had a supporting role. The road to Broadway began at New Jersey's Papermill Playhouse with Tony nominee Nick Cordero receiving enthusiastic reviews. Alan Menken (Aladdin and Sister Act) and Glenn Slater wrote the doo-wop score. Previews Begin November 3rd.
---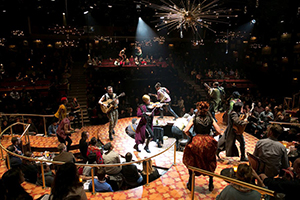 NATASHA, PIERRE AND THE GREAT COMET OF 1812
IMPERIAL THEATER
Singer/songwriter Josh Groban makes his Broadway debut in a 14 million dollar electro-pop opera set in 19th century Moscow and based on a section of Tolstoy's War and Peace. The plot revolves around the engaged Natasha, Anatole, the womanizing cad she is smitten with, his equally immoral sister Helene, and her faithful husband, Pierre.
Theaters goers can expect a unique experience at the Imperial Theater. Its traditional proscenium was replaced by an unusual seating plan which puts ticket holders either on stage or at cabaret tables and on bar stools. Perogies will be served, and vodka may be purchased. Dave Malloy wrote The Great Comet's book, music, lyrics, and orchestrations. The show was previously, performed in a tent in the Meat Packing district and opened at The American Repertory Company in Cambridge in 2015. That production earned positive reviews. The Boston Globe critic described the musical as an "immersive spectacle." Mr. Malloy who had the leading role of Pierre in previous productions was replaced by Mr. Groban for the Broadway run.
---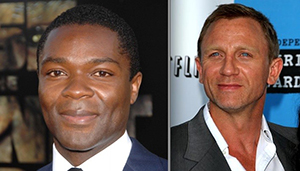 OTHELLO
OFF-BROADWAY
David Oyelowo, who provided the voice of James Bond for the audiobook version of the new 007 adventure Trigger Mortis, and Daniel Craig who was Bond in four movies, respectively play the title character and Iago. Sam Gold, a Tony winner for Fun Home directs the New York Theater Workshop production of the Shakespeare tragedy. The Off-Broadway limited run begins November 22nd and is scheduled to end January 18th. Info: New York Theater Workshop, 79 East 4th Street (between Bowery and Second Avenue).
---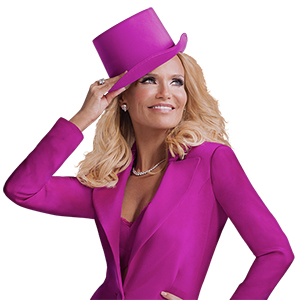 KRISTIN CHENOWETH
LUNT -FONTANNE THEATER
My Love Letter To Broadway is the title of the Tony winner's concert which is scheduled for a limited run November 2nd through 13th. You're A Good Man Charlie Brown made her an overnight star and as Glinda the original good witch in Wicked she cemented her reputation as one of Broadway's most beloved and bankable leading ladies. Kristin will perform her favorite Broadway show tunes and songs from her new album The Art Of Elegance.
---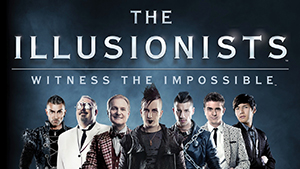 THE ILLUSIONISTS—TURN OF THE CENTURY
LUNT-FONTANNE THEATER
When Kristin departs the Lunt- Fontanne Theater, The Illusionists arrive to work their magic for the third consecutive year from November 25th through December 2nd. The cast includes clairvoyants, a conjurer, a magician who specializes in sleight of hand magic and handling tigers and panthers. My favorite is The Daredevil Jonathan Goodwin an escape artist extraordinaire. Special holiday performances are December 24 at 3 PM; Christmas Day at 7 PM; and December 30 at 8 PM.
---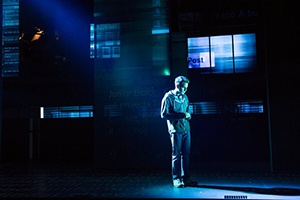 DEAR EVAN HANSEN
BELASCO THEATER
The musical's title character is a socially awkward, lonely teenager who envies the popular classmates in his high school. His low self-esteem is reflected in a note he keeps in his pocket. It reads "would anyone even notice if I disappear." Evan (Ben Platt) tosses the note which is retrieved by an equally depressed student Connor Murphy. When Connor commits suicide, the crumpled note written by Evan is found in his pocket. Their classmates assume the two were best friends and overnight Evan is embraced by the popular kids and Connor's bereaved parents. It's a lie that goes viral, and one Evan does not refute. The young Mr. Platt who played Benji in two Pitch Perfect movies received positive reviews when the show opened Off-Broadway. The production there and on Broadway was directed by three-time Tony winner Michael Greif. Benj Pasek and Justin Paul wrote the score.
---
SWEET CHARITY
OFF-BROADWAY
Two-time Tony winner Sutton Foster plays Charity Hope Valentine, the endearing and naive dance hall hostess who falls for every guy she meets in a revival of the musical which opened on Broadway in 1966. The creative team behind the 1966 original included theater legends Neil Simon (book) and, Cy Coleman and Dorothy Fields (score) and Bob Fosse (choreography). The dance numbers for the New Group production were created by Joshua Bergasse whose choreography for 2014's On The Town earned him well-deserved rave reviews. Info: The production runs from November 2nd to December 30th at the Pershing Square Signature Center (480 West 42nd Street).
---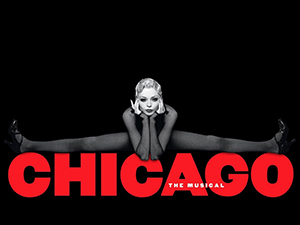 CHICAGO
THE AMBASSADOR THEATER
The show marks its 20th anniversary on November 14th, an achievement that makes it the longest running American musical in Broadway history. Here are some impressive numbers: Tony Awards: 6 including best musical. The total gross of Broadway production: $577 million. The number of performances: more than eight thousand. The number of countries where Chicago has played: 34. The stars who appeared in the show over the years include Usher, Brooke Shields, Jennifer Holiday. Taye Diggs, Huey Lewis and original cast members, Bebe Neuwirth, Ann Reinking, Joel Grey and James Naughton.
---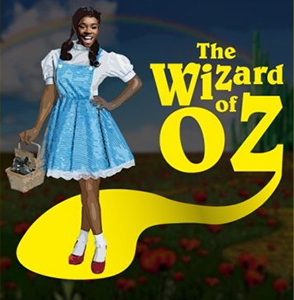 THE WIZARD OF OZ
OFF-BROADWAY
The Harlem Repertory Company and the Yip Harburg Foundation joined forces to stage an abbreviated version for young audiences. Weekend performance dates are November 5, 12, 19 and December 10 and 11. Admission is $10 and $20 for premium seating. Everyone is encouraged to sing "We're Off To See The Wizard" and all the other memorable songs written by Mr. Harburg and Harold Arlen.
The show's running time: one hour. Info: Tato Laviera Theater at Harlem Prep Elementary School, 240 East 123rd Street (at Third Avenue).