LIVE IT UP IN PUNTA CANA
By Patricia Canole
Friendly people, a vibrant culture, miles of beaches and affordable resorts all beckon travelers to Punta Cana located on the eastern end of Dominican Republic better known as the DR.
The Dominican Republic encompasses two-thirds of the island of Hispaniola (one-third is Haiti) and is home to the Caribbean's highest peak (Pico Duarte), one of the finest beaches in the world (Playa Bavaro), and the oldest city in the New World (Santo Domingo). Visitors to DR should spend a day exploring the narrow streets and taking in the Spanish Renaissance architecture of Old Santo Domingo or bargaining for hand-crafted masks and indigenous amber jewelry at the local markets. Next day snorkel, deep-sea fish, windsurf, or scuba dive off one of Dominican Republic's beaches. Hop in a jeep and explore the mountainous interior, where you'll come across dozens of off-the-beaten-path villages.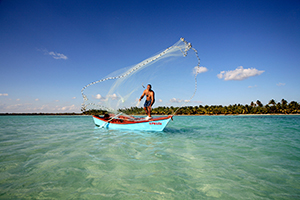 HOME RUN
Consider yourselves hard-core baseball fans? You'll be right at home in this country, which is so passionate about the game it produces more professional ballplayers than anywhere else in the world. There's a sandlot in every town—as well as a budding major league star. In the Dominican Republic, they're known as the "boys of winter" and the professional baseball season runs from October to February. Play ball!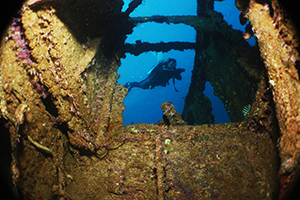 DELIGHTFUL SURPRISES
Punta Cana days are sun-filled and slow. Nights are filled with the pulsing beat of meringue—DR's musical gift to the world. Those who crave adventure in the sun love Punta Cana and its surrounding areas. You can hike up mountains, windsurf, scout for humpback whales, snorkel and scuba dive with a colorful array of fish and bike through the countryside. Try your hand at deep-sea fishing for record-breaking game fish like blue marlin, yellowfin tuna, and white bonito. For guys and gals who love to hit the links, this golf-crazy island is a hole-in-one choice. Real adventurers will want to learn the survival skills for eco-sports. The craze combines nature with sports—think cascading (rappelling through a waterfall) and canyoning (a combo of canyon climbing, cascading and swimming). Iguana Mama Adventure Tours (iguanamama.com) has many programs available throughout the year. Extremists flock to Cabarete, windsurfing capital of the universe. This spot is famous for its high, steady winds and numerous outfitters will provide equipment and lessons. Mellow travelers head to Punta Cana and its surrounding areas where beaches are lined with bronzing bodies.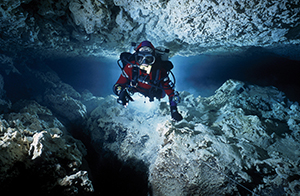 NATURAL ASSETS
Punta Cana is home to the longest stretch of white-sand beach in the Caribbean and, trust us; you'll never want this paradise to end.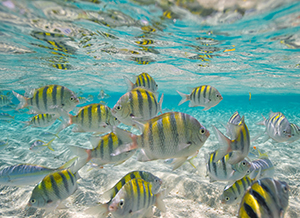 The golden beach is fringed with swaying palm trees and a string of luxury resorts. The entire length of the strand is public, and you can expect to find a diverse mix of local vendors selling art and handmade item, as well as small bars and fish shacks.
Breakaway from the luxury of your haven and explore some fabulous off-shore islands. Escape to nearby Isla Saona, a mostly uninhabited islet, mere minutes from the tiny fishing village of Bayahibe on the southeastern coast. The islet is a relaxing getaway for the day with entirely white, sandy beaches.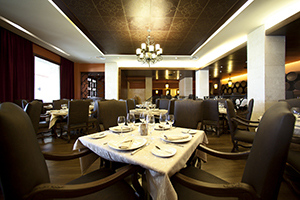 TASTY BITES
The local cuisine is called comida criola, a spicy island flavor that fuses African, Indian and Spanish influences, focusing on seafood and just-caught fish. Carnivores will have a field day with the abundance of beef, pork, goat, and chicken in the Dominican. Be sure to try the national dish, sancocho (a soup made of meat and root veggies such as yucca and sweet potatoes), and mondongo (a tripe-based soup). As on most other islands, the staple dish is arroz con habichuelas (rice and beans). Also try cassava (sometimes called yucca; it's similar to a potato), and plantains (a greenish starchy fruit which is often fried). Drinks of local fruits are refreshing and very popular. Presidente is the locally made beer and a favorite brew. But the beverage of choice is coffee—brewed strong, stronger and strongest, and served around the clock.
FEEL THE RHYTHM
The meringue is the DR's contribution to Latino music and dance—and is at the soul of the country. Merengue is to Dominicans what the samba is to Brazilians; a seductive beat so pervasive, you'll see it, hear it, and dance to it all over the island. In its pure form, a meringue band is composed of three musicians who play instruments that are symbolic of the multi-cultural island. They include the Tambora, a long drum (originally from Africa); the Guiro, a gourd scraped with a stick (from the ancient indigenous Taino Indians); and the Melodeon, or accordion from Europe.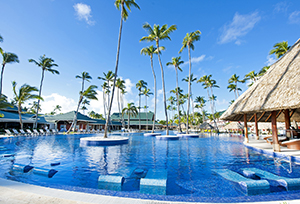 BEST STAY
It would be difficult to find a more perfect setting than Barcelo Bavaro Beach Resort (barcelo.com) tucked in the silky sands of Bavaro Beach. In fact, Barceló properties have gained notoriety for being located on spectacular stretches of beach in the world—and the reason so many flock to the luxurious resort. The result is a sprawling resort that hugs the coastline complemented by a vast majority of rooms within steps of the beach over a mile long. The all-inclusive resort encompasses four hotels, an 18-hole golf course, a 24-hour casino, and plenty of water sports to keep most delighted. For families, there's the Family Club at Barcelo Bavaro Palace that allows each family member to have fun their own way. Supervised activities with qualified recreational leaders plus free access to the water park make for fun days.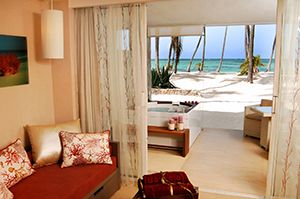 THE REAL THING
Of course, you won't want to go home without bringing back something to remember. Best bet: amber, which the Dominican Republic produces in great abundance. Note: Before you buy a piece of this old and valuable fossil resin, be sure your selection can pass these two authenticity tests. Real amber will float in a glass of water or club soda. Also, real amber turns a bluish color under ultraviolet light. Any reputable jewelry store will have this particular lighting available for its customers.