51 JAY STREET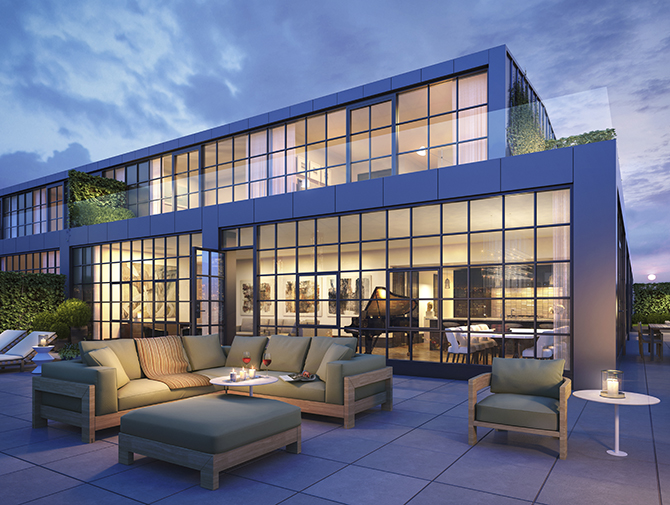 By Daniel J. Bollinger
Located in the heart of DUMBO (it stands for Down Under the Manhattan Bridge Overpass) is 51 Jay Street. The neighborhood recently became the borough's most expensive neighborhood for home sales at the end of 2015. And rightfully so because it is one of the coolest areas in Brooklyn. Its proximity to Manhattan (one subway stop); close, tight-knit community and its plethora of great coffee shops, restaurants, unique shopping and art scene all combine to make DUMBO a very hip place to call one's home.
The property was once a glass plate factory and is being converted into a luxury 75-unit condominium consisting of studio to four - bedroom residences. At press time, 51 Jay Street was still under construction and slated for completion at the end of this year. Co-developers Slate Property Group and Adam America Real Estate are doing a great job.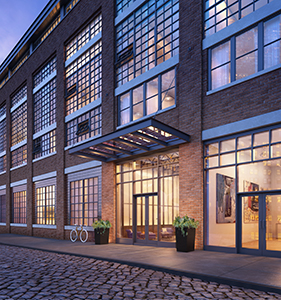 LIGHT THE WAY
The huge windows across the façade of this building have been incorporated into the design of this building wonderfully. On the first and second floors, some of the duplexes boast 13-foot windows. The fourth-floor apartments have floor-to-ceiling windows. With thermally treated casement windows and high-performance energy-efficient low-E glass, it makes for smart design. An enormous amount of light entering all of these spaces makes for an open, airy feel.
The layout of the kitchen, dining, and living rooms is enormous—great living space for those who like to entertain. It is very open with high ceilings creating a very loft-like feel. The developers were very thoughtful in their curation of fine appliances and in the kitchen you will see all Gaggenau appliances. This is a sign that the sponsors are making a statement about the quality of their project since Gaggenau is highly rated. As well, homes have either a Bosch or Electrolux washer/dryer. All closets come with quality custom built-ins. The bathrooms are beautiful as well. One design detail that I love is the wet room in the master bathroom. The shower area is encased behind a glass wall, and the tub is set inside this space.
DESIGN DETAILS
Another excellent design detail in both the kitchen and baths is the custom cabinetry. These custom designs add to the décor of the industrial feel of 51 Jay Street. The kitchens have custom wood cabinetry by Aster Cucine featuring antiquated details and stainless steel hardware. The bathrooms have custom vanities and medicine cabinets. The master bathrooms have a custom high gloss lacquered dark brown vanity with copper trim and custom copper pulls with a walnut brown honed marble countertop. They have a matching medicine cabinet also featured in high gloss lacquered dark brown with custom copper pulls. The secondary bathrooms have huge medicine cabinets that are a work of art with nickel trim and a mirror insert, and the custom vanity is white oak with a Tundra Gray honed marble countertop. They are all very subtle design details that make 51 Jay Street unique.

Open loft-like layouts, custom cabinetry in very well designed bathrooms, gallery layouts, and the highest quality appliances all help to define 51 Jay Street as a quality development and a sound investment. Though you are in the heart of DUMBO, the residences are silent. The only additional features to the list are the long list of amenities that the development offers. They are as follows: a 24-hour concierge; fitness & yoga room; children's playroom; residents' lounge; rooftop terrace with outdoor kitchen, fireplace, and outdoor showers. A landscaped central courtyard designed by Steven Yavanian Landscape Architecture is a beautiful touch as well as bicycle and resident storage; pet washing/grooming station; a large capacity laundry room and offsite condominium parking units (available for sale).
This is an impressive project. Everything is top notch in its design and execution. DUMBO is an excellent location. The price points are very reasonable. I would classify this a Value Gem: Value for the price points of the offerings and a gem because of its location in one of the prime areas of Brooklyn and NYC overall.