REAL ESTATE SPOTLIGHT
By Daniel J. Bollinger
David Amirian is a true American success story. After graduating college, he began his career at HRH Construction in 2001. His first project was in Oakdale, Long Island, which was primarily getting the faxes, coffee and sweeping the floors. At night, David attended the NYU Real Estate Program to obtain his Masters. Along the way, David met Anthony Rafaniello, Sr. who became his mentor. Anthony, the General Super for HRH Construction, brought David along to help build The Gateway Plaza Mall in East New York and The Marc at 900 8th Avenue, the Moinian Group's first ground-up project in New York City. In 2006, David was named the Director of Construction at 40 Broad Street and helped convert the Office Building in The Setai NYC, a multi-million dollar mixed-use project. Building on his successes working for others, David started his own company in 2010.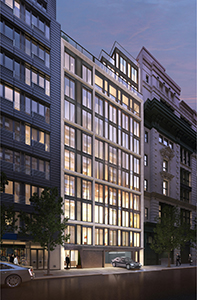 The Twenty 1 Exterior
What were some of your first projects?
The first three projects were mostly started at the same time. Amirian Equities and Wonders Works Construction partnered to build The Robyn at 316 East 3rd Street and 540 West 49th Street. The Robyn was a ground-up rental building in the Lower East Side. 540 West was a ground-up luxury condominium building in Hell's Kitchen. The last project was 16 East 10th Street - a single family conversion of a 10,500-square-foot structure in Greenwich Village.
What projects are you working on now?
I am currently developing 117 West 21st Street in Flatiron and 436 and 442 East 13th Street in the East Village.
What do you think of the current market?
The market is very tough in all areas. You have to look at each segment of the market from the top down.
Commercial
Office tenants are leaving old spaces and going to new, hip locations with new technology like downtown and Hudson Yards. Any buildings that are not updated are going to be tough to re-sign; tenants have much more options these days (if they are willing to move locations).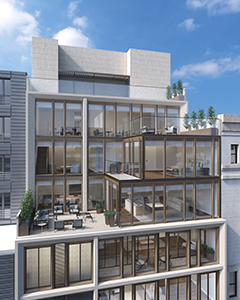 The Twenty 1 Penthouse Terraces
Retail
This segment has taken a tremendous jump. There is no need to be on Fifth or Madison Avenue anymore.Retailers are willing to be on a side street because of the high rental rates for avenue space. They are willing to be on side streets because they want to be profitable. Soho is currently experiencing a 30 percent vacancy rate because of this.
Condo/Sales
Resale is phenomenal right now. The average price is $1.07 million, and the market is on fire. New development is hurting just a little; inventory is increasing. Most inventory is priced above $2500 a square foot at a cost of $5 million and higher. The glut of inventory on the market is making this segment very tough. How many $10 million buyers are there to put a dent in this market? There are over 570 apartments for sale at this price point that will that will take four years to sell and that is not counting new units coming to market. Crazy!
What are you doing to stay competitive?
I price all of my projects more competitively. For example, at 117 West 21st Street, all of my condos are four bedrooms. The average price on the market for a four bedroom unit is $7.45 million. All of mine are priced in the $6 million to $7.3 million range: I'm offering more value at that price point. And the same goes for my project on East 13th Street. My units are priced at $1,750 a square foot while the area average is between $1,900 to $2,300 a square foot. I'm offering luxury product well below market values for comparable units."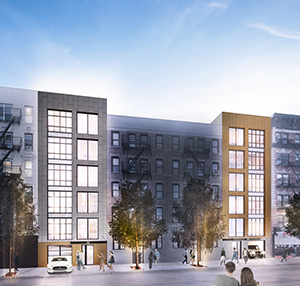 Thirteen East + West Exterior Rendering
What makes you a better developer?
There is a difference between a developer and an investor. Developers put up buildings and only care about the bottom line. Investors put up buildings and care about their name. Developers are fast and cheap. Investors believe in constructing beautiful buildings and their reputation. Reputation is more important because it translates into longevity. Because of my construction background, my team is very hands-on with project management. With the slowdown in the market, you will see a "flight to quality." Our developments are not compromising on quality. For example, four bedrooms in Chelsea are rare, and we undercut the market on price. The same applies to our East Village project—they are larger units than most in the East Village.
Where do you see the market heading?
I don't have a crystal ball. I wish I did. All I know is that we hit the top of the market and we do not see flattening across several sectors. I believe the next push will be Affordable Housing with city support in Long Island City, Brooklyn, and Queens.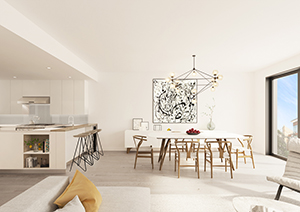 Thirteen East + West Dining Room
What else are you working on?
We are very strongly researching retail opportunities and actively looking for affordable housing development opportunities.
How do you give back to the community?
I have built two schools for free in Gramercy Park. They are the Preschool of the Arts with Chabad of Gramercy Park on 2nd and 19th Street and 22nd Street between 5th and 6th Avenues. I also donate 10 percent of my profits to charity. I have also partnered with the Neighborhood Coalition for Shelter which provides job training and job placement.