BISTRO LE STEAK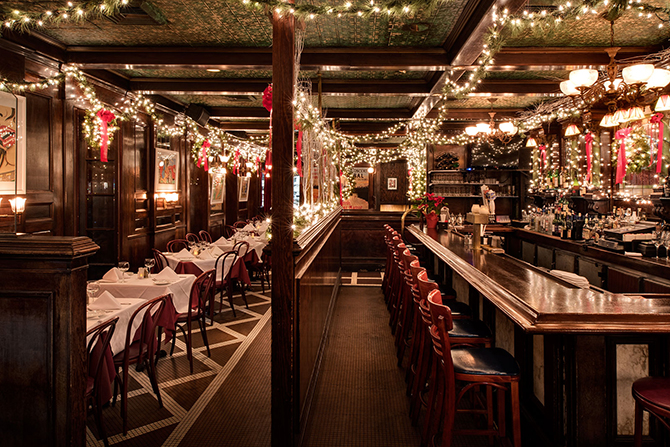 By Griffin Miller
Nick Jakupi walks fluidly between the tables of Bistro Le Steak, glancing lightly at the customers, like a father making his nightly tucked-in rounds. He stops at one of the larger tables, filled with a group. Hugs all around; they make room; he joins them for several minutes and then returns to his circuit.
It's this warmth and attentiveness, spilling over to his handpicked staff and a perfectly designed menu that creates a genial atmosphere. This isn't just an intimate neighborhood eatery; it's a place where locals, newcomers, artists, and celebrities can kick back and be themselves. No pressure. "I can teach someone to be a waiter, I'm happy to show them," said Nick. "But personality is the critical part of the ambiance. If they're friendly and welcoming, I can work with them."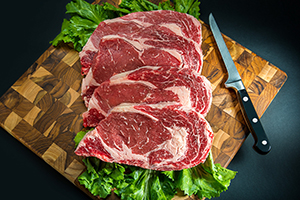 QUALITY IS EVERYTHING
Clearly Nick is a hands-on owner, buying the restaurant's two top entrees—fish and steak—at Hunt's Point Market. "I go there three to four days a week," he said, going on to note that when his suppliers moved from South Street Seaport to the Bronx, he followed them. "I just continue the same friendships with the same people...it's routine to me. It's very important to put quality food on people's plates."
By virtue of the restaurant's name, we made the assumption that beef would be the biggest attraction, but Nick reports that fish and steak run fairly parallel in terms of popularity. The menu features a 10 ounce Sirloin; a 10 ounce "Naturally Raised" Sirloin; Filet Mignon (also 10 ounces), a New York Cut Ribeye and a New York Cut Sirloin.
Being a pescatarian, I left the steak ordering to my husband, Richard (the Naturally Raised Sirloin) , while I turned my attention to the fish category, boasting eight seafood entrees: Pan Seared Brook Trout, Scottish Salmon, Almond Crusted Filet of Sole, Potato Crusted Cod Fish, PEI Mussels Mariniere, Pacific Jumbo Shrimp Brochette and Sea Scallops and Jumbo Shrimp. I went for the Broiled Swordfish with garlic mashed potatoes and spinach.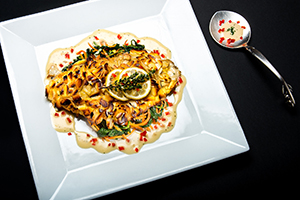 DIVINE DINING
At the recommendation of our server, for starters we shared a House Salad with the restaurant's celebrated homemade vinaigrette and a mushroom dish—one of the evening's specials. While we dined, Nick sat with us off-and-on, answering our questions and filling in details of Bistro Le Steak's history. We were especially curious as to how an Albanian found himself the sole owner of a French bistro.
He explained that he initially teamed up with two partners who owned Italian restaurants and when the former restaurant resident of the southeast corner of 75th Street and Third Avenue closed, they got the idea to turn it into a brasserie.
"The chef from Le Steak started working for us," said Nick, who wound up with sole proprietorship when his partners opted out for restaurants like Dallas BBQ. "That was 14 years ago," he added.
When asked if the look of the restaurant, had changed much from the day it opened, he said, no—it remains roughly 90 percent the same. "I have to do some renovations... add some curtains because of the lights," he said turning a critical eye to the glare from the street. "And I'm changing the awning outside."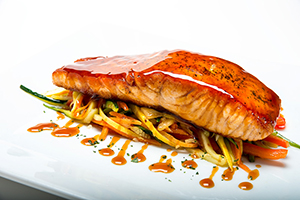 A HINT OF FRANCE
From a guest's point of view, the Bistro Le Steak is charming: two very different rooms, each with a distinctive French sensibility. We were seated in the outer room, with dappled Monet-esque flowers on the walls, a fabric draped ceiling and several works of art by one of the restaurant's regulars—and, naturally, a friend of Nick's.
The inner room reads more classic brasserie: brass fittings, dark woods, tin ceiling and an impressive tile floor. What stands out hanging against the far wall, however, is an original drawing of Dondi (from the comic strip that ran from 1955 to 1986), presented to Nick from the strip's artist Irwin Hasen who passed away last year at the age of 96. "He was just a wonderful guy with a smile and an answer for everything," Nick recalled. "One year he had an exhibition, and we had a party here that I catered. The next day he came in with that picture of Dondi." A raconteur who loves his business and especially his customers. Nick maintains, "If you love to do something, you never work."
As for our dinner, we topped it off with a slice of flourless chocolate cake—almost too, too decadent. Almost. Highlighting the rest of our meal: no fritte nor mushroom nor cake crumb was left uneaten. We're already planning our next visit.
"So the what are the dishes that people return again and again for?" we wanted to know. From the appetizers the Escargots and Frogs Legs Provencale Nick told us, adding a couple of our new favorite things: the "Magnifique" Provencale Steak Sauce, and the salad dressing.
And what is the best table in the house? "Well, everybody knows which one is [Mayor] Bloomberg's table. People come in and ask to sit at it," then after a beat, Nick adds: "We're just an ordinary brasserie, not glamorous—but the name speaks for itself."
Bistro Le Steak
1309 Third Avenue
(at East 75th Street)
212-517-3800
bistrolesteak.com