HIGH TEA AT THE PALM COURT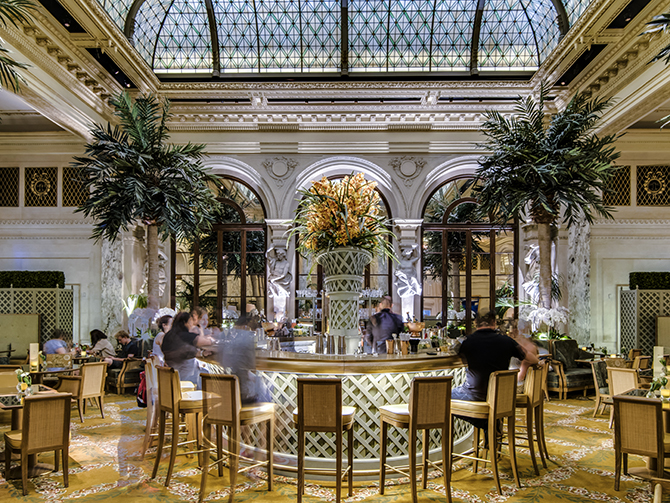 By Daniel J. Bollinger
It's difficult to miss one of New York City's iconic architectural wonders sitting on Central Park South at 59th Street. Across from Central Park is the Plaza Hotel which has set the standard for luxury for more than a century. Timeless elegance can be seen in the building and most particularly in The Palm Court. The dining venue serves breakfast, afternoon tea, and an evening service complimented by the recent addition of a bar and craft cocktail menu. Beautiful decor coffered ceilings, and a stained glass dome help make the Plaza and Palm Court worthy of F. Scott Fitzgerald's The Great Gatsby. So, during the hustle and bustle of this holiday season, why not stop in for a relaxing mid-day refresher?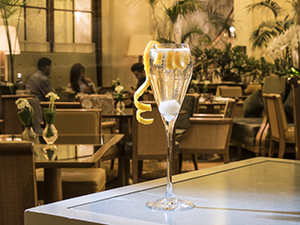 The Palm Court House Tonic with Gin
Photo By Oleg March
COCKTAIL CLASSICS
The popular choice is (naturally!) the Gatsby Mint Julep. Served in a tin cup with ice piled high above the rim and a large sprig of mint on top it's everything a Gatsby inspired drink should be. Cold, bold, and very strong with both Four Roses bourbon and Hennessy VSOP cognac. The menu claims it was The Great Gatsby's libation of choice at the Plaza. The Hemingway Daiquiri is also a treat: Real McCoy white rum with maraschino liqueur, cherry juice, and a cherry in the drink is sweet and good to the last drop. Legend has it that the drink was created for the author at the El Floridita Bar in Havana, Cuba.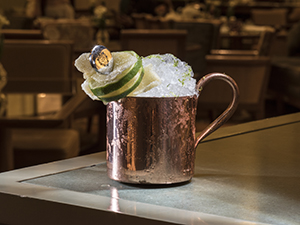 Gatsby Mint Julep
AFTERNOON TEA
The dishes served for afternoon tea include a sampling of many different sandwiches and savories, scones, and pastries and sweets. They are served quite eloquently on a multi-tiered tray with the perfect amount of food to satisfy your appetite. Three different varieties are offered: The New Yorker Tea, The Champagne Tea, and The Children's Eloise Tea.
The New Yorker Tea is comprised of many of the classic eats that NYC has made famous: Lox and bagels with cream cheese, turkey with grain mustard on whole wheat bread, and New York style cheesecake just to name a few.
The Champagne Tea has some more sophisticated eats like thyme roasted prime rib with horseradish aioli on an onion roll; foie gras torchon with white peach mustard on a toasted brioche, confit new potato with chive crème fraiche and American sturgeon caviar, and for dessert peach and Champagne savarin with almond frangipane.
The Children's Eloise Tea has typical children's items on it like organic peanut butter and jelly, chocolate and vanilla blondie, and pink cotton candy.
All three "teas" have six different kinds of finger sandwiches and seven different varieties of desserts to sample. All three are served with freshly baked warm season scones with double Devonshire cream, lemon curd, and preserves.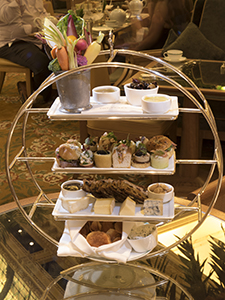 The Palm Court Small Bites Plateaux Photo By Oleg March
HIGH TEA
The Palm Court prides itself on its tea assortment from black, green, and oolong to red, white, and Pu-Erh teas. Here, some favorites.
Big Ben English Breakfast is a beautiful blend of black teas from Yunnan (China) and Assam (India). Both mild and invigorating, mellow and spicy, it is a successful blend of the main characteristics of both teas. It's high caffeine content make it an excellent morning tea.
Jukro is unique. The cocoa, vanilla bouquet evoke the rich not of the Chinese Keemun Mao Feng teas, but it's strength, richness and intensity take us more in the direction of the best dark oolong teas from Taiwan. Very aromatic!
The Des Alizes is a green tea enlivened by flower petals and delicately scented with pieces of white peach, kiwi, and watermelon. Wonderfully balanced.
Jasmine Pearls (from Grands Crus Green Tea selection) is a jasmine tea must. This tea produces a beverage of the highest quality. The softness of the green tea is the perfect complement to the subtlety of the jasmine.
Silver Needles (White Tea) is a Chinese white tea of incomparable delicacy. Made up exclusively of silver buds, it evokes ripe grapes and has astonishingly delicate fragrances. It is the most prestigious of the Chinese white teas. It is only harvested at a particular time of year when the buds are at their peak.
High Tea at the Plaza's Palm Court is certainly one of New York's must-do experiences this holiday—and for that matter all year long! The décor is reminiscent of a gilded age, the food is fantastic, and the assortment of teas is unparalleled.
For more information, please visit theplazanyc.com.