SEASONAL DELICACIES
By Patricia Canole
Gone are the days when you might have even dared to bring that fruit cake to a holiday party! Today, with so many extraordinary gourmet emporiums dotting the streets of New York City—not to mention the international flavors online—there are endless possibilities to satisfy any palate this holiday season. Here, our picks for gifting family and friends—and, of course, your own home as well!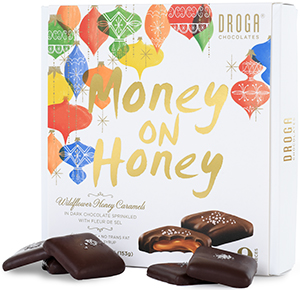 MONEY ON HONEY
The favorite all-natural confections are sweetened only by pure honey and cane sugars and blended with real cream and butter. Finally, it's finished with Fair Trade certified dark chocolate and a sprinkling of French sea salt creating a premium, delicate, and more healthful alternative to other caramels in the market, From Droga Chocolates (drogachocolates.com).
---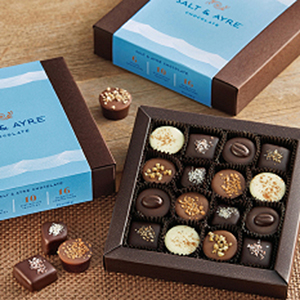 SALT & AYRE
Each piece of Salt & Ayre is handcrafted using only the finest ingredients with flavor notes gathered from the world's four corners. The 16-piece assortment includes Caramel garnished with Himalayan Pink Sea Salt; Almond Butter Crunch Toffee enhanced with Chipotle Sea Salt; Crystallized Ginger topped with a Thai Ginger Sea Salt to name just a few. From Harbor Sweets (harborsweets.com).
---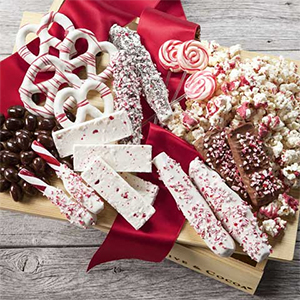 PEPPERMINT SWEETS
Ring in the season in style with a gathering of white chocolate drizzled peppermint popcorn; white chocolate peppermint bark; white chocolate caramel peppermint pretzel sticks; milk chocolate peppermint truffles; and three old-fashioned lollipop twists all gift-wrapped in a wooden crate and ribbon. From Olive and Cocoa (oliveandcocoa.com).
---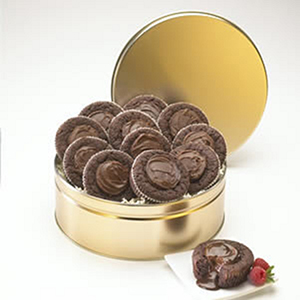 LOTSA LAVA
These lava-licious fudge cakes are so rich—they just may become a tempting favorite throughout the year. It's a perfect blend of the brownie with premium fudge placed at its center. The result of placing this lava cake in a microwave for a few seconds is quite honestly—pure joy. A tin of 13 makes a great gift. From Penn Street Bakery (pennstreetbakery.com).
---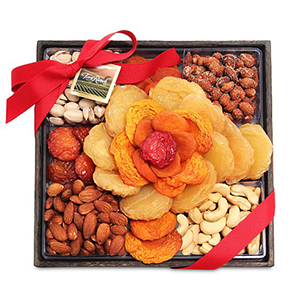 FRUITS & NUTS
This bestseller "Rose" will be a welcome gift this holiday season. The hand assembled tray feature large pears and peaches, fancy apricots, ruby red plus, cashews, almonds and colossal pistachios. From Torn Ranch (tornranch.com).
---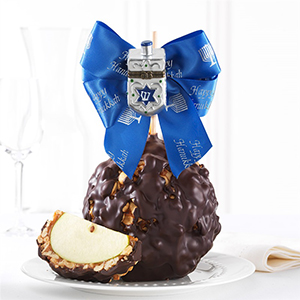 THE SWEETEST APPLE
Celebrating Hanukkah is fun when you give (or get) this Dark Chocolate Cashew Jumbo Caramel Apple topped with a dreidel. This scrumptious treat is a juicy orchard-fresh apple dipped in buttery caramel, then rolled in the finest-quality cashews and finished with a dark layer of chocolate. A sweet celebration! From Mrs. Prindables (mrsprindables.com).
---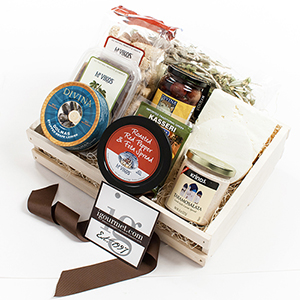 PASSPORT TO GREECE
The Authentic Flavors of Greece Gift Basket captures the very essence of the Greek Isles—blue skies, warm weather, and great food. A few of the packaged delights are Manouri (sheep's milk "cream cheese"), Kasseri (a cheese made from sheep and goat's milk), Mixed Greek Olives, Feta Cheese, Taramosalata (made from fish eggs), stuffed grape leaves, stuffed with rice, onions and fresh dill. From iGourmet (igourmet.com).
---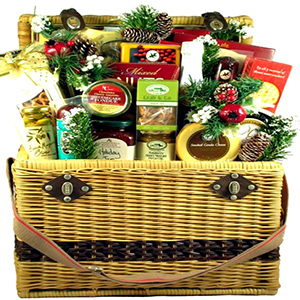 A PICNIC IN THE PARK
The oversized Central Park Gift Basket will impress. The hamper, lid with leather strap can be used to picnic when the weather becomes warmer. You'll find Hickory smoked sausage; assorted specialty crackers; raspberry honey mustard pretzel dip...and even more, delicious goodies. From Adorable Gift Baskets (adorablegiftbaskets.com).
---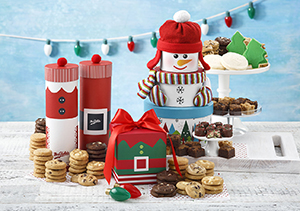 SWEET THINGS
Wearing a knitted cap, scarf, and mittens, this three-tiered snowman is a bundle of confectionary fun. Hidden inside are dozens of treats including bite-sized cookies, brownie bites, frosted tree cookies, and chocolate-covered sugar cookie bites. From Mrs. Fields (mrsfields.com).