ON STAGE REVIEWS
With Pat Collins

THE PRESENT
Ethel Barrymore Theatre
Previews Start December 17, 2016
Cate Blanchett who has two Oscars (Blue Jasmine and The Aviator) makes her Broadway debut in an adaptation of Anton Chekhov's first play Platonov which is one of its four titles. Russian lit majors familiar with Chekhov's less well-known work probably could name all the titles, but that knowledge will not guarantee to get a better seat at the Barrymore Theater. Put purchasing tickets at the top of your to do list now. Ms. Blanchett previously appeared on the New York stage in Hedda Gabler, A Streetcar Named Desire, Uncle Vanya and The Maids but the aforementioned were not Broadway productions. The good news is she is at last eligible for a Tony Award. That is bad news for the other women in the best actress category next spring. The Present is set in post-perestroika Russia at a 40th birthday for Anna Petrovna (Ms. Blanchett) a once wealthy widow after whom the titular skirt chasing Mikhail Platonov (Richard Roxburgh) has lusted. Like many occasions where vodka and champagne flow this too involves conversations about regrets and unresolved relationships. Director John Crowley also helmed the Oscar-nominated film Brooklyn. "The production's journey to Broadway began with the Sydney Theater Company which counts Ms. Blanchett and The Present's playwright Andrew Upton among its most distinguished members. The limited engagement is scheduled to end March 19, 2017.
---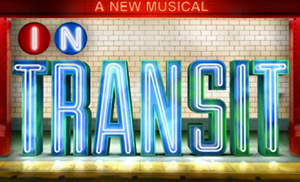 IN TRANSIT
Circle In The Square Theater
There is no orchestra to applaud at Circle In The Square because its new production directed and choreographed by three-time Tony winner Kathleen Marshall is Broadway's first a cappella musical. Kristen Anderson-Lopez who won an Oscar for Disney's Frozen co-wrote the show's music and lyrics and Deke Sharon, who was the music director for Universal's two Pitch Perfect movies, created the vocal arrangements. The unusual romantic comedy focuses on the lives of 11 ambitious straphangers in pursuit of success, love, and adventure. Some 55 years ago Betty Comden, Adolph Green, and Jule Styne wrote the musical Subways Are For Sleeping. In 2016 subways are for anxiety attacks. The In Transit holiday performances are Christmas night at 7 PM, December 26th at 2 and 8 PM. In related cold weather events, Ms. Lopez and her husband Robert are developing Frozen for Broadway.
---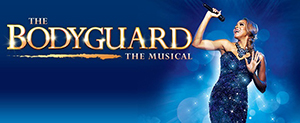 THE BODYGUARD THE MUSICAL
Paper Mill Playhouse
The new musical is based on the 1992 Oscar nominated film with Whitney Houston and Kevin Costner as former Secret Service agent Frank Farmer who falls in love with the music superstar he was hired to protect. The late Ms. Houston played the intended victim Rachel Marrow. R & B singer/songwriter Deborah Cox has the leading role in the stage production. The score includes the film's memorable chart-topping hits including "I Will Always Love You," "Saving All My Love For You," and "I Wanna Dance With Somebody." The last performance is scheduled for January 1, 2017.
---
THE UNTOLD STORIES OF BROADWAY: VOLUME 3
Dress Circle Publishing
Is the Belasco Theater haunted? Which opening nights were disasters?
Where is the secret tunnel Hugh Jackman once discovered linking the Broadhurst and Schoenfeld theaters? Author Jennifer Ashley Tepper has the answers and more revelations in her third book in the series. Even my colleague Michael Riedel, the New York Post columnist praised Ms. Tepper's book (rarely is he complimentary). The interviewees in this installment include Peter Gallagher, Barbara Cook, Elizabeth Ashley, Mary Louise Wilson and Patti LuPone.
---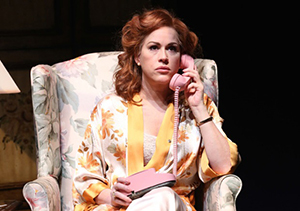 TERMS OF ENDEARMENT
59E59 Theaters
Molly Ringwald, who starred in Pretty In Pink, The Breakfast Club and Sixteen Candles in the 1980's is almost old enough to play the mother role of Aurora Greenway in a stage production based on the 1983 Oscar winning film and Larry McMurtry's book. Hannah Dunne best known for Amazon's Mozart In The Jungle makes her Off-Broadway debut as Aurora's daughter Emma whose early marriage to a man Aurora dislikes is one of Emma's many ill-considered life changing choices. The bond between outspoken mother and argumentative daughter is strengthened by a life-altering turn of events. The limited engagement is scheduled to end December 11, 2016.
---
CHRISTMAS IN NEW YORK
BROADWAY
There are more than 30 productions to choose from, but I suggest seeing one or more of the following musicals before they close: on the dates listed bellow: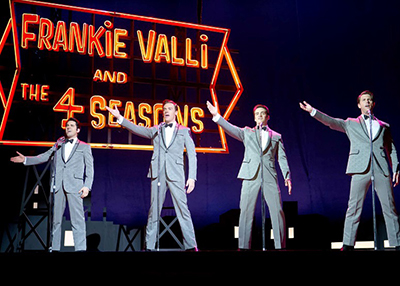 Fiddler On The Roof
December 31, 2016
Something Rotten
January 1, 2017
Matilda
January 1, 2017
Jersey Boys
January 15, 2017
Holiday Inn
January 15, 2017
---
SPECIAL EVENTS
Once a year two time-honored productions brighten the holidays for everyone from 5 to 105.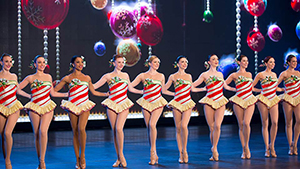 Radio City Christmas Spectacular
Radio City Musical Hall
Runs until January 2, 2017
Price: $45 to $250.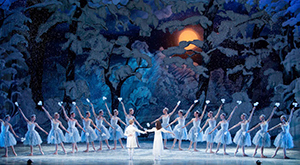 George Balanchine's The Nutcracker
NYC Ballet at The David H. Koch Theater
Runs until December 31, 2016
Price: $79 to $285
---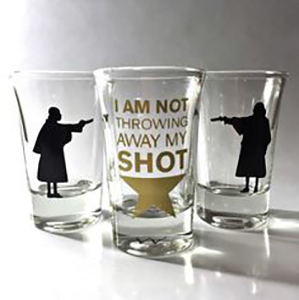 BROADWAY SHOPPING
HAMILTON
Even Santa cannot get tickets for the phenomenal Tony-winning mega hit. However, The Hamilton Shop has a variety of gifts from T-shirts, to shot glasses and hats and more to give the theater lover on your Christmas list. The shop is located across the street from the Richard Rodgers Theater on West 46th Street where Lin-Manuel Miranda's musical is playing. Store hours are Mondays noon to 6 PM; Tuesday-Saturday noon to 8 PM; and Sundays noon to 6 PM.