REMEMBERING RICHARD TUCKER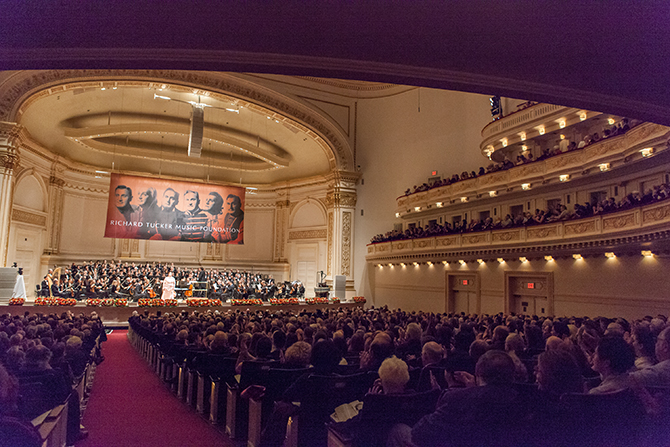 By Joanna Roberts
Ask Barry Tucker if he likes opera, and he'll laugh heartily. "Do I like opera? I'm spoiled," says Barry, 78, a financial adviser at JPMorgan Chase, and the founder, along with his mother, Sara, of the Richard Tucker Music Foundation. "I like 31 operas that Richard Tucker performed in. That's enough."
That would be Richard Tucker—his father—one of the most famous opera singers in the world. An Orthodox Jew who was "discovered" singing at the Brooklyn Jewish Center, Tucker was so beloved that his January 10, 1975 funeral was held onstage at the Met before 3,000 mourners. A few weeks later, a concert was held in his honor at Carnegie Hall. Luciano Pavarotti did card tricks for Barry's two children after their grandfather's death. "Pavarotti performed for the Tucker Foundation nine times for free," says Barry. "He never did benefits for other people.
"So many people at the funeral came up to me and told me how good my father was to them," he continues. "I knew my dad used to loan money to chorus members, orchestra members, stagehand guys. He never took back a penny. He felt—if you have enough to put bread on the table, share it. He was right."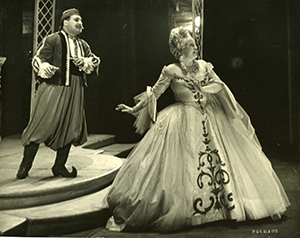 Photo By Cosi
WALL STREET BEGINNINGS
Richard Tucker had firsthand experience—he knew what it was like to not have enough to put bread on the table. His family—he was the was the youngest of five children—was so poor that he left high school during his sophomore year and became a runner on Wall Street ("runners" literally ran between different brokerage firms delivering stocks and bonds). He never returned to school.
The young Barry, the oldest of three boys, was very close to his parents; he often traveled around the world to watch his father perform in Paris or Rome. "He liked to have his family around him," Barry says. "When I was in college, he would fly me to Europe, we'd eat lunch together, I'd watch the opera and then I'd fly home."
Barry was seven when he first saw his father perform, at the Al Jolson Theater on 7th Avenue (between 58th and 59th Streets). It was a Saturday afternoon, and he was performing La Traviata. Sitting with his mother, he asked her "how come Dad is kissing a woman on stage?" His mother assured him it was a fake.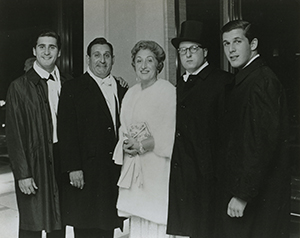 Richard & Family
FAMILY FIRST
Richard never sang at home; he didn't like to talk about himself. "He was more interested in us—how we were doing with sports, with our friends, how we were getting along. Nothing about himself," Barry says.
Richard first auditioned for the Met in 1944 but didn't get in. They wanted a baritone, and he was a tenor. But he remained on their radar, and one Friday night the general manager, Edward Johnson, went to hear him sing at the Brooklyn Jewish Center. The 1,500-seat Synagogue was packed. Johnson returned the following morning. After the service, Johnson invited him to re-audition. "He did, and they hired him on the spot," says Barry. "Just like that."
Still, he didn't want his children to go into show business. "He always said, 'Unless one of my sons sings better than I do, I don't want anyone going into the business. I don't want anyone to compare him to Richard Tucker.' He was very protective of the family."
In fact, Barry didn't realize that his father was a big deal until he was about 15 years old, and his father was interviewed on a hugely popular television show called Person to Person with Edward R. Murrow.
Years later, Barry would see his father perform with all the great divas—Joan Sutherland, Leontyne Price, Maria Callas, who made her debut in Verona with his father. "She loved him," says Barry. "To us, she was a pussycat." (It was Sara Tucker, says Barry, who encouraged Callas to marry her husband, Giovanni Battista Meneghini.)
Nikita Khrushchev was another fan. "The Russians would come backstage and meet my father in his dressing room," he says. "They'd say, 'How come you don't sing in Russia'? He'd say, 'I'll sing in Russia tomorrow. But every time I sing for you I also need to sing for the Jews in the ghetto.' He ended up on their blacklist. They would never allow it!"
At Barry's urging, Richard entertained the troops in Vietnam. He also raised thousands of dollars for charity. And he was very proud of being an American.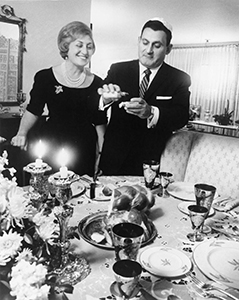 Richard Tucker & His Wife At Home
HE LIVES ON
In fact, when it came time to commemorate his father, Barry knew he would do something to help other American opera singers. Not long after Richard's death, Barry and his mother founded the Richard Tucker Music Foundation, a non-profit organization which supports young American opera singers and brings opera into communities. Rene Fleming, a Tucker Award winner, and Anna Netrebko were among the artists who performed at this year's gala, held October 30th at Carnegie Hall, with a dinner afterward at the Plaza.
What's more, nearly 400,000 people in 125 countries and 4,000 cities worldwide watched it online live and on Facebook through Medici.tv. "Opera is alive and well!" says Tucker.
Although his son and daughter don't attend the opera often, they are committed to helping sustain the Foundation. "They know that I've worked for 42 years building the best organization in the world for nurturing new generations of American opera singers," he says.
Somewhere, Richard Tucker is smiling. And singing.