ENTREPRENEUR'S CORNER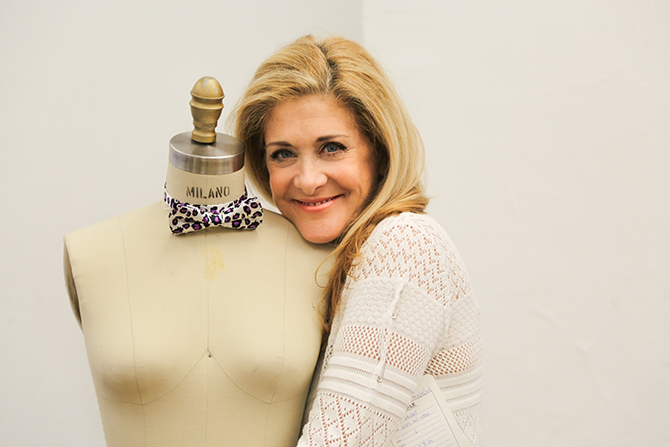 By Judy Goss • Photos by Peek Photography
Helen Powers is a supermodel. She's has been flown to Japan, Europe, and China to model—several times on a private jet—getting paid thousands of dollars for a few hours of work. She has been recognized on an international scale as one of the top models for her industry and is in demand with countless couture designers for her body type. What kind of supermodel is Helen? She is one of the top models in the Fit Modeling industry, which is considered a behind-the-scenes kind of occupation. Helen is a professional model whose career spans several decades longer than most working models. Typically, only supermodels get paid the big bucks beyond their 20's, and if you keep working at that ripe old age, then the work is sporadic and tends to pay a lot less. Except if you're Helen Powers.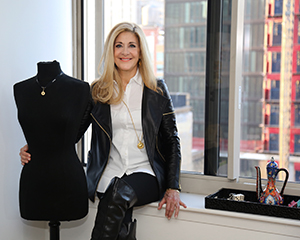 DECADES LATER
An exception to the rule, Helen has been working steadily for decades as a model maintaining a salary of close to $500,000 per year continually for 30 years. But Helen didn't grow up having dreams of strutting down the runway in her head. She studied fashion to be a buyer and shortly after graduating with a fashion merchandising degree she moved to Los Angeles where she heard the junior and denim markets were emerging. These markets were of particular interest to her, and she figured getting experience in a secondary market first would benefit her until she was ready to start interviewing for buying positions back in her hometown of New York City.
As she worked her first job as a showroom manager in LA, Helen got another offer to model the clothes for the showroom designer after they had discovered she was the perfect fit for the job. She worked both jobs for a while, and upon discovering she was the ideal size for fit modeling with other companies also, she began working full-time as a model in Los Angeles and never looked back. Her education in fashion greatly benefited her in the fit modeling industry because she not only was the perfect size for the job but knew the difference between the types of fabrics and the way they should drape and feel on a person. Fit modeling is not limited to only trying on clothing but also having a broad knowledge of the kinds of fabrics used, where they are made, and how they come together to make the ideal outfit for a customer. Fit models are often called "technical consultants" as well.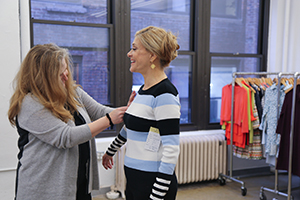 MISSING THE BIG APPLE
As many New Yorkers know, Los Angeles isn't for everyone and Helen was missing her family and friends back in New York. At the peak of her career in California, Helen abruptly quit and came back to the Big Apple. But she had already established her name as a highly regarded fit model out west, and her career was about to explode exponentially with the top names in the fashion industry in New York City such as Donna Karan, Calvin Klein, Ralph Lauren, Max Mara and Saks Fifth Avenue to name a few.
Upon her arrival back in New York, Helen got representation at IMG and began building a career that eventually took her around the world on private jets and to first-class hotels. She was flown to Hong Kong for three weeks at a time, to Paris where a Lear jet would take her to Florence for a day fitting and Northern Italy to "try on a pair of jeans" for a few hours. Max Mara even sent her to Italy for 24 hours from New York to perfect their pant fit for their major brand. She was living a jet-set life much like any supermodel and being paid for it handsomely. But unlike typical supermodels who can gain a few pounds here and there and still work, all throughout Helen's career she had to remain "the perfect fit" within one-quarter of an inch of her measurements or she would start losing work instantly.
Given Helen's ambition, education and an intense passion for fashion, it's not surprising that while maintaining such a demanding career she also added the title of "designer" into her experience. She invented the "Power Bag" which was a stylish tote bag that separated shoes from other belongings inside of it, instead of carrying multiple bags around. And as Helen does nothing halfway, she got her Power Bag featured in O (personally selected by Oprah herself) and Shape magazines, on FOX-NY, the Wall Street Journal, Newsday and even got nominated for a design award by the Fashion Group International in the process.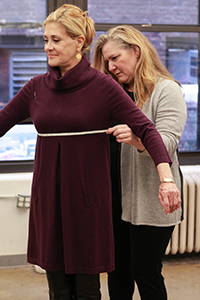 DESIGNING WAYS
Becoming a handbag designer was the beginning of a design career that would be picked up again several years later morphing into interior design. After the purchase of her home in Greenwich, Connecticut, and West Palm Beach, Helen started to enjoy flipping houses on weekends between her modeling gigs and realized her talent for fashion and design had organically expanded to interiors. Everything she learned up to this point was culminating into a new career, while three decades later she was still modeling as though nothing had changed, including both her measurements and her salary.
Helen got certified with The Academy of Home Staging and is currently working with a company in Boca Raton called "Restyle HOME." She expressed that "I have taken my knowledge of fashion, color trends, and proportion to design homes now…for example, when I'm working with a designer and look at an article of clothing for them, the pocket has to be in a particular area, and everything must be done according to proportion. Well, so does the inside of your home. It's all about color stories, fabrics, textures, mood, attitude - all this comes into play when designing a house."
Giving back has also been profoundly important to Helen, so when she had the opportunity to lecture on fashion marketing last summer in Paris for the University of California's study center, she accepted enthusiastically. As a single mom raising her daughter on her own from a very young age, Helen is determined to help forge paths for women's success.
And for now, this supermodel will be living Helen Powers-style, jetting back and forth between Florida and New York every week, working with the interiors of client's homes on the weekends in West Palm Beach and modeling in New York City during the week.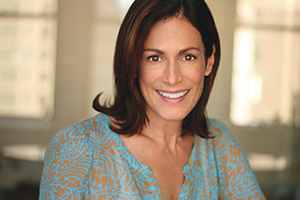 Judy Goss is currently the radio show host of What Women Want with over 500,000 downloads and is a published author of St. Martin's Press. She is also an entrepreneur who founded the nationally acclaimed networking organization Over 40 Females® with its 20 chapters from New York to California. Judy is also a freelance journalist who interviews people about her favorite topic; their personal stories and what inspired them to be who they are today.