15 MINUTES WITH SONJA MORGAN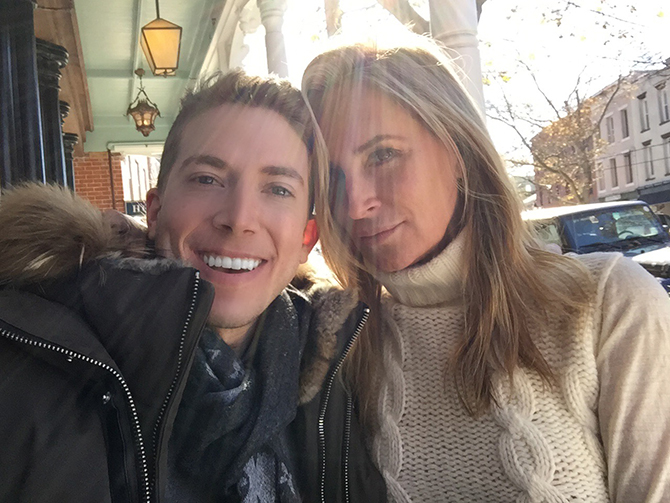 By Baruch Shemtov
After years on the New York social circuit, Sonja Morgan gained international fame as a star of Bravo's The Real Housewives of New York City. As the show gears up for its ninth season, Sonja has been balancing a full TV filming schedule with her fashion line Sonja Morgan New York, and recently took the stage, starring in the off-Broadway production of Sex Tips for Straight Women from a Gay Man. As her star continues to rise, Sonja took a moment to reflect on her glamorous New York life.
What was your life like before The Real Housewives of New York?
Very discreet! I'm laughing because now I am recognized everywhere by people I don't know but who feel know me. Before I was only known on the philanthropic circuit or when traveling to family homes to ski or boat and then, of course, my Manhattan neighborhood. I have a rapport with my shoe repair man, my UPS guy, dry cleaner, tailor newspaper guy, deli man, garage guy and my favorite restaurants. It's very New York as we love to walk everywhere and soak up the cultures of our neighbors.
How did the show change your life?
The show has helped my charities that I had already been involved with for decades. Under my umbrella comes children, animals, artists, and the LGBT community. There is a lot of crossover! I find it hard to say no to many efforts. But I must as I have a young daughter with great ambition and my businesses that are being newly built since starting over as a divorced mom. The show has just kept me current and vibrant. In touch with and part of pop culture. It is good to be helpful to young people at times due to my experience. Very gratifying.
What's been your favorite part of doing the show?
Again working with the young people who know so much about technology, media, digital. I'm a marketing major from way back at The Fashion Institute, so I find the mix of business, tech and artistic creativity fascinating.
What's been the biggest challenge in doing the show?
The biggest challenge has been juggling schedules. Some things can be filmed. And others can't. You want to show as much as possible, so the viewer gets to know your "story." But not every friend, work partner, or family member will be up for it. Then you have the other side of the coin. There are people you know who just want face time or to be with you to exploit their wares on camera and just be with someone famous and connected. It can be isolating being in a fishbowl and people counting their invites with you. I was used to that before the show and before my marriage as a young girl jet setting and doing public relations. So I was equipped to deal with it. It's still a challenge. Some can let it go to their ego and lose the run of themselves. I try not to.
You recently brought your talents to off-Broadway in Sex Tips For Straight Women From A Gay Man. What was that experience like?
I was completely flabbergasted. I came to a standstill in time. Asking myself if it was real or a joke. They didn't ask me to have it on my show. I wasn't filming at the time. Not that they told me to film it. In my conversation with the producer and director, it was clear they thought the part was perfect for me. They had heard from other production teams from some cameos on comedies I'd done that I was a natural and professional. So they asked me. I also have an international following. As do they. My daughter was impressed with the play and said you have to do it! The team was great. It was a wonderful enriching New York experience.
As you build your brand, what defines the Sonja Morgan lifestyle?
A timeless, season-less luxury fashion lifestyle for every day.
What inspires your collection?
Travel, culture, ease of wear and upkeep. It has longevity.
You've pursued so many different projects and lived a very exciting life. What still motivates you?
Friendships that last. Relationships in business that build and transcend. Travel and sharing cultures. Tradition.
What's next for Sonja Morgan?
I'm excited about my daughter's success at boarding school. Though I miss her, I'm excited about this new chapter for me too. It's an opportunity to lighten up things at my home and start a new page for myself. I'm preparing to travel more and more. I'm continuing to build my online fashion jewelry and swim collections slowly. I am looking to see how I can branch from there into home and hospitality in the best manner for my brand ID.
For more information on Sonja Morgan, please visit: SonjaMorganOnline.com.