PHILANTHROPY FOR THE 21ST CENTURY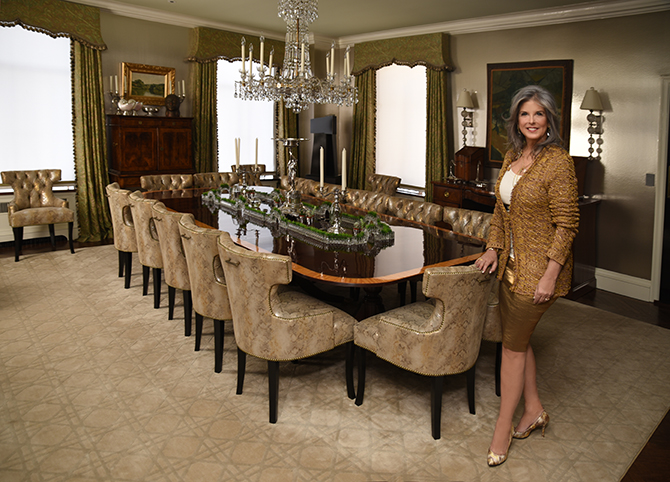 By Joan Hornig
All photography by Annie Watt / AnnieWattAgency.com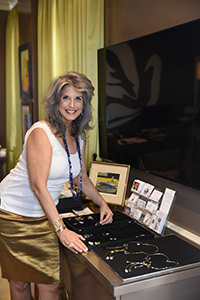 We are living in a time of significant and rapid change. One thing has remained constant—the growing needs and services provided by not-for-profit organizations. New York City can be proud of being the largest non-profit hub in the country with more than 300 registered non-profit organizations, as well as the home of other innovative businesses like mine which focus on working with them. More than ten percent of New Yorkers are employed by these charitable organizations. Whether one's interest is Animal Rights, Welfare, and Human Services, or Arts and Culture, Community Development, Education, the Environment or Civil Rights, there is a registered charity organized to help.
What's exciting to me is that more of us than ever recognize that we can make a significant difference by helping others. Social enterprise is a growing trend and is often heralded as a leading business model of the 21st century. Universities, governments, foundations, and companies are investing in the spread of social entrepreneurship. We are experiencing a renaissance with creative solutions aimed at increasing awareness of needs and bringing attention to new and engaging ways to raise and put charitable dollars to work.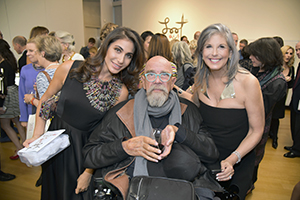 Eve Xanthopoulos, Chuck Close, Joan Hornig
My "Ah-Ha" moment came when I recognized that my deep love for design could fit into this strong and growing social enterprise movement. It came to me while attending a charity event. I saw a room full of beautifully dressed and appointed women and thought about the others I knew from work, my children's school, and my volunteer activities. I believed these smart, engaging, animated and effective community leaders would embrace the opportunity to channel their shopping dollars into charitable dollars.
But I also recognized that their interests were as diverse as their personal styles and tastes. Business understood that the "female economy" was in the driver's seat with eighty percent of consumer decisions made by women. But business had not yet asked the women to whom they were selling their products to tell them which charities they cared about supporting if given an open platform from which to choose. So, I decided I would let each customer of Joan Hornig Jewelry decide where to allocate the profit on each piece to the charity of their choice.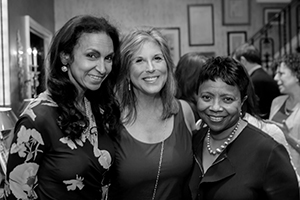 Susan Fales-Hill, Joan Hornig, Marva Smalls
Of course, I am hardly the originator of a model that combines commerce with charity. I am indebted to Paul Newman and Oprah for demonstrating how commercial platforms can be a force for giving back. Today we find more and more companies that have not only a strong social conscience but also a commitment to make outright donations of their products every time one is sold. Toms Shoes, Warby Parker Eyeglasses, and The Company Store are among the examples. The more, the merrier, from my point of view. There is always room for generosity. But my Philanthropy is Beautiful ® business model still differs significantly from those through its commitment to let the purchaser choose the charity.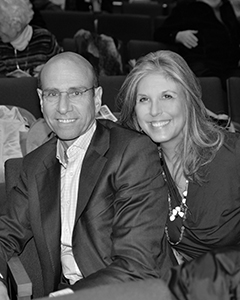 George and Joan Hornig
When I began Joan Hornig Jewelry to the outward eye, it may have seemed a bit crazy for me to undertake this. I was already in my late 40s with two children, two dogs, and a comfortable lifestyle. My appreciation of design and the visual arts had been relegated to the bottom of my Wall Street resume under "other interests." While my undergraduate major was in art history and my graduate degree was in business, I never worked in retail, manufacturing or fashion. But I loved jewelry. I had collected it. Just about every woman I know loves it too. We love getting it as gifts, buying it for ourselves and showing it to friends. My idea for a social enterprise business was based on a simple premise: Take something of value that is noticeable and make it even more impactful. Build around something with high enough margins to make meaningful donations. Charity functions had become shopping opportunities with donated items spanning the gamut of high-end experiences and products "sold" to raise significant dollars. Jewelry could act as a catalyst to begin meaningful conversations about giving back. When you hear "I like your necklace or earrings," what could be better than responding with how your purchase helped a cause?
From day one, I built Joan Hornig Jewelry around having all the jewelry produced in New York City by artisans from different backgrounds, religions, and cultures. I assembled a team of hard working, creative professionals who have been brought together to help me translate design visions into a recognized jewelry brand. Their businesses have grown along with mine and our worlds and contacts have widened as we've been on this journey together. With Bergdorf Goodman, the Museum of Art and Design and online sales, my New York City access to incredible talent continues to be one of the foundations that enables Joan Hornig Jewelry to be a successful social enterprise. If I've learned nothing else, I know it takes a lot of dedicated individuals working with a shared vision to remain creative, agile and timely.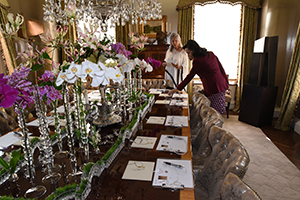 Joan Hornig, Julie Cummings
Social enterprise has enabled me to meet people across America and the globe who are working tirelessly to make things better in this world. While I have received wide recognition as a philanthropist, it is I who have gained so much in knowledge, inspiration, unexpected friendships and encouragement to keep me going.
The past 14 years since founding the Joan Hornig Jewelry have been the best of my life, and I am continually grateful for opportunities to reach out to encourage others to find their pathways for giving back. Through my designs, I have met some of the most influential people on the planet and have demonstrated the benefits that can be derived from my business model. My jewelry has graced First Ladies, been chosen by some of the greatest style makers, been gifted to visiting dignitaries through the United States State Department and is worn by celebrities of all ages. But most importantly through the thousands of Joan Hornig Jewelry customers, I have learned firsthand that so many people listen, care and respond to a call for action. They continue to prove that Philanthropy is Beautiful and there is a world that keeps the giving going.
New York Lifestyles Magazine is pleased to announce Joan Hornig will be writing a monthly column on charity and philanthropy. Look for her next article in the February 2017 issue. For more information on Joan Hornig Jewelry, visit joanhornig.com.